Women as Business Leaders
Online Short Course
Create Your Own Opportunities
This course is designed to equip women in business with the critical skills needed to lead and influence at work. Students explore strategies for overcoming failure aversion, negotiating effectively, driving diversity and innovation, and promoting a strong personal brand.
Modules within the course will reveal strategies and practical advice from influential leaders connected with Syracuse University and/or the faculty lead.
Lead With Confidence
Upon completion of this course, participants will have completed a personalized plan for their career progression. In addition, participants will gain new insights and skills to help them navigate their industries, assist with career progression and the development of leadership skills, and mentor and empower other women.

These key takeaways will be achieved through an ongoing project that will draw from self-reflection as well as theory in order to align participants' actions and behaviors with their goals.
Empowering Women in Business
The course is inherently a leadership course and therefore serves the double purpose of providing both the skills of a traditional leadership course as well as additional insights and skills applicable specifically to women.

Each module is designed to help participants gain new insights and skills regarding gender equality in the workplace, achieve work-life balance, and understand the progression of the business landscape and how to effectively navigate it as a female leader.

The course consists of eight modules over eight weeks and takes an average of six to eight hours of learning time per week. The course is 100 percent online and powered by GetSmarter, a 2U Inc. brand. Please note, short courses are non-credit bearing and cannot be accepted as part of a degree-bearing program.
Module 1: Learn from inspirational female leaders
Describe how successful female leaders have capitalized on opportunity and how you can emulate this to achieve success.
Module 2: Promote diversity and inclusion
Articulate the ways in which you can facilitate and promote diversity of thought and gender diversity at your workplace.
Module 3: Create an innovative culture
Articulate the value of a creative working environment and culture, and how to implement one in your context.
Module 4: Develop your authentic leadership
Distinguish your personal leadership and communication style and how you can adapt it to work effectively with others.
Module 5: Lead through change
Explore strategies for dealing with change and implementing change as an authentic leader.
Module 6: Promote your personal brand
Develop a personal brand that leverages your personal strengths to advocate for your growth as a female leader.
Module 7: Achieve work-life balance
Formulate a plan to set work-life boundaries and optimize your work to create an environment and culture for success.
Module 8: Chart your path
Draft an action plan for becoming a successful female leader.
Our Faculty Lead
Amy McHale
As assistant dean for master's programs, Amy McHale manages the overarching strategic plan and provides oversight of tactical implementation for the online business programs. She joined the Whitman School of Management at Syracuse University as the director of experiential learning in April 2008. Previously, she spent 26 years at Eastman Kodak Company and held various leadership roles in business research and marketing communications. McHale holds a bachelor's degree in chemistry from St. Lawrence University and an MBA from the Simon Graduate School of Business at the University of Rochester.
She is currently assistant teaching professor of finance at the Martin J. Whitman School of Management. Her teaching and research interests include empirical asset pricing, investments, corporate finance, behavioral finance, and household finance.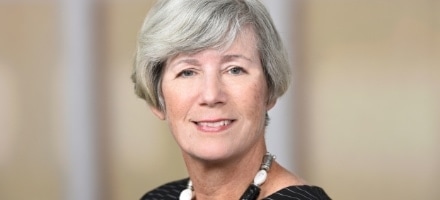 Explore Upcoming Sessions