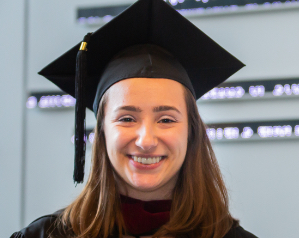 Katie Sorce
Advertising
Account Marketing Coordinator, Smith & Jones
Online M.S. in Communications from Syracuse University graduate Katie Sorce started looking for online graduate programs while she was in the middle of a job search. She thought earning a master's degree would help set her apart from other candidates — she didn't realize that she'd also be joining a creative, passionate community.
A Diverse Classroom Culture
After experiencing the online classroom and connecting with students from different backgrounds, Katie valued in-depth classroom discussions and the community she built as a result.
"One thing I really liked about the program was how diverse it was. I loved that people of all ages, races, and experience levels could come together from all over the country (and the world!) and have important discussions about issues in our industries. I didn't expect to make friends with it being online, but I really did!"
Building a Practical Skill Set
Reflecting on the curriculum as a whole, Katie found that her coursework gave her the freedom to explore facets of advertising and media that fascinated her. The projects she produced were relevant to her career path.
"I really liked that for the most part, I was able to take my new skills and apply them to topics that I found interesting. I have been able to create projects that I'm very proud of on topics that I genuinely cared about. There were times when I actually had a lot of fun working on my assessments or projects, and in those moments I knew I had chosen the right program."
Looking Forward
Katie has developed a reputation as someone who is constantly learning, and she received an official promotion after a year in the program. As her career progresses, she knows she has the Newhouse alumni network in her corner.
"Because I was hired right as the program began, my managers knew I was very dedicated to learning more about advertising and advancing my career. I feel that my managers want me to continue to advance in the company because they know I strive to continue learning and improving. If/when I decide to move to another company, having a master's degree from Newhouse will give me a huge advantage."
Back to student and alumni profiles.