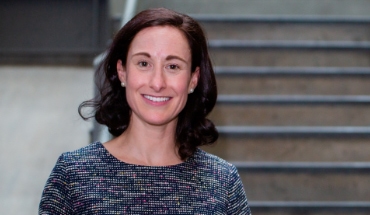 Jennifer Gwatkin
Class of 2018
Innovation Pathways Lead, Massachusetts Department of Elementary and Secondary Education
Now that Jennifer Gwatkin is an online Executive MPA graduate, she can look back at all of the lessons and experiences she has gained through the program. She was working in the public sector and wanted to learn more about public administration, and the online program gave her the ability to learn from others who were working professionals in similar fields.
Culture First
Jennifer quickly found out that the online format led to a lot of thought-provoking discussions and that her professors and classmates were up to the task of breaking down complex subjects.
"The culture and academic experience exceeded all of my expectations. Each student brings his or her desire to learn. The professors are warm, enthusiastic, and brilliant scholars and practitioners. Each class was engaging and enabled students to participate authentically."
Reputation Is Key
Working as an early college coordinator in the Massachusetts Department of Elementary and Secondary Education at the time, she was drawn to the program initially from the reputation of the Maxwell School.
"The reputation of both Syracuse University and the Maxwell School, which I knew as the pre-eminent school of public administration, is what made me choose the online Executive MPA program. I was confident that the Maxwell School would deliver the best possible experience in this online format."
Joining the Orange Family
Now that she has graduated from the online Executive MPA program, Jennifer feels like she is a part of more than just a graduating class. The Orange Maxwell community has welcomed her with open arms.
"I am now part of a family that continues to support me both professionally and personally. This network, and all that it encompasses, will help my career advance and expand in ways that would not otherwise have been possible."