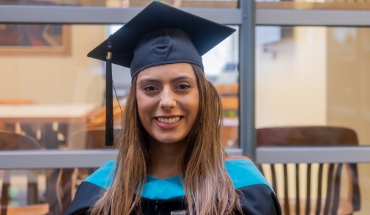 Raissa Figueiredo
Class of 2018
Contract Specialist, Federal Student Aid Office of the U.S. Department of Education
For online Executive MPA student Raissa Figueiredo, government procurement is a constantly shifting landscape where leadership and analytical skills are at a premium. Fortunately, she's able to simultaneously hone those skills and advance her career thanks to the online Executive MPA program.
Taking the Road to Maxwell
After earning a bachelor's in economics at the University of Maryland, Raissa launched her career performing full-life-cycle contracting activities at the departments of Homeland Security and Education. Serving as a consultant on procurement objectives and strategies, she helped program offices streamline their processes and control costs to the taxpayer.
But she wanted to make an even greater impact. That led her to the Maxwell School of Citizenship and Public Affairs.
"I wanted to grow into a more policy-focused position in public service and develop my skills as an effective leader and manager," she said. "Looking at other schools, I recognized Maxwell's program as an ideal blend of coursework in leadership, management, and specialized public administration study. The school's national ranking and reputation for cultivating top-notch leaders and administrators was proof of its value and effectiveness."
Thriving in a Lively, Rigorous, Diverse Online Environment
Between the online Executive MPA's strong curriculum, interactive online platform, and diverse student body, Raissa hasn't been disappointed in her decision to enroll.
"The curriculum is rigorous and really challenges students to apply the academic and theoretical principles to their real-world experience," she said. "Given the diverse professional backgrounds of my classmates, the in-class discussions also provide deep insights into public administration across a variety of applications. … The level of interaction in the online platform is exceptional."
The mix of live class sessions with recorded lecture content makes the program flexible enough for Raissa to participate, while maintaining the rigor to be expected in a Maxwell executive program. "Recorded lectures followed by live class discussion is ideal," she said. "We utilize our own study time to master concepts and then maximize live class time to analyze those concepts in depth."
Looking Ahead
Intent on becoming an effective leader in procurement policy, Raissa sees the online Executive MPA program serving her career aspirations—both today and in the future.
"The online format has allowed me to continue to advance in my current public sector career, to apply what I learn today in the real world," she said. "I think the path ahead will be thought-provoking and challenging—and I am extremely happy with the program thus far."