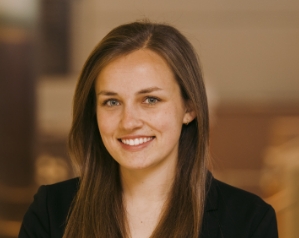 Carolyn Keller
Supply Chain Management, Class of 2023
Continuous Improvement Specialist, McIntosh Box & Pallet Co., Inc.
This interview was conducted by Caroline K. Reff, a freelance writer and editor who teaches news and public relations writing at Syracuse University.
Carolyn Keller is a continuous improvement specialist at McIntosh Box & Pallet Co., Inc. in East Syracuse, New York. Even though she lives and works in close proximity to the Syracuse University campus, Keller knew an online master's program would provide the flexibility she needed to fill in gaps in her knowledge while holding a full-time job. When choosing the Martin J. Whitman School of Management, Keller made her decision knowing she would receive the robust supply chain background associated with the program.
Keller finds the demands of the program "workable" and is pleased she chose to study online at the Whitman School of Management. She expects to complete her master's degree in supply chain management in fall 2023.
"The program fits nicely into my schedule, and I really enjoy interacting with peers and meeting others from various disciplines all over the world who are happy to share their experiences and the lessons they've learned, too."
Keller appreciated the program's flexibility and ample opportunities to connect with faculty and peers. Sharing online spaces with a large network—all from different backgrounds and with different professional experiences—contributed to Keller's personal and professional growth.
"With all of the global supply chain issues we've been experiencing since COVID, along with the inflation and labor issues we've all been experiencing, having skilled professionals in the field of supply chain is valuable for any business."
Lessons learned at the Whitman School of Management have already benefited Keller in the workplace. A recent project management class helped her construct network diagrams and plan projects more directly and effectively. The operations and supply chain management course taught her to speak effectively to more areas of her company, such as how to work with the finance and management teams to create plans for overall improvement.
"I enjoy the challenge of overcoming obstacles, figuring out a plan to get over hurdles and thinking through things analytically. That is where I thrive. Things change every day. There is always going to be variability and a demand for someone who can successfully meet the requirements that go with that. Whitman's online master's degree program in supply chain management will ensure that I'm prepared to advance in my field and bring what I've learned back to my team to create a plan for further improvement."
Graduate students in the Whitman School of Management's master's in supply chain management online program take a capstone course that provides them with the necessary body of knowledge and eligibility to pursue a Lean Six Sigma Green Belt certification from the American Society for Quality. Keller sees this as an excellent starting point, and, with the addition of projects at her company, she is confident she will eventually achieve her Lean Six Sigma Black Belt certification.