Master's in Information
SystemsMaster's in Information
SystemsMaster's in Information
Systems
The final deadline for the January 2024 cohort is November 10, 2023.
Apply by the July 15 Priority Deadline to Start in October
Apply by the July 15 Priority Deadline to Start in October
Become an Expert in Information Systems
Business leaders are increasingly called upon to understand and deploy data and technology to provide critical insights and advance innovation. From consulting to finance, technology to marketing and advertising, and beyond, information systems skills are in demand across industries. Help meet that demand by earning your MS in Information Systems online while also pursuing a certificate of advanced study in Data Science or Information Security Management, allowing you to graduate with a specialized and highly marketable skill set.
Combine Tech and Business Management Skills: Earn a Top-Ranked Online Master's
#34
in Best Online Master's in Computer Information Technology Programs1
#15
in Best Online Master's in Computer Information Technology Programs for Veterans2
You will experience a program that blends the business education you'd find in an MBA with a strong focus on technology-empowering you to drive the decision-making process in any organization. This human-centric approach to information systems means you'll not only gain new technical skills but also learn how to communicate as a business leader and analyze solutions to tech-driven problems.
Explore a Curriculum Focused on Technology and
Information Systems

36 Credit Hours

Complete in as Few as 18 Months
With our curriculum, explore information systems and study the complementary networks that people and organizations use to collect, filter, process and distribute data. You'll learn the effective use of information for the business purpose it serves and how to facilitate the secure sharing of information inside and outside of an organization.
With the technical aspects of an information systems degree, you'll gain skills in data analytics, data storage and management, data visualization, and general systems management while learning how to effectively communicate as a business leader. When you graduate, you'll be able to deploy emerging technologies and manage high-value resources to grow and sustain any business or organization.
Customize Your Degree
As an online information management student, you can choose from a variety of focus areas to customize the program, including project management, IT consultation, cybersecurity and more.

You also have the option to add specialized and highly marketable skills through our Certificates of Advanced Study in Data Science and Information Security Management.
Pursue Your Career Goals
No matter what industry you work in, our curriculum will equip you with the business, technical, and operations skills to pursue your career goals. You'll also have access to our Virtual Career Center and personalized career coaching. Visit our career services page to learn more.
Executive Program
30 Credit Hours
Complete in as Few as 15 months
Your experience is valuable, and if you're an IT professional with more than three years of technical and managerial experience, you may be eligible for our executive program, which can be completed in as few as 15 months. The program's curriculum allows for additional coursework flexibility with a variety of tracks such as information security, systems solutions and data science.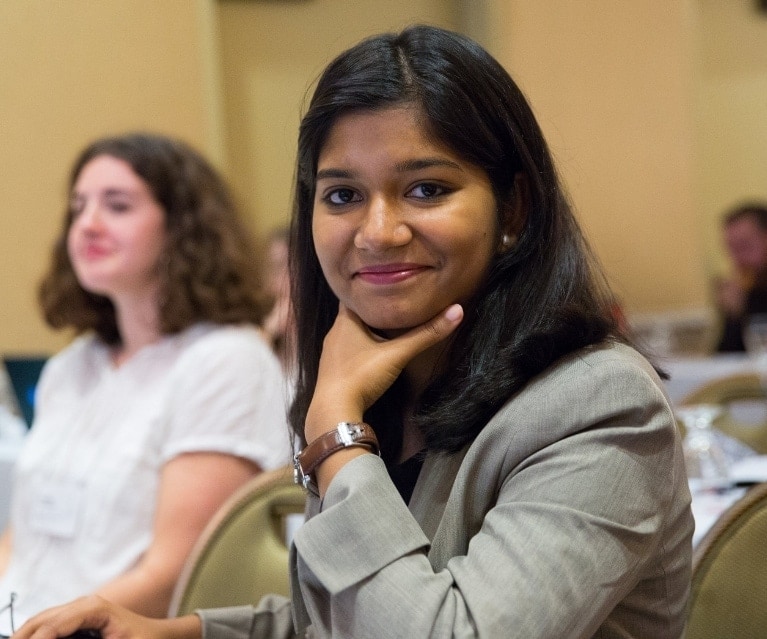 Find Information Systems Solutions
Earn your MS in Information Systems online and join a
network of 10,000+ Orange tech professionals.
Network With Information Systems Experts in Our iSchool Community
Whether you live in New York or across the country, you'll have the opportunity connect with our global network of innovative alumni who work in roles such as:
Business intelligence developer
CRM analyst
Data analyst
Director for information systems
Information systems engineer
Information systems manager
Product analyst
Project manager
Systems and data analyst
Technology analyst
Technology operations manager
"Alumni have been very helpful for networking and connecting to employers. I've had the benefit of alumni who've served in mentoring roles and helped me identify new career opportunities. The iSchool community has truly been an invaluable resource in advancing my career."

Matt Arsenault
MS in Information Systems '20, Technical Information Specialist
Visit our student and alumni page to read more stories about our Orange community.
Learn More About Our Admissions Process
You can choose from four cohort start dates.
Apply now by submitting your resume, transcripts, two letters of recommendation and a personal statement about why you want to pursue your master's in information systems online at Syracuse University. No GRE scores are required to apply. Review application requirements and connect with our admissions team to learn more.

Harness the Power of Information
Advance your career with an MS in Information Systems from Syracuse University.
Request information today.