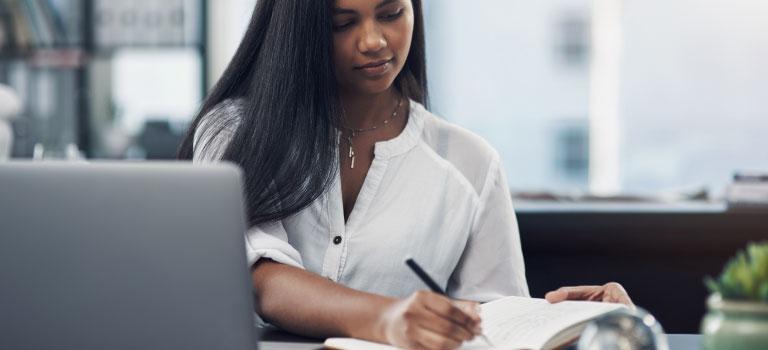 Advantages of a Part-Time Master of Social Work (M.S.W.) Program
Part-time M.S.W. programs are designed for working professionals who already have a bachelor's degree and are looking to enter the social work field. These programs allow students to spread their studies over a longer period of time and reduce the number of hours per week that they have to commit to in-person fieldwork.
Completing your M.S.W. online may allow you to continue developing professional experience while earning an income as you study.
Flexibility
While online part-time M.S.W. programs provide students with varying degrees of flexibility, there may be some limitations on which portions of your degree can be completed remotely. All social work programs accredited by the Council on Social Work Education (CSWE) require students to complete a set number of hours of in-person fieldwork.
Fieldwork is an essential part of any social work program. It allows you to put what you've learned into practice and acquire skills that are critical to the social work profession. The CSWE requires a minimum of 900 field hours for master's programs.
Syracuse University's part-time online Master of Social Work program is designed to help students balance their obligations with social work field practice demands. Through the University's online campus, students get a fully immersive educational experience that brings all the advantages of in-person learning online. Live classes are offered in multiple time slots throughout the week to allow all students, regardless of their schedules, the opportunity to interact with instructors and classmates. And, with full access to recordings of the live classes they've attended, students can make the most out of their coursework and learn at their own pace.
Career Advancement
Demand for social workers is on the rise. According to the Bureau of Labor Statistics, employment of social workers is projected to grow 12% from 2020 to 2030—faster than the average for all occupations. Once licensed, professionals with an M.S.W. degree may pursue a variety of opportunities, serving at-risk and underserved individuals and communities across the country.
Many social work programs offer different concentrations, allowing students to specialize in an area that interests them. Syracuse University's online M.S.W. program provides individuals from various educational backgrounds with a solid foundation in social work ethics and principles.
In their second year, M.S.W. students at Syracuse choose one of two areas of concentration: Advanced Integrated Practice (AIP) or Advanced Clinical Practice (ACP). In both concentrations, students build essential knowledge to prepare them to pursue high-growth positions in the field of social work.
The Advanced Clinical Practice concentration provides students with the skills needed to assess, diagnose and treat behavioral illnesses. Some services that clinical social workers provide are:
individual therapy,
group therapy,
family therapy,
substance abuse counseling and,
school counseling.
The Advanced Integrated Practice concentration provides students with the interdisciplinary skills necessary for occupying leadership positions in government, private institutions and nonprofits. Areas where students may find jobs include:
community organization,
staff development,
fundraising,
social policy and advocacy and,
health care policy and advocacy.
Cost and Commitment
Most online M.S.W. programs will afford students enough time to work at least part time. However, any degree program involves a reasonable time commitment. This commitment is even more important for M.S.W. programs, since they require in-person field practice.
As a CSWE-accredited institution, Syracuse University requires all M.S.W. students to complete a minimum of 1,000 hours of field practice starting in their second year. These hours are divided into two separate internships—one at the foundation level and the other at the concentration level. Each internship will typically be completed over two semesters.
Most placements require availability during the day on weekdays, and part-time students are required to have at least one full weekday available.
To help ease pressure on online students, Syracuse University allows them the option of completing their first 200 hours of foundational fieldwork in a virtual field placement experience. Then, online students complete their remaining 800 hours of concentration fieldwork at one placement site.
In total, students in Syracuse University's part-time online M.S.W. program will complete 60 credits spread out over 36 months. The curriculum includes 24 credits of foundational coursework that students complement with 36 credits in their chosen areas of concentration: either Advanced Integrated Practice (AIP) or Advanced Clinical Practice (ACP).
For the 2022-2023 academic year, Syracuse University social work graduate students pay $1,111 per credit. To help students cover tuition costs, the University provides information on need-based and non-need-based financial aid options. Online M.S.W. students enrolled in at least six credits per semester who demonstrate a financial need and have filed the Free Application for Federal Student Aid (FAFSA) may be eligible for financial aid.
An Online Option From Syracuse University
Syracuse University's online M.S.W. program is a digital-first degree that blends the flexibility of remote study with the value of real-time collaboration with faculty and peers. Aspiring social workers study under a comprehensive CSWE-accredited curriculum guided by the values of social justice, human dignity and equity.
The program is designed with a fully remote first year to ease part-time students into the demands of in-person field practice. The second and third years will further shape them as professionals through specialized coursework and in-person practice. Students graduate with the knowledge, skills and experience needed to become effective leaders and change-makers.
Last updated March 2022.