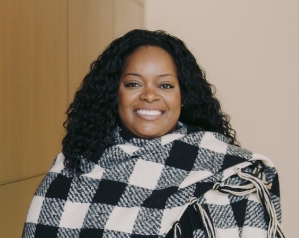 Chanel Webb
MBA, Class of 2023
Assistant Director, Marsh McLennan Agency (MMA)
This interview was conducted by Caroline K. Reff, a freelance writer and editor who teaches news and public relations writing at Syracuse University.
Chanel Webb decided to pursue her MBA online at Syracuse University because she was impressed by the Whitman School's highly ranked program and because she wanted to stand out as she pursued "a seat at the table."
Tell us a little bit about yourself and your personal and professional background.
The opportunity at TransPerfect presented itself once I returned to the U.S. and it was a natural fit. I really enjoy collaborating with individuals who can present a different perspective when working together professionally. I've also enjoyed working in a global environment—there are most days when my colleagues for particular projects are located outside of North America. My focus has been to act as a strategic partner for our clients who have a global business, whether that's in health care, pharmaceuticals, luxury retail, or banking and financial services."
"I felt that an MBA from Syracuse University would help me stand out," says Webb. "I wanted to expand my business acumen, enhance my strategic thinking skills and have an opportunity to network with other leaders across various industries."
Shortly after she started the online program, Webb was promoted to assistant director at the Marsh McLennan Agency (MMA). She is certain the promotion was partly due to her pursuit of an MBA, which she believes has also led to a number of other recent opportunities within her company, including participation in corporate-wide events and attending the National African American Insurance Association convention as the company's representative.
"The program is structured in a way that reflects the current business landscape, and nothing we've learned has been out of date," Webb says. "From the very beginning of the online MBA program, I was positioned for success."
Even though Webb only started the program in 2022, she has already been incorporating the skills and concepts she is learning into her job at MMA, a global insurance and risk management company outside of Philadelphia.
"I had never been to Syracuse University, so it was exciting," Webb says of attending two on-campus residencies. "The experiences were definitely an added value that allowed me to meet others who were in the program with me."
Even though Webb was enrolled in the online MBA program, she took advantage of three of the program's residencies: one virtual, Women as Business Leaders; and two in-person, Digital Storytelling with Tableau and Power-Up with Power BI, both held on campus in April 2022.
Webb hopes to complete her MBA sometime in 2023 and is excited about the possibilities that the future holds for her.