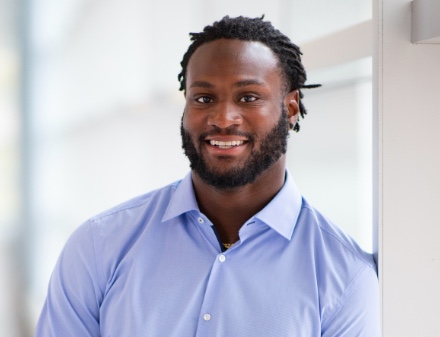 Latavius Murray
MBA, Class of 2020
NFL Running Back, New Orleans Saints
This interview was conducted by Arielle Spears, content marketing manager for the Whitman School. For the full story and interview, check out "NFL Star Latavius Murray Suits Up for College in Syracuse."
What brought you to start thinking about earning your master's?
"Through injuries, you obviously aren't playing, so you have time to do a lot of thinking, and so for me, it was more so figuring out if this was it. If I was done playing, what would I do?"
Why did you decide to earn your MBA at Syracuse University?
"When I brought up the idea of going back to school, I thought, 'Where can I go that would really mean something to me?' I thought, Syracuse University. This was an opportunity for me to come back and be a part of this University that I'd been watching and keeping track of from a really young age, and also once I found out that this was one of the best programs to go school for and get your MBA, it was a no-brainer."
How has the online format of the program fit into your busy NFL schedule?
"To be an NFL football player, it obviously takes a lot of commitment in itself. For what I do, there is really no break, because I have to continue to work out and spend an offseason signing with a new team, and so the program has been very, very flexible. The professors have also helped not only me but other students who may also have conflicts regarding their personal lives and work to make sure that everyone gets that equal opportunity to excel in the classroom."
What does going back to school mean to you and to other NFL players?
"Younger players need to realize the opportunity that is going back to school, and the NFL will help you as long as you pass and do what you are supposed to do. Some players get caught up in the money we are making and maybe think that it'll last for a lot of time, but it only lasts for the time frame we are playing."
How will you apply your new entrepreneurship and business skills?
"I hope to eventually start my own business, maybe one that focuses on helping children or young athletes, like I once was."