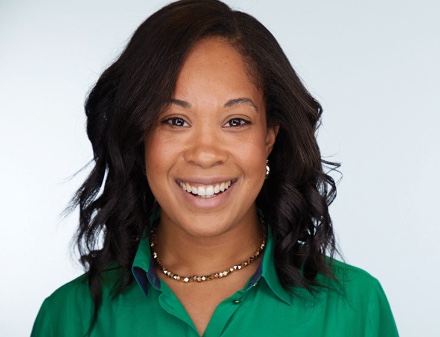 Phylicia Lee
MBA, Class of 2020
Associate Program Manager, TransPerfect Translations
Tell us a little bit about yourself and your personal and professional background.
"I graduated in 2010 from Muhlenberg College with a B.A. in Psychology and a concentration in French. Much of my professional career has been focused on globalization, with a focus on languages and localization. One of my first positions out of college was working as a teaching assistant in France, and that experience changed my life more than I could have envisioned.
The opportunity at TransPerfect presented itself once I returned to the U.S. and it was a natural fit. I really enjoy collaborating with individuals who can present a different perspective when working together professionally. I've also enjoyed working in a global environment—there are most days when my colleagues for particular projects are located outside of North America. My focus has been to act as a strategic partner for our clients who have a global business, whether that's in health care, pharmaceuticals, luxury retail, or banking and financial services."
What were the factors that contributed to you choosing Syracuse University's online MBA program?
"Syracuse University almost immediately felt like home, and ultimately, it came down to my admissions counselor that walked me through the entire program. Syracuse was high on my list to start and it progressed naturally to my top choice."
Tell us about what it is like to be a student in the online MBA program. How has the live class component contributed to your experience?
"I wouldn't typically consider myself to be an early adopter in most situations, but the marriage of Syracuse University as such a well-known institution and the innovative approach of 2U creates an environment which mirrors in-person classes quite closely. I enjoy being able to utilize the asynchronous coursework prior to the live classes—it's dynamic and available for students to revisit at any point.

It also allows for you to take notes at your own pace, or visit office hours for tougher courses. The live courses then reinforce the recorded content, and allow for students to focus on the application piece. The live class sessions are also restricted to approximately 20 students, so the intimate setting ensures you're less likely to get lost in the crowd."
What is the next step for you in your career? How do you see an MBA from Syracuse University helping you take that next step?
"The next step for me will involve a career pivot where I incorporate my concentration in finance into my next position. I truly enjoy a collaborative work environment, working cross-functionally to achieve a common goal. This program has also prepared us to work virtually, which has become invaluable during COVID-19. I undoubtedly feel prepared to perform well in any setting and that's largely due to the online MBA program."