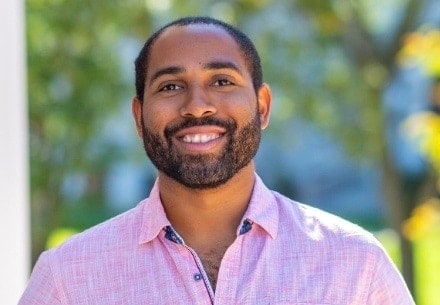 Jamie Clark
Expected graduation: July 2021
Las Vegas, NV
Operations/Test Analyst II at JT4
As a student in an online engineering program Jamie Clark is working hard to find success using the applicable knowledge he has gained in his classes.
Taking the Next Step
Jamie Clark spends his days designing, executing, and analyzing system tests for JT4, a government contractor providing engineering and technical support for the U.S. Air Force and Navy. He also spends time working toward his Master of Science in Computer Engineering from Syracuse University.
While he has a bachelor's degree in mathematics, Jamie needed an engineering degree to reach his career goals. When his company offered to support his education, Jamie began searching for the right fit.
"I looked at other schools, but Syracuse [University] allowed me to start earlier, waived the GRE requirement, and offered live sessions."
The Driving Force
Jamie initially wanted a master's degree so he could become an engineer and earn a higher salary. While these are still his goals, he has also enjoyed the rewarding aspect of learning more about computer systems and how they are designed. It can be challenging to find time to study and complete assignments, but he says the added responsibility is worth it.
"I hadn't given much thought previously to computer systems, but now I'm starting to understand their intricacies. The higher-ups at my company are impressed that I'm going through this master's program."
Hands-on Opportunities
So far, Jamie has especially enjoyed the Computer Security course, in part because it is a practical lab rather than solely focused on theoretical knowledge learning. One of Jamie's coworkers is a Syracuse University alum who was enthusiastic about the campus and Syracuse area, leaving Jamie excited to visit during his first on-campus immersion this fall.
Meet our other Engineering@Syracuse students.
Originally published in November 2019.