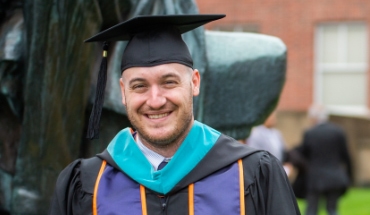 Jeffrey (Jeff) Cleland
Class of 2018
Senior Manager for State Transportation Policy, Amazon
Jeff Cleland knows the profound influence policymakers can have in our lives.
"As an 18-year old kid, I joined the military because I wanted to fight in Afghanistan. Then I was told to fight in Iraq," he said. "I had no say in the decision-making. Now I realize that I want to be the policymaker. I want to take my experiences and push things that will positively influence our country. But, if you want to be a policymaker and influencer, you have to get the education first."
So he set out to earn the education he'd need to make a difference.
Relevant, Fast-Paced Curriculum
Jeff appreciated the ability to earn his degree quickly and learn in-demand, applicable skills to succeed in a new role post graduation.
"With the pace of change in both the public and private sector, I found that the Executive MPA's consolidated, rigorous schedule helped me prepare for my career trajectory. While transitioning from a state agency to a company like Amazon is a large leap, I was prepared to work hard and dive deep on dense topics thanks to the education at Maxwell."
Truck-Driving While Earning Multiple Degrees
"When I first got out of the Marines, no one was hiring former machine gunners without a college degree," Jeff said. "So I became a truck driver for three years, working for my family's trucking business."
Along the way, he began raising a family and earned an AA and then a BA in policy studies. He landed a position as Director of Innovation and Operations at Syracuse University's Institute for Veterans and Military Families (IVMF). In that role, he was able to leverage his own experience to help fellow veterans gain valuable vocational and educational training.
Still, he wanted to do more.
A Degree as Mobile as the Student
"I actually started my MPA on campus while working as a director at IVMF," he said. "I was halfway through the program when I took a job in Dallas as manager of research and policy at the George W. Bush Institute. The program wasn't available online then, so I had to leave. But, with the work I do, I really wanted to graduate from a renowned school like Maxwell."
When the school launched its online Executive MPA program in 2017, Jeff was thrilled to begin his studies in a format that was as mobile as he was—especially since his job has now taken him from Dallas to Washington, D.C. Over the course of a year and a half, he'd move twice for his new job—with three young children, two dogs, and a wife in tow—all while continuing his studies.
Making an Impact on Veteran Policy and Education
As he completes his EMPA, Jeff's already making an impact on veteran's policies through the Bush Institute. "I'm allowed to focus on policy issues that can help veterans who also enlisted straight out of high school—to help those without degrees get the education they need," he said.
Based on his experience in the family trucking business, Jeff 's also interested in shaping national transportation policy: "My father and grandfather were truck drivers. And I saw firsthand the importance of how this country moves. We've got important infrastructure issues coming up, and I think that would be a good use of my experiences, my degree." Jeff is currently Manager of State and Local Public Policy for the Northeast at Amazon.
"I think my EMPA degree will open up even more doors to shape more types of public policy in the future."