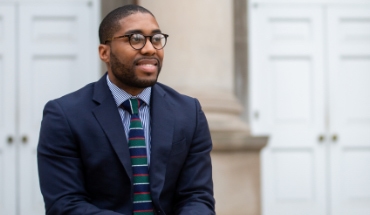 Jonathan Leon
Class of 2019
Senior Director of Forward Promise, The Moriah Group
Before becoming an online Executive MPA graduate, Jonathan Leon had made a career for himself in the public sector. After nine years of working and being promoted to leadership roles, he wanted to deepen his public sector expertise with the online Executive MPA program.
Expansion of Industry Expertise and Career Opportunities
Of the many skills Jonathan gained while studying at Maxwell, he was particularly inspired by his learnings during his capstone work and even continued his education in policy evaluation.
"Since my experience at [the] Maxwell EMPA program, I've continued my education and received my doctorate in education policy and leadership. The focus of my research was the continuation of my capstone work at Maxwell. Maxwell sparked and cultivated my interest in policy evaluation practices. I am grateful for the learnings and training which have truly honed my skills in the policy field."
Sparking His Interest in the Program
Jonathan found himself pursuing his MPA in the middle of his career and prioritized an online program that would allow him to balance life, work, and school. After doing research, he felt that the Executive MPA program would give him the important frameworks, theories, and network to support his practice.
"I decided to pursue an Executive MPA for three major reasons. I value continuous learning as a core value, and I am always looking for ways to take my practice to the next level. The program aligned with my professional and personal goals by supporting my career advancement opportunities and adding a degree which compliments my experience leading in the nonprofit sector."
Conversation Drives Success
Once he saw how engaging the curriculum and online classroom were, Jonathan realized how much he valued the Maxwell School's commitment to diverse thought.
"The culture was highly collaborative, and there were purposeful programming and assignments—which you learned from not only the amazing professors, but leaders in the field and your awesome classmates. Your classmates are a wealth of knowledge, each bringing diverse experiences to every interaction, assignment, and conversation."
Moving Up the Career Ladder
Through the online Executive MPA program, Jonathan was able to expand on his public sector experience and make far-reaching decisions in his new board position.
"The executive master's in public administration at Maxwell has supported my professional and personal growth in the public sector. On top of growing and expanding my professional network, I have been promoted at my job, offered a seat on a nonprofit board, and accepted into three prestigious professional development opportunities. There is no doubt the program has prepared me for each new opportunity."