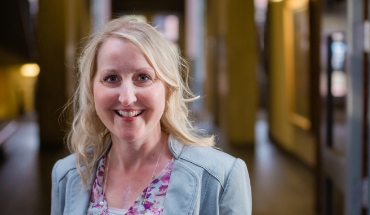 Rachel C. Kuntzsch
Class of 2019
President, Public Sector Consultants
Online Executive MPA graduate Rachel Kuntzsch knew that there was an opportunity for her to pair more than 20 years of practical experience with academic theories and expanded knowledge in public policy development and implementation. As she explored options and graduate programs to meet that opportunity, she came across the online Executive MPA program.
Learning, Working, and Taking Care of Family
Rachel found that she was ready for a new challenge in her academic career but needed an online program that met her busy schedule of working and taking care of her kids. She found that the Executive MPA online class format gave her that freedom to pursue her career goals while taking care of loved ones.
"The online nature of the program was critical in my decision to pursue the EMPA program. I had considered getting a master's degree for years, but the traditional path was incompatible with my life. The flexibility and sophistication of the online program was fantastic. And of course Maxwell is the top-ranked program, which sealed the deal."
Benefiting From Diverse Viewpoints
After experiencing the online classroom and collaborating with her fellow students, Rachel values those in-depth class discussions with diverse opinions.
"I learned so much from my peers and broadened my views through insightful discussions facilitated during live sessions. The culture of the program is highly collaborative and collegial, in which differences of opinion are respected and dialogue is constructive. We often engaged in discussion in small groups to help one another better understand concepts or to formulate ideas."
Key Takeaways
Through the online Executive MPA program, Rachel was able to bridge her practical experience with theories and frameworks in public policy and evolve her viewpoints on administration.
"The program has helped me to develop better critical thinking skills and to consider the framing that shapes perspectives. In addition, it has reaffirmed my sense that there is so much gray area in public policy requiring the consideration of context and diverse experiences when formulating and advancing policy."