A Residency in Dallas: Q&A with Online Student Joshua Bowie
In June, students traveled to Dallas for the MBA@Syracuse residency. We spoke with Joshua Bowie II, a management consultant from Houston, Texas, and current MBA@Syracuse student, to learn about his experience at the Dallas Residency.
What was your favorite experience at the residency?
The most meaningful experience for me was working with my breakout group on the last day of the residency. Already feeling on top of the world from all the activities and enlightening discussions that led up to the day, we found ourselves at our most spirited as we collaborated and tackled a real-world HR challenge. Fun and laughs, fresh thinking, diverse perspectives, and a shared drive to succeed at our assigned task provided the perfect climate for success—judging by the feedback from our classmates, we did just that.
What did you learn from the different companies and speakers?
I had the memorable experience of hearing life-changing perspectives and insights from JPMorgan Chase executive directors Angela Lankford and Dejuan Taylor. Their highly rewarding journey to HR, dedication to ensuring a positive company culture, and application of positioning HR as a strategic partner was truly inspiring. It allowed me to discover the many opportunities in HR, especially in the areas of data analytics, strategy and consulting.
Outside of the itinerary, did you do anything fun with your classmates or have any fun bonding experiences?
From squeezing in as many conversations over a cup of coffee early in the mornings and during breaks, to lots of laughs while eating our favorite things, I made the most of the little moments with my classmates. To top it off, I brought my awesome family who were all ecstatic about meeting my Syracuse family, so much so that I've overheard them sharing their experience with friends and family.
What major insights did you leave the residency with that you weren't expecting?
As I prepared to attend the HR track sessions, I was not sure what to expect. To my surprise, the insights were illuminating as I discovered ways in which my MBA with a concentration in Business Analytics can have a direct impact on HR. I learned about the rise of people analytics, real-time engagement evaluation, the important role of HR in a company being the "glue" and strategic partner, and the critical role of inclusion and diversity.
What advice would you give to a student considering MBA@Syracuse?
Upon acceptance of the program, decide to make the most of your time with your professors and classmates. Remain intent on establishing deep-rooted relationships. Bring your ideas and personality to join the wisdom and prestige shared throughout the university. Finally, I would say to expect growth, embrace the diversity and, most of all, enjoy the journey. You won't regret the transformation.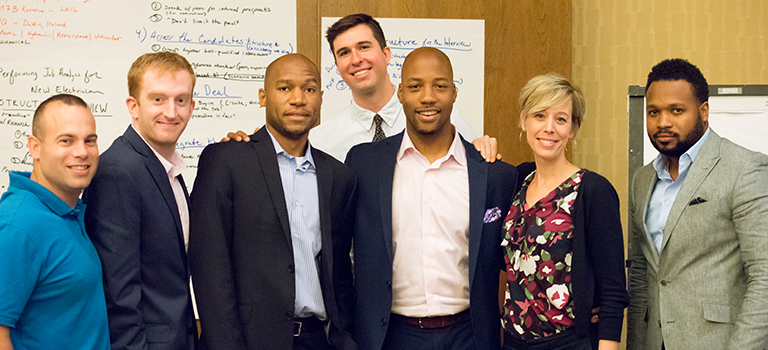 Citation for this content: MBA@Syracuse, Syracuse University's online MBA program