Newhouse Advice and Lessons from Faculty Program Director Carolyn Hedges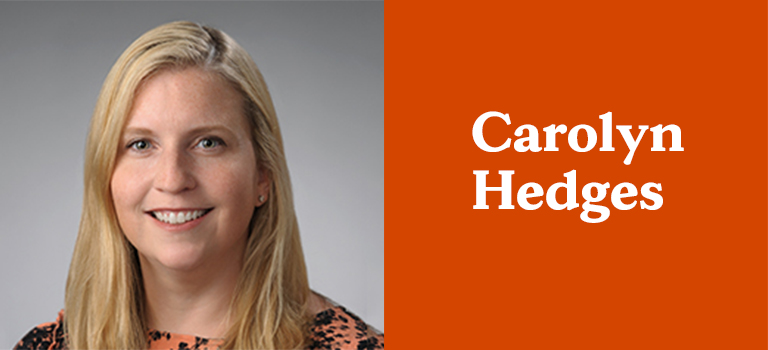 Throughout her career, Carolyn Hedges returned to the same two questions: "How are people interpreting messages? What's the best way to deliver a message?" These questions inspired her doctoral research on gender and reality television, her research for Fortune 500 companies on branding strategy, and her digital media coursework for online Newhouse students.
Armed with extensive experience and insights from her career as a film publicist at Fox Searchlight Pictures and MGM/UA and her work in customer analytics at Nielsen, Hedges recently returned to Newhouse as the Communications@Syracuse faculty program director.
In an interview, we asked Hedges about her coursework and leadership at Newhouse, and her advice for Communications@Syracuse students as they advance in their careers.
How does your Introduction to Digital Communications course prepare students for the quickly evolving nature of digital media strategy?
My good friend, Doug Strahler, [designed the course and] included all of these really essential ideas that you can build upon because the landscape of digital communication and strategic communication is constantly changing. It's these key ideas, like contemplating the digital divide, understanding how the internet evolves and where we are in that timeline, and understanding concepts about audience perception. These are all fundamental concepts to take us to the next level of thinking about how we communicate and how we can create strategies for our communication systems.
In the live sessions, discussions usually revolve around things that have happened that week or in the last few weeks. For example, we talked a lot last semester about net neutrality. We're using these fundamental concepts that are understood through our textbook and through our asynchronous work, and bringing them to life with what is actually going on right now and what is relevant for our students right now.
A wonderful thing about my class is most people don't have their concentration set in stone, and everyone comes from different areas of expertise and experience. In all the core courses, they get to work with students who might not be in their specialization later on in their graduate studies. For example, they can collaborate on thinking about if someone is in journalism innovation, "How is The Weinstein Company dealing with the Harvey Weinstein scandal? I know how I would cover it in a news story, but how do they deal with this from their crisis communication standpoint?"
In your role as faculty program director for Communications@Syracuse, what do you think differentiates the program faculty?
One is their expertise in the areas that they teach. If your professor isn't a full-time Newhouse faculty member, then chances are they are a Newhouse alum or a major leader in their industry and have been recommended to us. All of our professors are thought leaders and world-class faculty, just like our on-campus faculty are world-class faculty.
Second, what really sets Newhouse faculty apart is their engagement and their enjoyment of teaching students. The faculty here have an emphasis on teaching, and everyone is very engaged and very encouraging of their students inside and outside the classroom.
One of our faculty members, Barbara Fought, emphasizes how you're not the only teacher in the room, and every student has something to teach us and that part of our job is to uncover what we can learn from our students as well. The climate of all of our faculty is how we can also learn from our students while engaging with them and providing them every opportunity to excel.
What advice do you have for students who want to leverage their master's degree to advance in their careers?
First and foremost, the alumni network of Newhouse is fantastic, and that's something that should be leveraged from the start, as well as picking your professor's brain. We've seen a lot of different students come through our classrooms, and we can offer advice about different paths. Really tap into the resources that you have available to you as a Newhouse graduate student. The alumni network and your professors are key places to brainstorm, to network, to get ideas.
In terms of actions that students can take with their degree, they should demonstrate a higher level of thinking and a critical, more thoughtful approach to their work. The things that you learn in the Newhouse degree, whether it's the technical practical skills or the more theoretical concepts, are tools that you now have that most other people don't have unless they have a communications degree.
Third, work with and lean on your fellow classmates. It is such an incredible resource to see how students collaborate on different projects, whether it's in class or it's, "Hey, I know someone that works at that company. You could interview them for your paper." So look to your classmates, that community around you, as well.
This interview was edited for clarity.