5 Steps to Earning Your MSW Without a BSW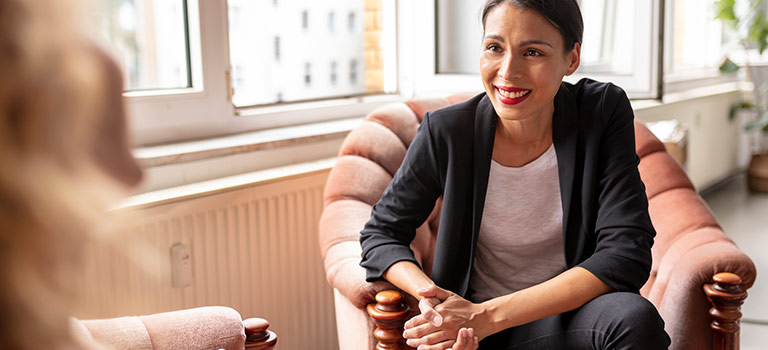 Wondering how to get into social work if you hold a bachelor's degree in another field? It is possible to obtain your master's degree in social work (MSW) without a Bachelor of Social Work (BSW) degree. A traditional MSW program can provide the path to earn an MSW without a BSW.
Traditional master's in social work requirements are slightly more flexible than advanced standing MSW programs for those who hold a BSW. This article will help explain the requirements that candidates generally need to meet to earn their MSW without a BSW.
1. Choose a Traditional MSW Program
Traditional MSW programs are ideal for individuals who have completed a bachelor's degree in an area other than social work. An advanced standing MSW program is an option for those who have earned a bachelor's degree in social work. These accelerated programs generally require fewer credits since students have already covered foundational coursework for their BSW.
Traditional MSW programs can be completed full time or part time on campus or online. Full-time MSW programs may be completed in a shorter amount of time than part-time programs. The benefit of part-time and online MSW programs is that students may complete their studies while working. This allows them to earn an income and potentially advance in their careers while obtaining an MSW.
Online vs. On-Campus Programs
Schools may offer online or on-campus MSW programs or both. It's important to consider whether the program is accredited by the Council on Social Work Education (CSWE). MSW programs that are CSWE-accredited meet specific standards set out by the Council for Higher Education Accreditation and regulated by CSWE.
Also, CSWE-accredited online MSW programs allow graduates to work in other states. Still, students who complete an MSW program out of state may need to ensure that they meet all state-required criteria to work as a social worker. Be aware that not all online programs accept students from out of state.
2. Make Sure You Meet the Education Requirements for an MSW Program
Prerequisites for social work master's programs differ from school to school. Most MSW programs require candidates to hold a bachelor's degree from an accredited college or university and often require students to have completed certain prerequisites.
These programs may also expect students to have a minimum GPA, and some may require GRE scores.
Most programs, like the online MSW program at Syracuse University, require candidates to provide their resume or CV, academic transcript and a personal essay. Some schools also require students to undergo a background and criminal history check. While a criminal history may not necessarily exclude a candidate from entrance into an MSW program, it may limit or prevent their eligibility for field placement.
Bachelor's Degree From an Accredited Institution
While candidates generally need to have a bachelor's degree to be considered for an MSW program, they do not necessarily need a bachelor's in social work. Applicants for a traditional MSW program may hold a bachelor's degree from an accredited institution in nearly any field. Fields like psychology, sociology, economics or political science are preferable since these often cover coursework related to social work.
Most advanced standing MSW programs require candidates to have a bachelor's degree in social work from an accredited institution. At Syracuse, this degree must have been completed within the past 10 years.
Prerequisite Classes
Some schools require candidates to have completed specific prerequisites for acceptance into the MSW program. While most schools are flexible on the credits they accept, the credits generally need to relate to specific fields in order to be considered. For example, Syracuse University requires applicants to have completed a minimum of 30 credits of liberal arts coursework. This includes courses that cover physical or natural science (93 credits), computational skills (6 credits), the humanities (6 credits) and social sciences (12 credits).
Other programs may require candidates to have credits in coursework related to research methods and statistics.
GPA and GRE
GPA and GRE requirements for MSW programs vary. In most cases, schools require a GPA of between 2.5 and 3.5.
Syracuse University does not require MSW applicants to have taken the GRE. However, they require a minimum GPA of 3.0. Applicants for the online advanced standing MSW program must have a minimum GPA of 3.0 in all social work courses.
In most cases, candidates will need to provide their transcripts when applying for an MSW program.
Other Requirements
An application fee may be required for prospective MSW students. Many schools offer a reduced fee for applications submitted earlier than the final deadline.
Along with your application, you may need to submit your resume or CV, which includes your employment history, any scholastic recognition and academic honors as well as any other relevant activities or roles you have held.
Many schools may require applicants to write a personal essay that details their professional goals and plans along with their motivation for applying to the MSW program.
One or more letters of recommendation are also typically required for application to an MSW program.
3. Apply to a CSWE-Accredited MSW Program
As mentioned above, the Council on Social Work Education (CSWE) is a national association that represents social work education in the United States and offers accreditation to programs that "prepare students for professional social work practice."
There are definite benefits to holding a CSWE-accredited degree like the one offered by the MSW program at Syracuse University. Many employers require it, and the licensing boards in all 50 states and the District of Columbia require candidates to hold a social work degree from a CSWE-accredited social work program in order to take the licensing exam.
CSWE accreditation may be awarded to programs offered online or on-campus. This means that students may complete the program in person or online in an out-of-state program while still meeting the degree requirements and being eligible to sit for the licensing exam.
4. Complete Coursework and Field Hours
Traditional MSW programs require students to meet coursework and field hour requirements. Coursework varies by program but typically includes general practice or foundational courses, electives and specialized practice or concentration courses. Students may be required to complete between 54 and 60 credits depending on the program.
Syracuse University's online Master of Social Work offers two concentrations: Advanced Clinical Practice (ACP) and Advanced Integrated Practice (AIP). The ACP program is for those who want to work as a practicing licensed clinical social worker (LCSW). The AIP program caters to individuals who are interested in working in interdisciplinary organizations, human service administration, community organizing or public policy.
Field experience is also required for MSW students. This amount differs between programs, but the minimum requirement for a CSWE-accredited program is 900 hours.
5. Apply for Licensure
Social workers may need a professional license to work in the profession. Licenses in the United States are issued by state or territorial governments, generally through a licensing board. Those who wish to obtain a license may need to meet entry-level competence standards. This includes completing an accredited social work degree, passing the licensing exam and meeting state expectations for moral character. Aspiring social workers are also expected to adhere to the profession's code of ethics and the board's standards of conduct.
The licensing process and requirements may vary by state, and there are different categories of social work licenses. These categories are based on the level of education and experience required to obtain licensure. Commonly offered licenses include licensed baccalaureate of social work (LBSW), licensed master social worker (LMSW) and licensed clinical social worker (LCSW).
The state of New York offers two types of licensing: LMSW and LCSW. In general, both licenses require candidates to meet general, educational and experience requirements. Candidates for the LMSW license must successfully complete the masters exam administered by the ASWB, or equivalent, while candidates for the LCSW license need to pass the clinical examination or an acceptable equivalent.
FAQ
How long does it take to earn an MSW?
Full-time traditional MSW programs generally take two years to complete. This includes the time required to complete fieldwork. Part-time traditional MSW programs, like Syracuse University's online Master of Social Work, can be completed in 36 months. Some accelerated or advanced standing programs may be finished in as few as 24 months.
How long does it take to become a licensed social worker?
For some job roles, social workers may only need a bachelor's degree. This degree typically takes four years of full-time study to complete. Individuals who wish to practice as clinical social workers may need to complete a master's degree in social work along with the required field hours.
The time it takes to complete all relevant qualifications to become a licensed social worker depends on the program you choose (full time or part time), whether you complete a traditional or accelerated program and the licensing requirements in the state where you wish to work.
Learn more about earning your MSW online with Syracuse University.
Last updated November 2021