How To Get Into Cybersecurity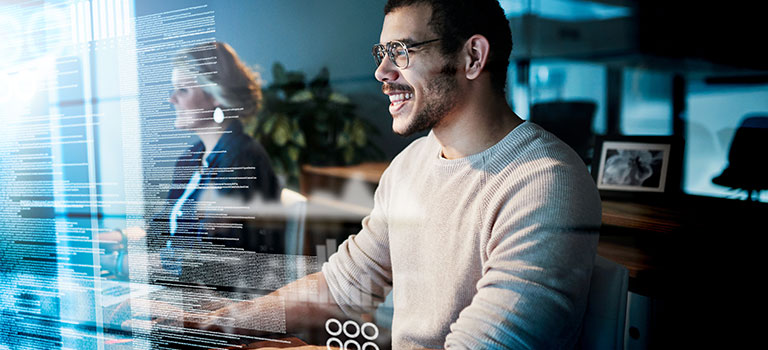 Cybersecurity is a field that's becoming more and more popular, especially as the world becomes increasingly digital. Cyberattacks or potential bugs can negatively impact a company's network, so it's important for cybersecurity specialists to know how to protect valuable data and mitigate security breaches. Although it has its share of challenges, a career in cybersecurity may be rewarding for anyone who enjoys developing and implementing impactful technological solutions. 
Aspiring professionals may wonder how to get a career in cybersecurity and what steps they need to take to enter the field. They may also want to know how to get into cybersecurity with no experience, especially if they're considering a job transition.
There are many pathways to get started, whether that means pursuing traditional education or alternative means of certification. Whichever route they choose, professionals must conduct extensive research to prepare for their cybersecurity career.
Cybersecurity Education
There are a number of pathways to kickstarting a career in cybersecurity. Before selecting a specific one, it's important for individuals to consider their goals. Most people start off on the traditional route, earning a bachelor's degree in computer and information technology or any other related field before acquiring relevant certifications. Master's programs in cybersecurity are another option for aspiring professionals. With courses covering core concepts of the field such as principles of operating systems, and more specialized topics like machine learning and cryptography, master's in cybersecurity degree programs are designed to prepare graduates for a range of high-demand security roles across industries.
Cybersecurity certifications are voluntary but they have the potential to help professionals boost their marketability. Cybersecurity certificate salary differs by role, but many professionals can acquire relevant certifications to help them land an entry-level technical position. As they gain experience, they can then pursue other certificates to potentially increase their cybersecurity certificate salary. Cybersecurity is a vast field, with many jobs professionals can choose from, depending on their experience, credentials and long-term career aspirations.
For entry-level positions, professionals may earn the following cybersecurity certifications:
More advanced cybersecurity specialists who want to further their career and qualify for a cybersecurity bachelor's degree salary, or even a master's in cybersecurity salary, may pursue higher-level certifications, such as:
With the relevant education and training, individuals can begin their job search. Job titles for cybersecurity professionals will differ. Information security analyst is a common one. The median annual wage of information security analysts was $103,590 in 2020, according to the Bureau of Labor Statistics (BLS). Top earners were typically found in the information, finance and insurance, and computer systems design industries. The lowest-paid 10 percent of information security analysts earned less than $60,060.
Cybersecurity Career Path
The cybersecurity career path is flexible, offering multiple opportunities for those who wonder how to get into cybersecurity. Some may start off as an information security analyst, monitoring and protecting a company's systems and networks. These professionals must be up to date on cybersecurity trends and implement effective software and procedures to heighten data protection. In the case of a breach, it's ideal that they have a list of best practices to help them assess and analyze attacks—this way, they're better equipped to mitigate future issues.
There are two common paths cybersecurity professionals can take in their career: engineering and site architecture. While both areas have similarities, a cybersecurity architect is generally considered the more senior job title. Cybersecurity engineers use their knowledge of system processes to install secure solutions, whereas architects are responsible for designing them.
Entry-Level Cybersecurity Careers
An entry-level cybersecurity professional protects a company's systems from attacks so hackers cannot access valuable, often highly confidential information. They continuously monitor existing solutions and install upgrades, such as firewalls or antivirus programs, while also training other employees on crucial cybersecurity practices.
The cybersecurity industry is largely flexible and provides many entry-level career opportunities across roles including security analyst, security specialist, and incident responder. All three positions may require entry-level cybersecurity certifications, such as CompTIA Security+, along with additional requirements for professionals who want to grow in their roles. Entry-level cybersecurity salary varies based on employer, location and other factors.
Mid-Level Cybersecurity Careers
Once they've gained hands-on experience and a deeper understanding of cybersecurity practices, entry-level professionals can advance into more complex roles. They may still monitor and oversee system security, while also balancing added managerial, design and engineering duties that require a broader cybersecurity background.
Examples of mid-level cybersecurity roles include security architect, penetration tester and cybersecurity consultant. While these professionals are generally responsible for protecting systems and networks, they must be able to carry out duties that require a higher level of cybersecurity know-how. Some of these duties include performing formal investigations or audits to improve existing systems, preparing and presenting budget reports for security-related costs, and developing meaningful solutions that protect systems against breaches. They can also facilitate ethical, controlled attacks to identify system weaknesses and vulnerabilities and incorporate necessary upgrades.
Advanced-Level Cybersecurity Careers
Once they have several years of experience and any necessary certifications, cybersecurity professionals can work their way up to advanced-level careers. Sitting at the highest-level positions, senior executives like chief security officers, information security directors, or lead security engineers require extensive, expert knowledge of security practices and processes that can best protect their company systems. As cybersecurity leaders, they must also manage other employees effectively, helping them develop solutions that minimize network vulnerabilities and efficiently address cyberattacks.
Last updated February 2022