Inaugural Classes of Whitman's Online Master's Program, Accounting@Syracuse, to Start July 18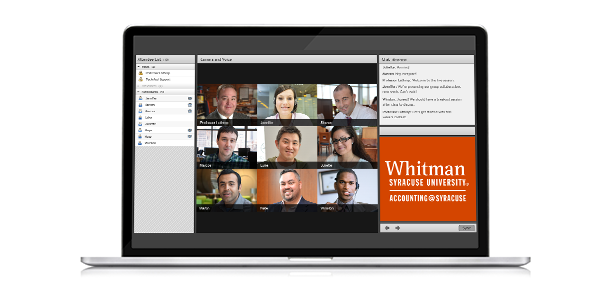 The inaugural class of the online Master of Science in Professional Accounting program at the Martin J. Whitman School of Management at Syracuse University (Accounting@Syracuse) will begin live face-to-face classes on Saturday, July 18. Course content, accessible online 24/7, will be available to students beginning Friday, July 10.
Accounting@Syracuse is the online Master of Science in Professional Accounting program that serves finance professionals looking to transition or advance their careers. Students enrolled in Accounting@Syracuse receive the same curriculum content as students on-campus, with the flexibility to maintain their professional career. The program positions its graduates with all necessary educational requirements to take the CPA exam and advance their careers.
Accounting@Syracuse is delivered in partnership with 2U Inc., which works with leading colleges and universities to deliver the world's best online degree programs.
Professor Bill Walsh, designed a curriculum that can be tailored to accommodate students' unique educational and professional backgrounds. Students' course content is dependent on their experiences previous to this program to ensure the most useful curriculum for each student.
"I'm excited for all students who now have an opportunity to pursue or complete their masters degree," said Professor Walsh. "In some cases this degree will be the credential they need to move up in their organizations. For others, this could be the beginning of their professional life as they move on to complete their CPA certificate. One thing we know for all of them; this is a great program, which will prepare them well for the magnificent opportunities in accounting and business."
Accounting@Syracuse joins MBA@Syracuse, Whitman's online Master of Business Administration, as Whitman's second online master's program. While MBA@Syracuse offers a general business education with the option to specialize in accounting, Accounting@Syracuse focuses on in-depth, specialized skills in the accounting field.
For more information on Accounting@Syracuse, visit the online Master of Science in Accounting page.