20 of the Most Powerful Military Photos of 2016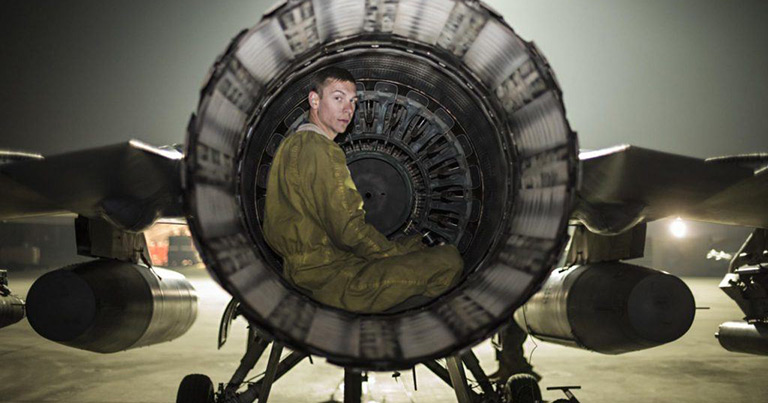 The following is a guest post from Blake Stilwell, USAF veteran photojournalist with masters degrees in Public Diplomacy and Television, Radio and Film from the Newhouse School of Public Communications.
At the end of every year, it's easy to reflect and tally up all of the negative things that happened. With global tragedies and celebrity deaths, plus the added stress of a spite-fueled national election, 2016 was no different. Instead of focusing on the negativity of the past year, we want to reflect on a group of Americans who never stop, no matter how heavy the workload. In honor of their service, we have compiled 20 of the most powerful military photos from 2016.
The U.S. armed forces do much more than fight wars. They deliver humanitarian aid, build clinics and schools and provide protection for troubled areas—and train American allies to do the same. U.S. troops are deployed to at least 150 countries, according to the Defense Manpower Data Center, and they show no signs of slowing down. Right along with them are photographers and videographers from every branch of service, documenting the many missions of the U.S. military as they happen.
This year was eventful for members of the U.S. military. They lost some of their own in Iraq and Afghanistan, as well as in the mass shooting in an Orlando nightclub. United States Marines were sent to Haiti, while National Guard members were deployed to their own neighborhoods in the aftermath of Hurricane Matthew. The military trained relentlessly despite facing manpower shortages and long deployments.
Finally, one of the most important missions of the armed forces is honoring those who came before them. 2016 was the 75th anniversary of the Japanese attack on Pearl Harbor. The attack thrust the United States into World War II. Veterans of the attack who survived the war and the 75 years in between were in attendance at commemoration ceremonies held in Hawaii.
It was certainly a year to remember. And while we hope 2017 will be uneventful, the men and women of the Army, Navy, Air Force, Marines and Coast Guard will be ready if it's not.
Below are 20 pictures curated from the Department of Defense's photo archives that showcase the strength, dedication and sacrifice shown by our nation's service members.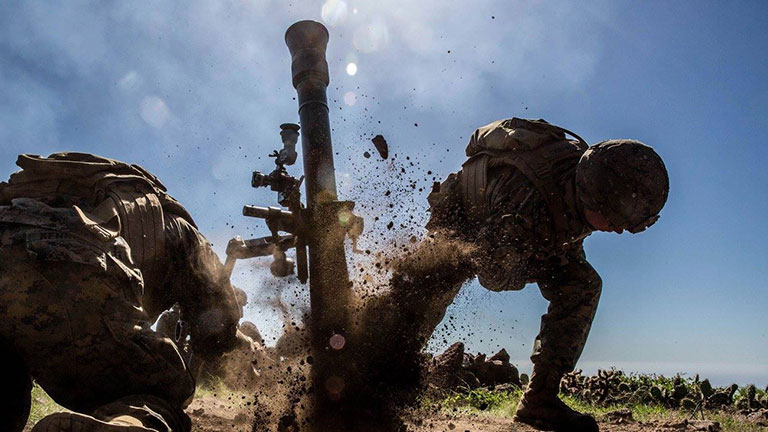 1. Pfc. Bradley Brandes, a mortarman with Weapons Company, 1st Battalion, 4th Marine Regiment, fires an 81 mm mortar system during the supporting arms coordination exercise portion of Exercise Iron Fist 2016 on San Clemente Island, California, Feb. 21, 2016.
U.S. Marine Corps photo by Lance Cpl. Devan K. Gowans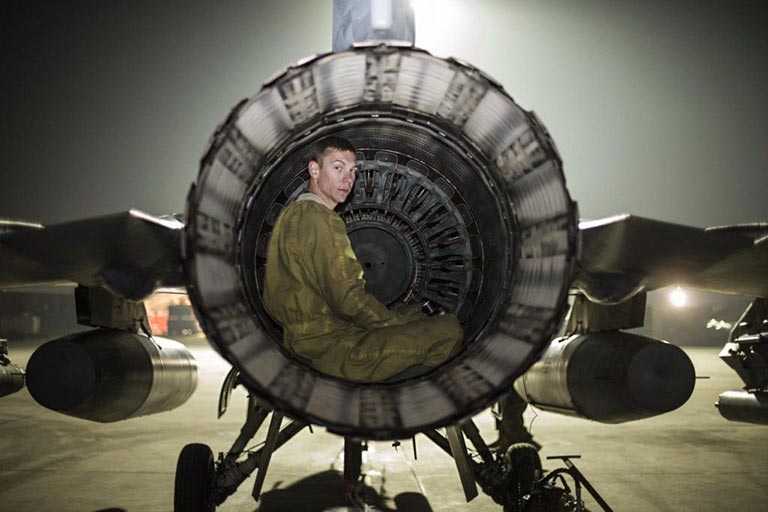 2. Senior Airman Daniel Lasal, a 455th Expeditionary Aircraft Maintenance Squadron crew chief, performs a post-flight inspection on an F-16 Fighting Falcon Nov. 15, 2016, at Bagram Airfield, Afghanistan. Aircraft maintainers perform six hours or more of post-flight inspections after each mission.
U.S. Air Force photo by Staff Sgt. Katherine Spessa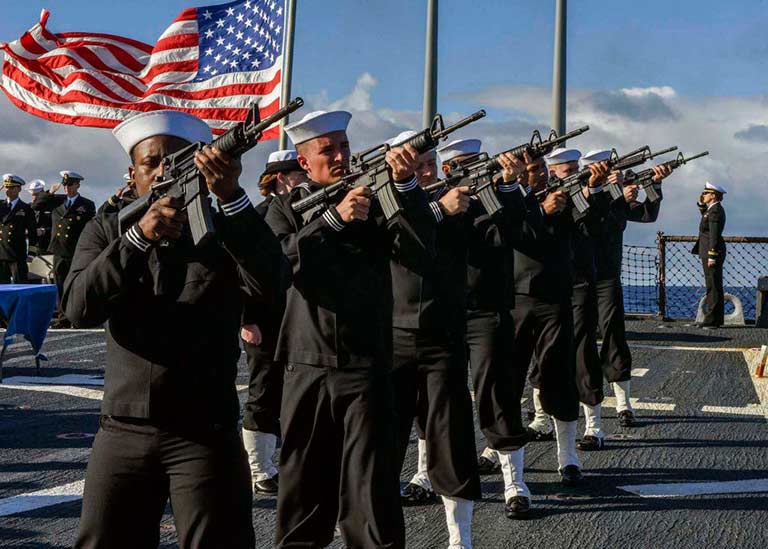 3. Sailors fire the first of three volleys to honor the deceased during a burial at sea ceremony Nov. 26, 2016, aboard the Arleigh Burke-class guided-missile destroyer USS Mahan. The ship was in the U.S. 6th fleet area of operations in support of U.S. national security interests in Europe.
U.S. Navy photo by Petty Officer 1st Class Tim Comerford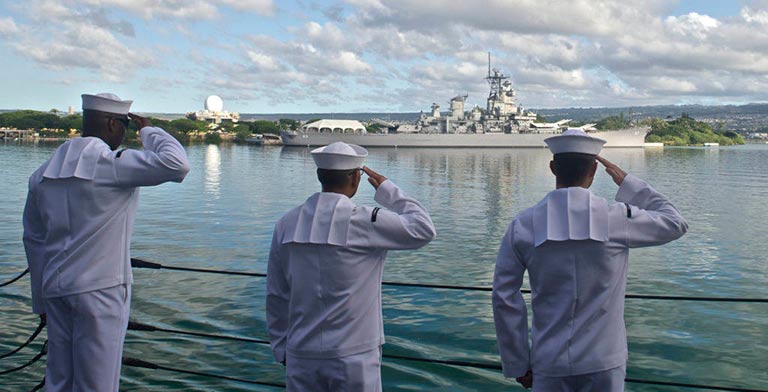 4. Sailors aboard the guided-missile destroyer USS Decatur render honors to the Battleship Missouri Memorial as Decatur prepares to moor at Joint Base Pearl Harbor-Hickam, Nov. 3, 2016. Decatur, along with guided-missile destroyers USS Momsen and USS Spruance, were deployed in support of maritime security and stability in the Indo-Asia-Pacific.
U.S. Navy photo by Petty Officer 3rd Class Gerald Dudley Reynolds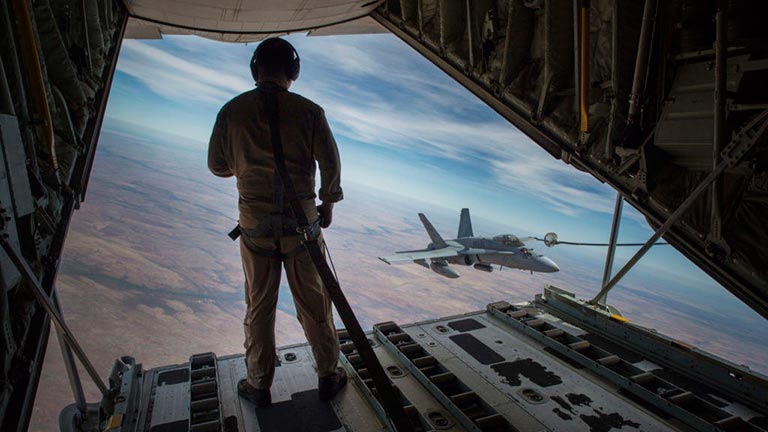 5. Cpl. Chris Lawler, a crewmaster with Marine Aerial Refueler Transport Squadron 152, observes an F/A-18C Hornet with Marine Fighter Attack Squadron 122 approach the refueling hose during Exercise Pitch Black 2016 at Royal Australian Air Force Base Tindal, Aug. 9, 2016.
U.S. Marine Corps photo by Cpl. Nicole Zurbrugg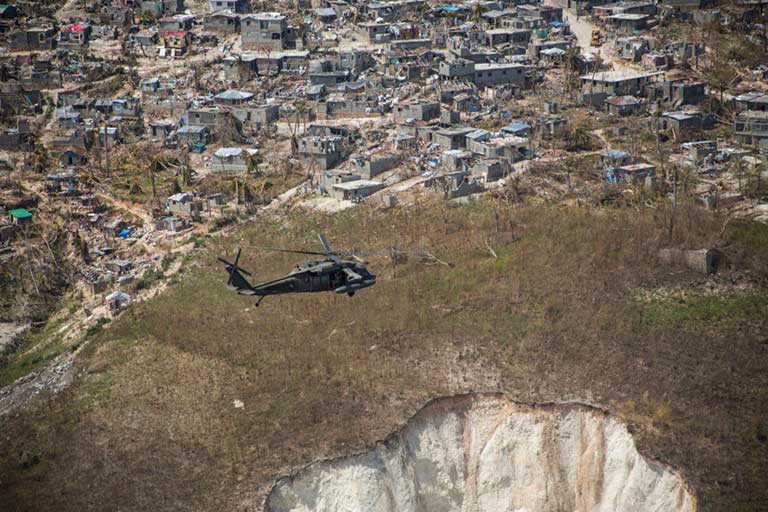 6. A U.S. Army UH-60 Black Hawk helicopter with Joint Task Force-Bravo's 1st Battalion, 228th Aviation Regiment, deployed in support of Joint Task Force Matthew, flies toward a supply distribution point in Jeremie, Haiti, Oct. 10, 2016. JTF Matthew, a U.S. Southern Command-directed team, was deployed to Port-au-Prince at the request of Haiti's government on a mission to provide humanitarian and disaster relief assistance in the aftermath of Hurricane Matthew.
U.S. Marine Corps photo by Cpl. Kimberly Aguirre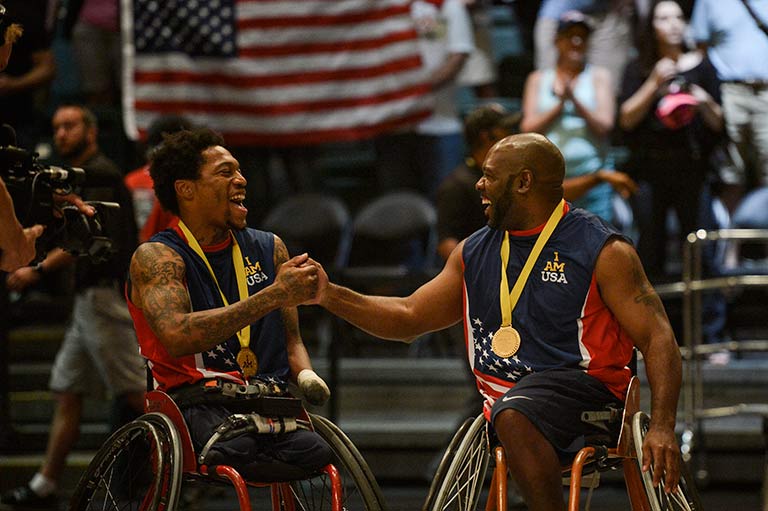 7. Retired U.S. Marine Corps Sgt. Anthony McDaniel celebrates with retired Army Sgt. 1st Class Chuck Amsted after winning the wheelchair basketball championship against the United Kingdom at Invictus Games 2016 in Orlando, Florida, May 12, 2016. The Invictus Games included 14 nations with more 500 military competitors competing in 10 sporting events May 8-12, 2016.
U.S. Air Force Photo by Tech. Sgt. Joshua L. DeMotts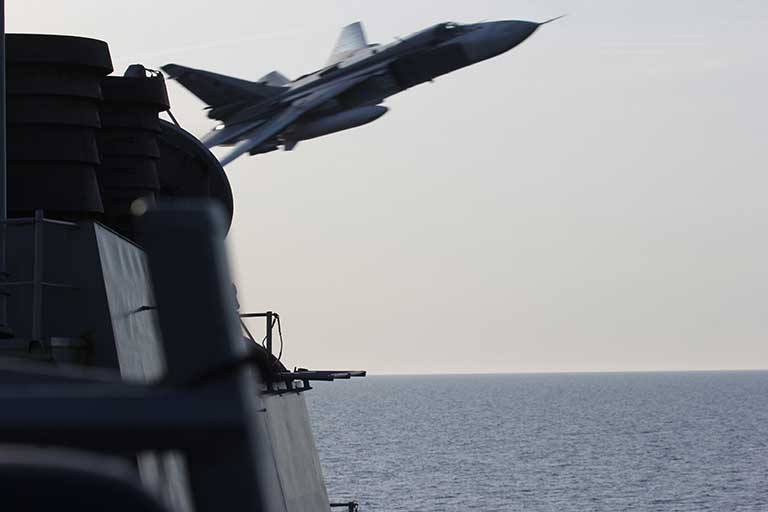 8. A Russian Sukhoi Su-24 attack aircraft makes a very low altitude pass by USS Donald Cook April 12, 2016. Donald Cook, an Arleigh Burke-class guided-missile destroyer deployed to Rota, Spain, was conducting a routine patrol in the U.S. 6th Fleet area of operations in support of U.S. national security interests in Europe.
U.S. Navy photo
9. Virginia "Ginnie" Stephens is comforted by Sgt. First Class Gregory Santoni, assigned to the U.S. Army Reserve's 3rd Battalion, 383rd Regiment, during a Fallen Soldier memorial on June 25, 2016. The memorial, held at the battalion in St. Louis, was in honor of Capt. Antonio D. Brown, a 3-383rd member killed in the nightclub shooting in Orlando, Florida, June 12, 2016.
U.S. Army photo by Sgt. Aaron Berogan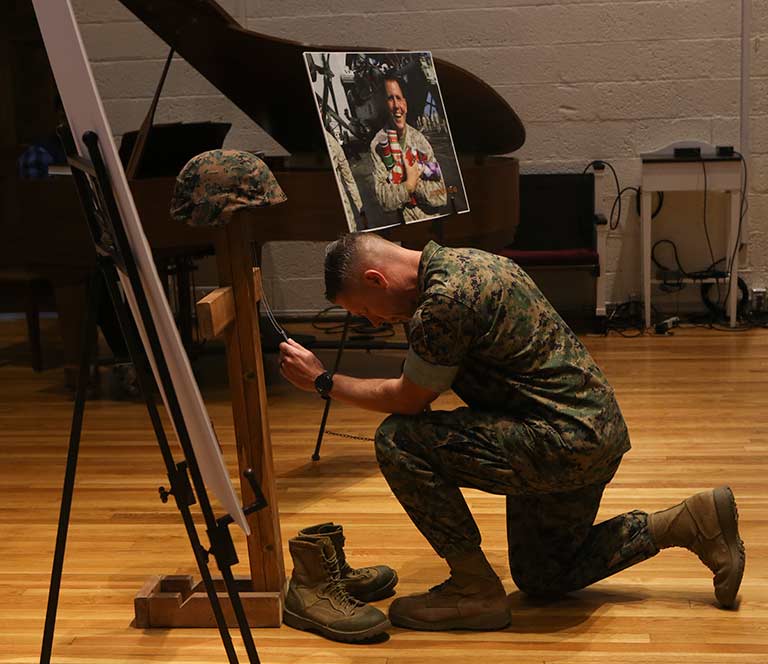 10. Marines with 2nd Battalion, 10th Marine Regiment, held a memorial ceremony for Staff Sgt. Louis F. Cardin at the Protestant Chapel aboard Marine Corps Base Camp Lejeune, North Carolina, July 14, 2016. Cardin was supporting Operation Inherent Resolve in Iraq when he was killed March 19 while serving as a member of Task Force Spartan. Task Force Spartan, made up of Marines from the 26th Marine Expeditionary Unit, was responsible for providing indirect fire support to Iraqi security forces near the city of Mosul.
U.S. Marine Corps photo by Staff Sgt. Bobby J. Yarbrough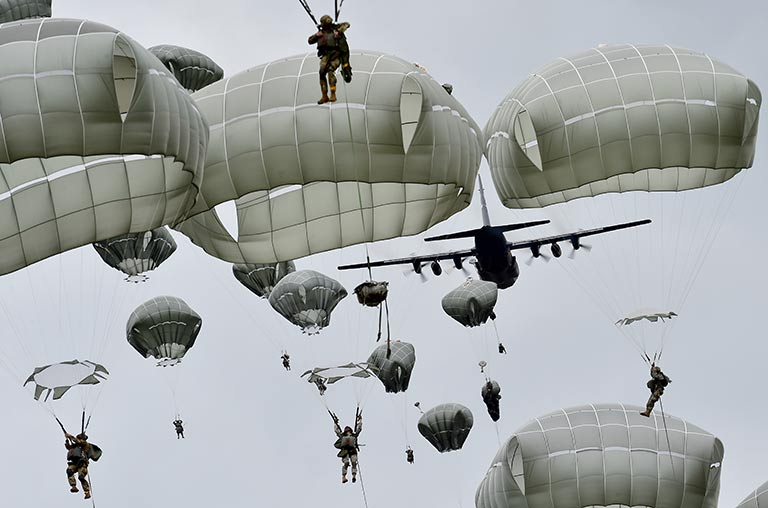 11. Paratroopers assigned to the 4th Infantry Brigade Combat Team (Airborne), 25th Infantry Division, U.S. Army Alaska, execute a joint forcible entry exercise at Malemute Drop Zone on Joint Base Elmendorf-Richardson in Alaska, Aug. 23, 2016, as part of Exercise Spartan Agoge. Spartan Agoge is a brigade-level field training exercise that focuses on an array of combat-related tasks, including squad live-fire exercises, helicopter air insertion and airborne assault training.
U.S. Air Force photo by Justin Connaher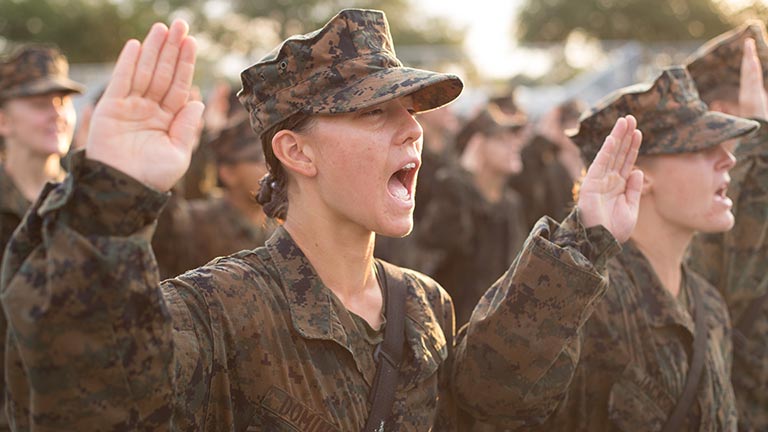 12. Recruit Lully L. Dominguez, Platoon 4032, Oscar Company, 4th Recruit Training Battalion, repeats the oath of enlistment Sept. 10, 2016, on Parris Island, South Carolina. Repeating the oath is a custom that reaffirms commitment to defending the nation. Parris Island has been the site of Marine Corps recruit training since Nov. 1, 1915. Approximately 19,000 recruits come to Parris Island annually for the chance to become United States Marines by enduring 12 weeks of rigorous training. Parris Island is home to entry-level enlisted training for 49 percent of male recruits and 100 percent of female recruits in the Marine Corps.
Photo by Lance Cpl. Carlin Warren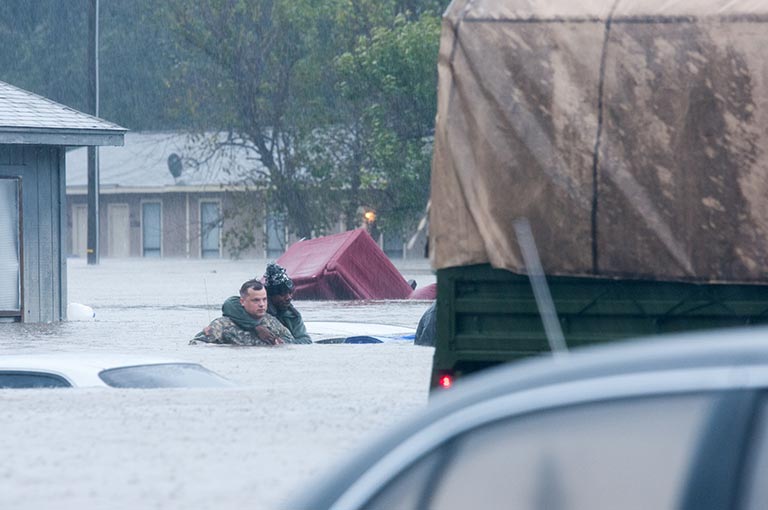 13. North Carolina Army National Guardsmen assist with evacuation efforts in Fayetteville, North Carolina, Oct. 8, 2016. Heavy rains caused by Hurricane Matthew led to flooding as high as 5 feet in some areas.
U.S. Army National Guard photo by Staff Sgt. Jonathan Shaw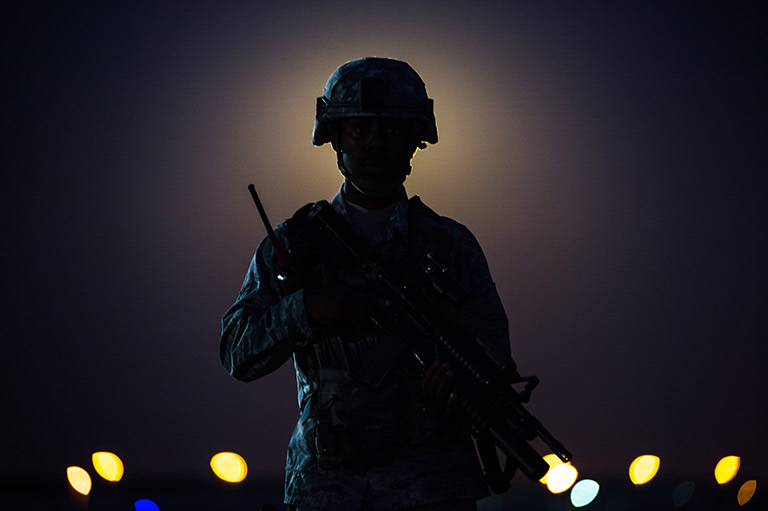 14. A member of the 380th Air Expeditionary Wing security forces stands on a flight line near a guard tower at an undisclosed location in Southwest Asia, Nov. 14, 2016. Behind the airman, a rare supermoon rises in the sky.
U.S. Air Force photo by Senior Airman Tyler Woodward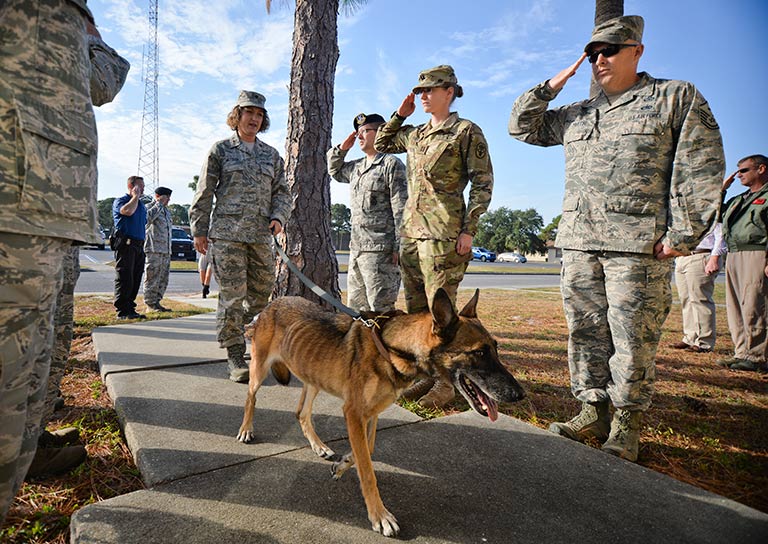 15. Tyndall Airmen provide a final salute to retired U.S. Air Force Military Working Dog Mica T204 at the end of her final patrol Nov. 14, 2016, at Tyndall Air Force Base. Mica provided more than 4,500 hours of counter-explosive operations and installation protection for more than 45 air assets and 7,000 military, civilian and retired personnel.
U.S. Air Force photo by Tech. Sgt. Javier Cruz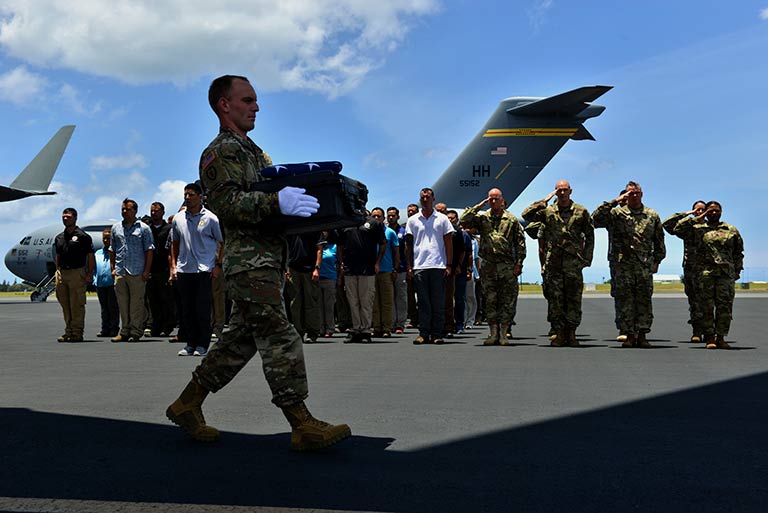 16. U.S. Army Staff Sgt. Jonathan Taylor, Defense POW/MIA Accounting Agency (DPAA) mountaineer, carries a case containing possible remains of unidentified service members during a dignified transfer ceremony at Joint Base Pearl Harbor-Hickam, Hawaii, June 16, 2016. DPAA conducts global search, recovery and laboratory operations to provide the fullest possible accounting for missing personnel to their families and the nation.
Department of Defense photo by Air Force Tech. Sgt. Kathrine Dodd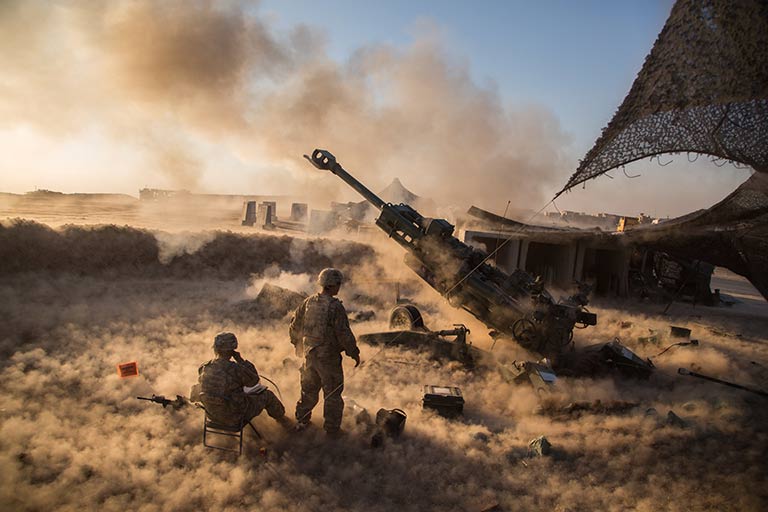 17. Soldiers assigned to Charlie Battery, 1st Battalion, 320th Field Artillery Regiment, 2nd Brigade Combat Team, 101st Airborne Division, fire an M777 A2 howitzer in support of Operation Inherent Resolve at Platoon Assembly Area 14 in Iraq, Nov. 29, 2016.
U.S. Army photo by Spc. Christopher Brecht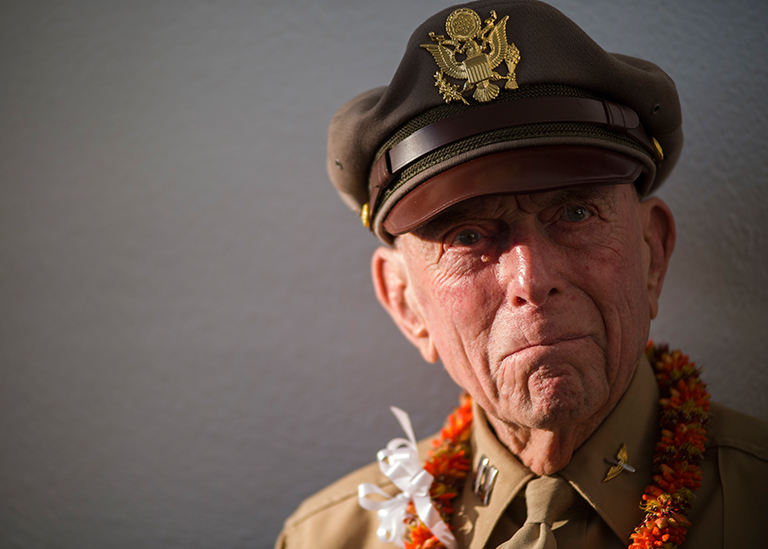 18. Jerry Yellin, former captain and World War II Army Air Corps P-51 pilot, attends the sixth annual Blackened Canteen ceremony at the USS Arizona Memorial during the 75th Commemoration of the attacks on Pearl Harbor. The blackened canteen is a relic of an air raid over Shizuoka, Japan, in 1945, and is used for pouring bourbon whiskey as an offering to the fallen in the hallowed waters of Pearl Harbor. Dec. 7, 2016, marked the 75th anniversary of the attacks on Pearl Harbor and Oahu.
U.S. Navy photo by Petty Officer 2nd Class Somers Steelman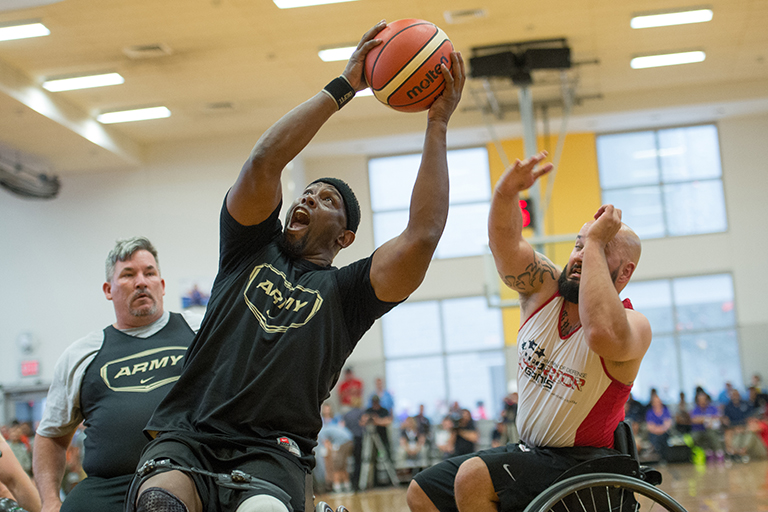 19. Army veteran Staff Sgt. Alexander Shaw grabs a rebound during the basketball gold medal round of the 2016 Department of Defense Warrior Games at the U.S. Military Academy in West Point, New York, June 21, 2016.
Department of Defense photo by EJ Hersom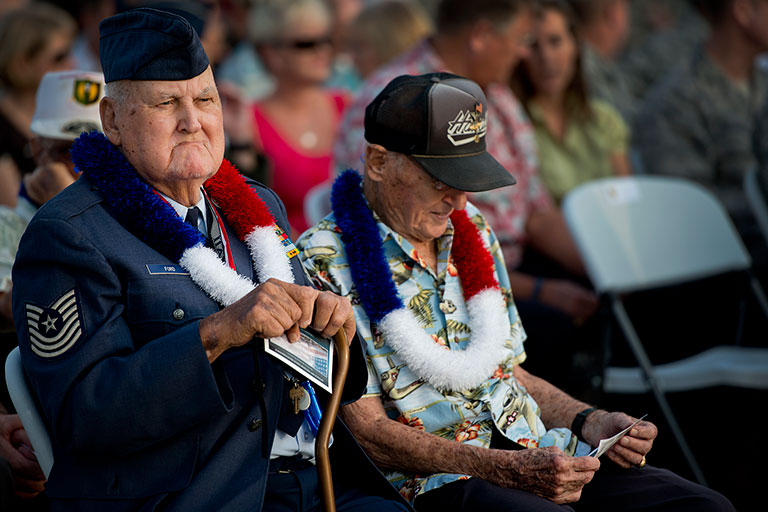 20. Master Sgt. Ken Ford, retired, and Col. Andrew Kowalski, retired, both survivors of the Pearl Harbor attack, await the beginning of the ceremony that marks the 75th year since the Japanese attacked the base. Hickam Field lost 189 airmen and civilians, and more than 300 were wounded. Ford, 87, served in World War II, the Korean War and Vietnam during his 26-year military career. Kowalski, 98, served in every rank in the Air Force up to colonel, except buck sergeant.
U.S. Air Force photo by Staff Sgt. Mike Meares
Please feel free to share this list. When doing so, please include sourcing to
"Communications@Syracuse, the online masters in communications."