The Psychology of Private Label Grocery Brands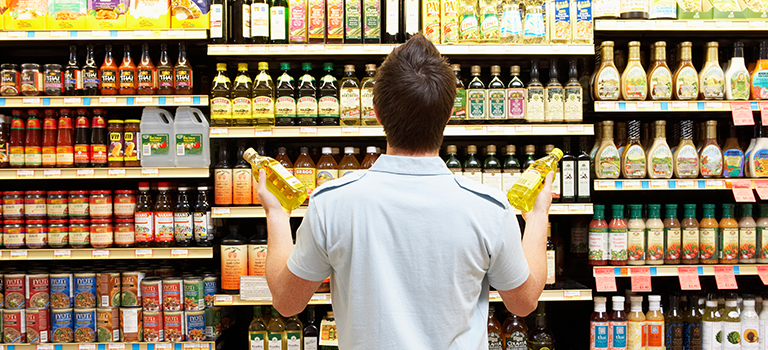 When Dr. Eunkyu Lee goes grocery shopping at Wegmans, he stops to consider the orange juice.
Wegmans is a Rochester-based supermarket chain with 46 stores in New York state. Lee, a professor of marketing at the Martin J. Whitman School of Management at Syracuse University, shops at the store on East Genesee Street in De Witt, New York, where Wegmans' store brand sells for $3.99 for a gallon jug.
It comes in a standard clear plastic milk jug, with a small label dominated by nutritional facts. Nothing fancy. It's still 100 percent juice, and the label promises it's "food you feel good about," a designation for Wegmans' products that have no artificial colors, flavors or preservatives.
The store also sells a gallon of Tropicana Pure Premium, for $5.79. The name band comes in a sturdy white plastic jug with a large handle on the side for easy pouring.
A third choice splits the difference — Wegmans' premium orange juice. It runs $4.79 a gallon and features the same style jug as Tropicana, with an even bolder label.
Welcome to store aisle psychology 101. Store brands are no longer merely a cheap, no-frills option for consumers trying to stretch a dollar — although those products still exist, and those customers are still coveted.
Retailers are increasingly using private-label brands to capture every segment of the market and pressure the national brands into better prices. A recent report by Connecticut retail consultant Daymon found 81 percent of shoppers are buying private-label products on every or almost every shopping trip.
"The retailers tend to actually place the private labels very close to — almost right next to — national brands they want consumers to compare against so that you can almost see them side by side," said Lee, who has studied the growth of private label brands in retail stores.
"The people who still appreciate the brand value of Tropicana will buy it, but the people who feel the quality is almost the same on Wegmans' premium brand will buy that," he said. Those customers will save $1 and get the satisfaction of having the best of both worlds — quality and savings.
For true OJ connoisseurs, Wegmans also sells cold-pressed orange juice by the half-gallon for $12. Half the juice for three times the price. And it's another Wegmans' store brand — proof that Wegmans is trying to capture bargain-hunters, gourmands and everyone in between.
"At a broader and more macro level they are also developing the overall store brand image of a premium and super high-quality grocery chain," Lee said.
What's in a name?
The private label is on a roll. Within three months of acquiring Whole Foods in August, Amazon had racked up $10 million in online sales of the grocery chain's 365 private label brand. With average weekly sales gains of 9 percent, 365 was second only behind AmazonBasics, the company's own private label that offers everything from batteries to bedding.
Consider Jet.com, the market-disrupting retail site purchased in 2016 by Walmart Inc., which recently debuted Uniquely J, a private brand that includes everything from Multigrain Date Mini-Crisps to Rosemary Grapefruit Lime Toilet Bowl Cleaner.
It is these types of products, created by third-party manufacturers, that have dramatically changed what consumers expect, according to a recent Nielsen report.
"There is a new retail revolution under way, and it's going to affect the food industry across the globe over the next five years in ways we have never seen before," the report found.
What makes the trend remarkable is that it started during the economic downturn but has accelerated as consumer confidence has increased, Nielsen found.
"When an economy recovers from recession, changed shopper behavior often remains, and this sentiment is favorable when it comes to continued private-label growth," according to the report. "When coming out of economic downturns, consumers will maintain a more cautious approach with regard to household expenses, having developed a habit of seeking and expecting value for their money."
Cincinnati-based grocery chain Kroger Co. recently unveiled a turnaround plan that, among other things, calls for aggressively growing three private brands.
Name brands still have clout
All this spells trouble for national brands. Kimberly-Clark, which makes Huggies and Kleenex, has seen private-label brands cut into sales, and announced it was cutting up to 5,500 jobs and closing factories.
The company is having a hard time because consumers may have been won over by cheaper, private-label alternatives, several analysts have noted.
But don't count out name brands. They are still a major draw for some shoppers who are willing to pay more for a product that's held up as a standard. Retailers don't want to alienate shoppers by replacing too many brands associated with top quality or comfort, because many stores rely on national brands to bring customers into stores.
They may be priced higher, but national brands still have a perceived edge in quality. Scott Lathrop, who teaches in the MBA@Syracuse program and is an assistant professor of marketing practice at Syracuse University's Whitman School, contributed to research that found across all product categories, the mean discount at which consumers would be indifferent about a gap in quality between a name brand and a private label was about 30 percent.
Elizabeth Hagopian, 46, of suburban Philadelphia, makes two grocery lists — one for private-label foods from Trader Joe's, and another for Target for the brands she can't do without. For example, Hellmann's Light Mayonnaise.
But that comfort in private-label brands? It's growing.
For Hagopian, it started with spices.
"Spices are more expensive than you think they are going to be," she said. In her 20s, she used the same brand her mother used, McCormick. Then she started experimenting with cheaper store brands and found little difference in quality. "A spice is a spice."
When her son Owen was born in 2003, she said, "That's when I became more cost-conscious and definitely buying store brands more. And it gradually became a natural part of my life."
Citation for this content: MBA@Syracuse, Syracuse University's online MBA program