There Are Several Degrees Under the Master's in Information Systems Umbrella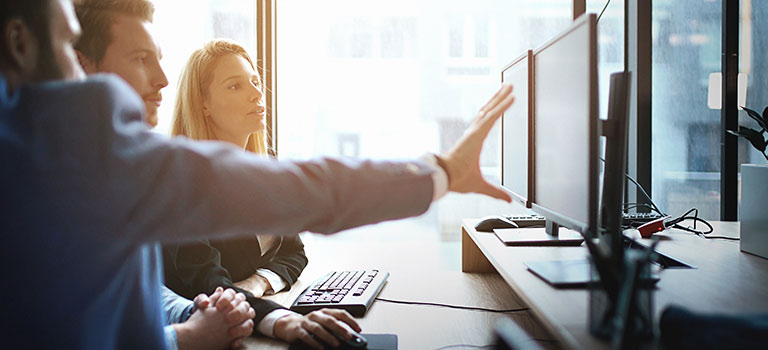 Information Management is a big bucket that holds a number of associated degrees. For example, one of them, Information Systems, is the study of complementary networks that people and organizations use to collect, filter, process, create, and distribute data.
An MS in Information Systems is distinct from related degrees in Information Management, Information Technology and Computer Science, but all four degrees are a good fit for early-career and midcareer professionals who are looking to bolster their IT skills.
Maybe you're a consultant, a business analyst, a product developer, an implementation manager, a software solutions expert or an IT manager. If you think knowing how to better use information to make informed business decisions would help you advance in your career, any of the following degrees could help you get there. But there are slight differences.
MS in Information Management
Focus/objective
A master's in Information Management helps those interested in bridging the gap between business and technology achieve that connection. Students learn the effective use of information for the business purpose it serves, and about how to facilitate the secure sharing of information inside and outside of an organization.
Core skills
Technical
Analytical
Managerial
Deploy emerging technologies
Manage high-value resources
Key Courses
Information systems analysis
Data science
Information security
Technological infrastructure
Management principles
MS in Information Technology
Focus/objective
Working with hardware, software, databases, and networks — the technology involved in the information systems. Students learn the functioning of IT components and how they provide the base to store, network, process, manipulate, and disseminate information.
Core skills
Mathematics
Database design
Computer science and forensics
Programming languages
Key Courses
Object-oriented programming
Software engineering
Fundamentals of computer systems
Information security
MS in Computer Science
Focus/objective
This curriculum focuses on software and the planning, design, implementation, testing, and management of computer systems and applications. Students will learn algorithm investigation, design efficiency, and implementation and application of computer systems.
Core skills
Security and assurance
Artificial intelligence
Computer architecture
Advanced programming
Key Courses
Structured programming and formal methods
Computer architecture
Principles of operating systems
Design and analysis of algorithms
MS in Information Systems
Focus/objective
Just as an MS in Information Management helps build a business-and-technology bridge, a master's in Information Systems bridges business and computer science. Students focus on information and learning about the equipment, processes and people involved in the dissemination of that information within an organization.
Core skills
Actuarial sciences
Analytics and programming
Communications
Computer security and auditing
Key Courses
Information theory
Foundations of management
Social science
Information technology
Career Track
The 2017 tech hiring report from Robert Half Technology found there's still a shortage of skilled tech talent in North America. "Network security and big data initiatives" are driving demand for information systems professionals, according to the report, and while employers are making generous offers, they're also being selective.
More than 6 in 10 (61 percent) chief information officers told Robert Half that it's challenging to find skilled technology professionals, while 37 percent said staying up to date on industry trends is the greatest source of pressure on technology professionals. Asked which areas today's technology professionals could most use improvement, the most frequently-selected answer by CIOs (at 28 percent) was "communication skills, including written, interpersonal and face-to-face communication."
Some of our degrees offer specific job tracks within a range of industries and a range of employers, including Bank of America Merrill Lynch, Deloitte Consulting, EY (Ernst & Young), JP Morgan Chase & Co., KPMG, LPA Software Solutions, Microsoft, PwC, Securonix Inc., and the U.S. Government.
MS in
Information Management
Senior data consultant
User experience designer
Data visualization specialist
Database developer
MS in
Information Technology
IT project manager
Information security analyst
Network architect
Database administrator
Systems analyst
MS in
Computer Science
Vice president, engineering
Enterprise architect, IT
Business intelligence director
Software engineering director
Director of information technology services
Applications development manager, computer software
MS in
Information Systems
Chief information services officer
Vice president of information systems
Director of systems development
Product manager
If you believe new Information Management skills will help put you in front of employers hungry for tech leaders within their companies, it could be the right time to explore one of these degrees to help you advance in your career.

Start Earning Your Master's Online
Now is the time to advance your education and career through the iSchool.