Social Work vs. Counseling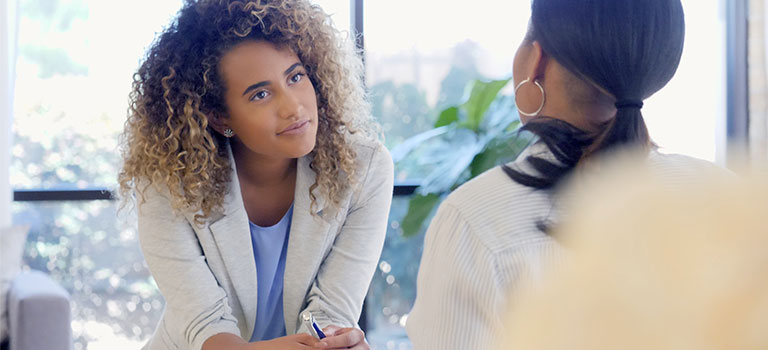 For individuals who aren't too familiar with social work vs. counseling work, knowing the differences between the two fields might be difficult. There may also be some confusion about the differences between social worker vs. therapist. While there is some overlap between the two areas of practice, social work and counseling ultimately differ.
Both fields are dedicated to improving people's lives. Social workers identify people who may need help and assist them in coping with problems in their everyday lives. They often do this by connecting their clients with relevant resources or referring them to other mental health professionals. They're capable of supporting a variety of clients through life changes such as unemployment, illness, divorce, death and more. They also commonly advocate for community resources such as food stamps.
On the other hand, mental health counselors assist those struggling with alcoholism, eating disorders and other mental health issues or behavioral problems that may arise from these sorts of conditions.
More broadly, counselors handle the psychological issues their patients suffer from, whereas social workers address social issues that create or amplify mental health issues.
What Does a Social Worker Do?
Social workers often are driven to help others and perceive the value of their labor as having a greater purpose.
So what is social work exactly? Originating in volunteer efforts and peace activism, social work was designed for professionals with a willingness to improve the wellness of individuals living in their communities. They provide services that can inspire meaningful change in a client's mental wellbeing and connect clients with important resources and one-on-one counseling.
Social workers offer services to improve mental health, education, assistance at home, food and legal services. They also help secure the necessary financial relief to facilitate these social utilities. Ultimately, the scope of their work is malleable, shifting to accommodate each individual client's specific needs.
Of course, there are other types of social workers who perform important work in their own respects, including clinical social workers. But what does a clinical social worker do?
Clinical social workers make an effort to understand the full extent of their client's life situation. In other words, they strive to understand how their client's mental health is molded by environmental circumstances such as familial relationships, friendships and work situations. Pivotally, clinical social workers understand how stressors from each of these areas of one's life can affect mental health and the ability to function in a given environment.
What Does a Counselor Do?
On the other hand, what does a counselor do? Counselors—like social workers—work to assist people struggling with mental health disorders such as depression. Counselors are focused primarily on clients' mental health, unlike social workers who work with clients on a variety of different issues.
Counselors are often trained to specialize in a particular area of the mental health field, of which there are many.
Though each field has its differences, all are united in their focus on addressing universal mental health issues and improving clients' quality of life.
Social Work and Counseling Careers
While there are a number of similarities between a social worker vs. counseling therapist, each path will lead to a different professional day-to-day.
Some professionals kick off their career journey by choosing which area of social work or counseling to focus on. Then they determine where to attend school, since different schools offer unique programs for people pursuing degrees in social work and counseling.
After all, a student who wants to get into marriage and family therapy may not want to spend the majority of their time and money on classes and certifications related to substance abuse, and vice versa, even if there is overlap. However, those who are unsure can take time to explore the range of career options available before enrolling in a program. A few of them are highlighted in the following sections.
A Social Worker's Career Path
A bachelor's degree in social work is the minimum education requirement for aspiring social workers, according to the Bureau of Labor Statistics (BLS). Those interested in clinical social work need additional education and training—namely, a master's degree in social work and two years of experience in a supervised clinical setting. From there, they can pursue licensure, which allows them to practice in their state. The BLS notes that most states also require a license or certification for nonclinical social workers.
Once you've completed a degree program and received a social worker license (if necessary), you can put your credentials and newly acquired skills to use in different work settings. Some are obvious. School social workers will most commonly be found in schools, a social worker at a community center services their community, and a social worker looking to establish a private practice will work out of their own office.
Social workers can also work in a variety of essential and notable establishments. Some work at governmental organizations to treat government employees and other clients. Others are employed at hospitals, working with patients and their families to help them adjust to how their lives may change following their hospital check-out. The elderly, who commonly live in nursing homes, can suffer from depression as they get older so social workers are there to treat these issues.
Counseling Career Path Options
Just as with social workers, counselors who've finished their education and are looking to start a career have a number of options to choose from. Counseling education varies, depending on specialty and state licensing requirements, but degree programs usually include a supervised practicum and opportunities for students to accumulate direct client contact hours.
School counselors treat students at public and private schools as well as other places education is offered, such as juvenile detention. Addiction counselors can work at mental health clinics, hospitals, the government and in prison systems.
Marriage and family counselors have a number of opportunities available to them. They can work at schools to assist children of struggling marriages as well as private practices dedicated to marriage mediation, medical centers, and mental health facilities.
There are many social work and counseling jobs to consider. While education requirements, earning potential and job outlook vary for social work and counseling careers, both afford professionals the opportunity to impact their communities, making either choice potentially rewarding.
Learn More About the Online MSW Program from Syracuse University.