What Is Business Analytics?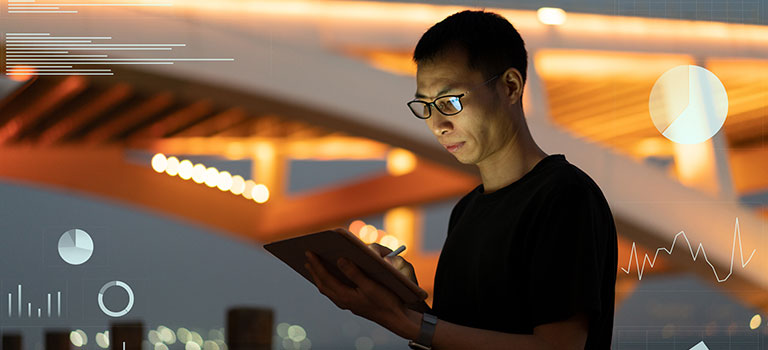 Many people hear the phrase 'business analytics' and find themselves wondering: "What is business analytics, exactly?" As a field, business analytics is concerned with analyzing business operations with an eye for optimization. By using big data, statistical analysis and data visualization techniques to uncover data and insights, analysts can make actionable recommendations to improve business decisions and the organizations for whom they work.
Those working in this field are able to draw concrete conclusions about a business by answering specific questions about what problems occurred in the past (and why), what will happen next and actions that can be taken to prevent or mitigate future issues.
In the field of business analytics, there are many career paths available to those with a master's in business analytics.
Each career path is projected to have varying degrees of demand in the future:
There's so much to learn about this broad and innovative field, regardless of the career you end up choosing. Some aspiring professionals may be interested in the uses of business analytics—past, present and future—while others might want to focus on marketing in business analytics. This guide will delve into the intricacies of this field, exposing you to core principles, education requirements, earning potential and more.
Uses of Business Analytics
There are multiple important uses of business analytics for companies across industries and around the world. Those with a master's degree in business analytics can leverage their skills to enter into fields such as:
Restaurants. Companies in the fast-food industry use applications developed with the help of business analytics to streamline a customer's dine-in and dine-out experiences and improve overall operational efficiency.
Retail. Businesses in the retail space use business analytics to pivot merchandising and pricing based on customer behaviors, with an eye for reducing operational costs.
Casinos. In the gambling industry, business analysts can uncover data-driven insights that help companies maximize player engagement and the house return.
Banking. Corporations working in the high-stakes financial space leverage business analytics to acquire data on customer banking behaviors, then use this information to address customer concerns around how their money is stored and used.
So, if those are some of the uses of business analytics, then what is marketing analytics software used for? Put simply, these tools help users identify the impact of their marketing efforts, which may include social media strategies, search engine optimization (SEO), key performance indicator (KPI) setting and more. This way, the user is better able to decide how to refine their company's marketing approach moving forward.
Depending on your interests and professional goals, there are other types of analytics available. Master's in business analytics programs, such as the one offered by Syracuse University's Martin J. Whitman School of Management, include courses in financial, accounting and supply chain analytics, equipping students with highly sought-after skills and preparing them for a broad range of career paths. 
Is Business Analytics Hard?
While business analytics has various applications, people often find themselves wondering the same question: "Is business analytics hard?"
As with many fields, there are several key skills that make a great business analyst. As the name implies, a business analyst is trained to collect and organize important data, identify patterns and develop alternative strategies and action plans for any problem that they may face. A working basic knowledge and comfort level with mathematical concepts is very helpful. In addition, they can't convince others of their suggestions without excellent communication skills in both written and verbal forms—and they cannot communicate effectively without being a good listener.
What's more, a business analyst must know how to work well with others as part of a team. They should be able to collaborate while thinking creatively to solve emerging business problems. Finally, business analysts need to use their time wisely and effectively. After all, business moves fast, and a business analyst who can't keep up could slow their company down.
So, is business analytics hard? The answer depends on the strength of your math skills and soft skills like communication, efficiency and creative problem solving.
How to Get Into Business Analytics
Wondering how to get into business analytics? If you've decided to take on the challenge of entering the industry, there's some important information to know ahead of time. When looking for a business analyst job, it is good to have several years of work experience in the field of your choice. For instance, if you want to be an analyst for a bank, prior experience in the finance industry would be valuable.
But before you can get work experience, you will want to have at least a bachelor's degree in a field such as business, social science or engineering to make your way into an entry-level position in business analytics. If you have an MBA and years of experience in an analyst position, you can show companies that you have a high degree of industry knowledge—which is becoming increasingly important to businesses all over the world.
Do you want to learn more about how to get into business analytics and start making actionable business decisions with data? Syracuse University offers an online Master of Science in Business Analytics program to bring you up to speed. Students can complete the 36-credit program in as few as 18 months.
How Much Do Business Analysts Make?
Depending on the industry, your job title and level of experience, there are a variety of answers to the question "How much do business analysts make?"
For example, people with a master's in business analytics may find themselves in any of the following roles:
Citation for this content: Syracuse University's MBA program online