What Is Civic Engagement?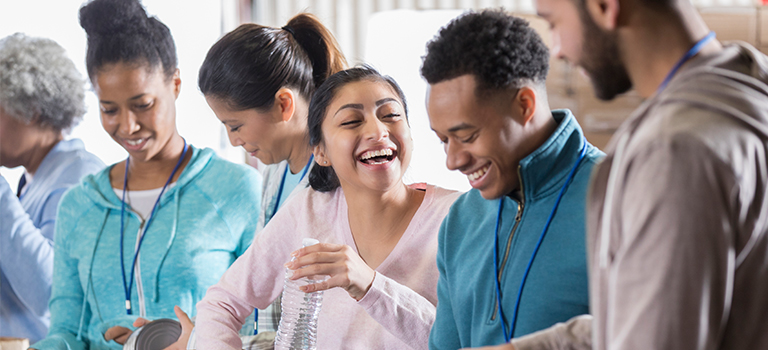 When citizens get involved, meaningful change can occur. The many types of civic activities that take place within civic engagement lead to a variety of benefits both for the community and for those who take part in them. This is especially true for students—such as Master of Public Administration (MPA) degree candidates—who can embrace the benefits of experiential learning that civic engagement affords. Individuals involved in this type of engagement may improve their understanding of the communities they serve while advancing in their career development. Here, we examine the role of civic engagement and the forms of civic participation, while providing examples that help answer the question, "What is a civic engagement activity?"
Role of Civic Engagement
What is the role of civic engagement? In Civic Responsibility and Higher Education, Thomas Ehrlich defines civic engagement as "working to make a difference in the civic life of our communities and developing the combination of knowledge, skills, values, and motivation to make that difference. It means promoting the quality of life in a community, through both political and nonpolitical processes." The Association of American Colleges & Universities describes the dynamics of civic engagement as encompassing "actions wherein individuals participate in activities of personal and public concern that are both individually life enriching and socially beneficial to the community."
Civic engagement occurs within a variety of contexts—such as organizations, movements, campaigns, and neighborhoods. It is one important vehicle through which individuals can be empowered to embrace their civic identities. Involvement on this level can benefit individual and collective quality of life.
Forms of Civic Participation
Civic participation is a type of civic engagement, and it can take many forms. These typically include efforts that serve the greater good of society through problem solving, addressing issues of concern, and interacting with institutions or individuals that play a role in the democratic process. As noted on youth.gov, forms of civic engagement include "paid and unpaid forms of political activism, environmentalism, and community and national service. Volunteering, national service, and service-learning are all forms of civic engagement."
There are many types of civic activities that individuals can participate in—such as working in a soup kitchen, serving on a community board, participating in political campaigns, or even supporting efforts to abolish the use of gas-powered leaf blowers by municipalities.
In addition, civic engagement and public service often occur together. During an event held by Syracuse University's Maxwell School of Citizenship and Public Affairs, Booz Allen Hamilton Vice President David Sulek noted how this is especially true for younger generations in the workforce—since they understand the importance of building networks with people from different sectors to work toward a common goal in the name of public service. "There's a lot more sense of purpose-driven initiatives with millennials and the generation following behind them, and that spirit is at the core of what they believe," Sulek said.
Such a dynamic among younger generations can be supported by youth civic engagement as well. What is youth engagement? According to youth.gov, it can be described as "working to make a difference in the civic life of one's community. It also involves developing the combination of knowledge, skills, values, and motivation to make that difference. These activities enrich the lives of youths and are socially beneficial to the community."
Examples of Civic Activities
In Principles of Community Engagement, the U.S. Centers for Disease Control and Prevention defines community engagement as "the process of working collaboratively with groups of people who are affiliated by geographic proximity, special interests, or similar situations with respect to issues affecting their well-being." As such, civic engagement may include efforts within the local community but may also involve efforts on a much broader scale—such as activism regarding issues at a national level. Therefore, community engagement may be considered civic engagement but not necessarily vice versa.
What are some examples of civic engagement vs. community engagement?
Consider the 2014 Flint water crisis, when local residents participated in community engagement through a public outcry regarding the foul water they were expected to drink. In The Guardian, Anna Clark describes the community engagement response during the Flint water crisis: "… the people of Flint got organized. Besides protests, petitions, and public meetings, they kept meticulous notes, collected samples, hosted makeshift water distribution sites, created social media pages to share information, and sought public documents. Residents also enlisted environmental justice experts from around the country for insight."
But for many who were affected, the Flint water crisis led to an even greater level of civic engagement, as described by Jean Ross of the Ford Foundation: "A new generation of civic activism and engagement is building collaboration among diverse Detroit communities, united by a fierce commitment to securing a better future for this once-great American city … we see emerging efforts to develop leaders and organizations that can achieve change at home and build the networks that are needed to start a new statewide policy debate."
While the defining lines between community engagement and civic engagement may be fluid at times, defining service-learning is more easily accomplished. In Learning Through Serving, Christine M. Cress describes service-learning as community-based learning experiences in which students "learn how to become an educated community member and problem solver through serving the community and reflecting on the meaning of that service."
The American Psychological Association defines service-learning as a "course-based, credit-bearing educational experience that allows students to (a) participate in an organized service activity that meets identified community needs and (b) reflect on the service activity in such a way as to gain further understanding of course content, a broader appreciation of the discipline, and an enhanced sense of civic responsibility."
Therefore, just as civic engagement may include community engagement, service-learning may also be experienced within civic and community engagement contexts. However, the difference here is that service-learning is conducted within a structured learning environment so that students may benefit from their service experiences.
For instance, since MPA candidates will likely engage in civic participation throughout their careers, those completing an MPA capstone project can expect service-learning to be part of this experience. Within such projects, students incorporate what they have learned throughout the MPA program to a specific case that has practical application to a real-world organization or group of policymakers. Specific projects may be related to broad topics such as fiscal and monetary policy, environmental policy and global warming, options for utility deregulation, intergovernmental roles and relations, health care, education, and many more. In this way, students can benefit from experiential learning that leads to positive civic and community outcomes while enhancing the educational process.
"The field of public administration is seeing a resurgence of interest in deliberative civic engagement among scholars, practitioners, politicians, civic reformers, and others. The reasons for this growing interest are many. For example, some believe that deliberative civic engagement is a potential remedy for the philosophical and practical shortcomings of current governmental practices, including the limitations of voting, the deteriorating ties among citizens and between citizens and government, and the apparent inability of government to address systemic policy problems."
Civic Engagement Resources
If you are interested in deepening your level of civic engagement, the following resources may help:
You can also learn more about earning a bachelor's degree in citizenship and civic engagement through the Maxwell School of Citizenship and Public Affairs undergraduate program. Syracuse University's Maxwell School prepares students to become ethical, socially responsible, and actively engaged professionals in communities across the nation.
Citation for this content: Online Executive Master of Public Administration