Getting an MBA at Any Age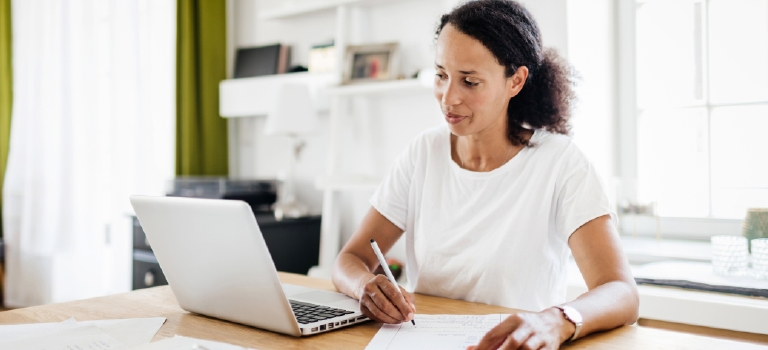 What Is the Ideal Age for an MBA?
If you've been asking yourself, "Should I get an MBA at this point in my career?" you're not alone. Professionals at many stages of life have pondered the same question—from new moms re-entering the workforce, to warriors returning to school after the military, to executives embracing their dream of becoming entrepreneurs.
When earning an MBA as a working professional, you need to get the return on your investment of time, effort, and money. The good news is that there is no ideal age for an MBA. Syracuse's online MBA program, for example, has enrolled students between the ages of 21 and 64. A high-quality MBA program can provide the business acumen and leadership skills you need to take your career where you envision it, in both the short term and the long term.
Graduate Spotlight: Nancy Girondo
MBA@Syracuse graduate Nancy Girondo faced the daunting decision of getting an MBA after 30. She had established herself as a successful finance professional, having worked for companies including BlackRock, Morgan Stanley, and OppenheimerFunds. Despite the continued growth she achieved in her career, she saw the need to go back and earn her MBA from a top-ranked online program.1
"I was interested in taking on a greater leadership role within my firm, and I believed an MBA was critical for that endeavor. My undergraduate education from and experiences at Syracuse University helped me to achieve several successes throughout my career in the financial services industry. I believed the MBA@Syracuse program would be the best program to help me achieve my future goals."
Since graduating with her MBA in 2016, Nancy has continued to advance her career as vice president of equity product management at OppenheimerFunds.
To learn more about other MBA@Syracuse students, including those who earned an MBA over 30, visit our MBA student spotlight page.
MBA Programs for Mid-Career Professionals
When you've reached a certain level of success in your career, it's tempting to think that you may not need an MBA. After all the meetings you've led and teams you've managed, do you really need leadership training? Given the many budgets you've balanced, do you really need another class in accounting or finance?
As a mid-career professional, you shouldn't doubt your confidence. If you're interested in making connections and broadening your expertise, however, a mid-career MBA could put you in touch with diverse professionals from other industries who can provide valuable insight and perspective.
Applying to MBA Programs as a Mid-Career Professional
Getting an MBA after 30 could have advantages when it comes to admissions. Here are some of the potential benefits of applying to part-time MBA, hybrid MBA, and online MBA programs as a mid-career professional:
You may not have to provide GMAT or GRE scores. Many schools allow mid-career professionals to skip the GMAT and GRE once they've been working for a certain number of years. For example, the online business graduate degrees at Syracuse enable professionals who have been working for at least five years to apply to the online learning programs with no GMAT or GRE scores.
You may find it easier to write your admissions essays. When you have many years of rich professional and personal experience to draw upon for your essays, you may find it easier to develop ideas for a compelling narrative. Applying to an MBA program while mid-career could help you show the admissions committee how you've handled difficult scenarios and how you plan to use your MBA.
What Is the Difference Between an MBA and an Executive MBA?
The fundamental difference between traditional MBA and Executive MBA programs lies in the professional experience and success that their students have achieved, often measured in terms of years spent in a managerial role.
Here are some of the fundamental differences between traditional MBA and Executive MBA programs delivered both online and on campus:
Admissions requirements: Typically, on-campus or traditional MBA programs require GMAT scores, and they may require some professional experience. Executive MBA programs often require at least four years of management experience, but applicants can forgo GMAT and GRE scores.

Your experience doesn't have to be the defining factor when choosing between a traditional MBA or Executive MBA program. Many professionals with decades of experience choose a traditional MBA program over an executive one. For example, the Syracuse online MBA program is designed for seasoned professionals who are interested in developing the leadership skills to become managers and executives.
Curriculum: Compared to Executive MBA programs, traditional MBA programs provide a broader base of knowledge across many areas of business and management, including organizational leadership, financial analysis, and user experience. Even experienced professionals can benefit from the way traditional MBA curricula integrate knowledge across business fields.
Completion time: Because Executive MBA programs cover fewer topics, they generally take less time to complete. Often, Executive MBA students can earn their degree in just one year, but they may need to spend time on campus, such as one week per month.

Although traditional MBA programs usually take 24 months to complete, they provide a more comprehensive curriculum and greater access to students and faculty so that you can build your network even stronger before graduating, increasing your chances of landing a new job or promotion.
Outcomes: Students enter traditional MBA and Executive MBA programs with different goals in mind. Depending on how much experience they have, Executive MBA students may be on the cusp of entering the C-suite. Earning their degree may allow them to fill in the smaller gaps in their skill set to rise to the executive level.

Traditional MBA students, on the other hand, may use their broader business education to transition into a new area of business, such as moving from operations to analysis, or from finance to marketing. Because of this broader base, traditional MBA programs could lead to more potential for promotions or salary increases than Executive MBAs.
Does an MBA Pay Off for Experienced Professionals?
If you're wondering, "Is an MBA right for me?" it's helpful to clearly define the goals you expect to achieve after graduating. Although there are many definitions of success, here are some common goals you may have as a mid-career professional.
Changing careers or pursuing an executive path: By the time you've been working for a decade or more, you may have developed expertise in a certain aspect of business. That doesn't mean you have to remain in that area for your entire career, however. If you're interested in making a change, earning an MBA can provide the foundation you need to pursue a new role in your current company or transition to a new organization.
Earning a promotion or a higher salary: Many employers recognize that the knowledge you gain in your MBA program makes you a more capable, strategic member of their organization. Regardless of your age when pursuing your MBA, you could make a good argument for a promotion or salary increase after earning a broad business education through a top-ranked program.
Building a stronger network: As long as you are still working, it pays to have a strong business network. Earning an MBA can benefit you by connecting you with professionals from many different industries. Both online and on-campus MBA programs can connect you with diverse colleagues who could introduce you to opportunities nationwide.
Starting your own business: Whether you've spent your career wanting to run your own business or you've developed your entrepreneurial spirit more recently, you can use an MBA as a stepping stone. Because MBA curricula cover the many facets of business, you could develop a strong vision for your company in areas such as operations, marketing, and accounting. Older entrepreneurs are on the rise, and they can benefit greatly from the ability to bounce ideas off professors and classmates.
Juggling Work, Family, and an MBA
If you're pursuing an MBA in your 30s, 40s, or beyond, you may have personal and familial obligations that your younger peers haven't yet encountered. It's common to wonder whether you can maintain work-life balance while continuing to work, looking after your family, and completing the requirements for your online MBA program.
Here are some tips for helping to maintain your work-life balance while pursuing an MBA.
Put everything on a calendar. By scheduling everything you need and want to do — from going to work, to attending class, to exercising, to watching your child's sports game — you give equal importance to each activity. When you treat both professional and personal commitments with equal importance, you're less likely to risk burnout from putting work before yourself and your family.
Take a break from distractions. MBA coursework is intensive, and mastering the concepts requires your full attention. Online MBA programs enable you to complete assignments on the go and access course materials online, so it's important to balance the added flexibility with concentration.
Make time to rest and relax. When you have a hectic schedule, you won't maintain it for long unless you rest regularly. In these moments of rest, you can get not only a much-needed break but also a sense of clarity. You may find that there are things you can put off or take off your to-do list altogether so that you can focus more on your most important goals.
Don't Let Age Hold You Back
If you've been thinking about getting an MBA after 30, it's time to take the next step. Request information about the top-ranked online MBA program from Syracuse University.1
1 The Princeton Review, Top 25 Online MBA Programs 2020 (visited December 4, 2019)