Price Elasticity on Broadway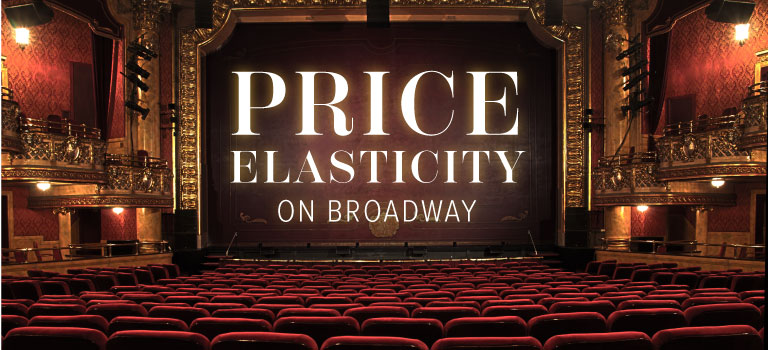 For the past decade, ticket prices for each year's "Best Musical" Tony winner have spiked 17 percent on average the month after the awards, with prices for many shows trending significantly higher for months. The "Tony bump" in revenue is a symptom of a phenomenon in economics known as price elasticity of demand, or how the market price reacts to a change in consumer demand.
Robert Florence, an adjunct economics professor at Syracuse University's Martin J. Whitman School of Management, attributes the price increases to how theatergoers perceive choice. According to Florence, the most important factor driving elasticity of demand is "the availability of close substitutes."
"What else could you buy? What else could you do? How substitutable are the plays?" Florence said. A musical winning a Tony "reduces the number of substitutes" by joining a smaller pool of the very best musicals on Broadway.
Sustaining Success, Finite Supply
Most theater owners on the Great White Way rely on a business model with a fixed supply. There are a finite number of seats and a limit to how many shows can be performed each week. To maximize profit, a show will adjust the price to help meet demand. Florence said theater owners "test the waters" when the curtain goes up on a new show.
"They will start with tickets at a particular price historically for what we think is a popular play … and then they wait and see," he said. "And if the line is still out the door, then the ticket prices continue to go up."
In most cases, the demand subsides as other shows enter the market. A "Best Musical" Tony doesn't mean a show will survive for years. Of the past 10 "Best Musical" winners, only four are still in production: "Dear Evan Hansen," "The Book of Mormon," "Kinky Boots" and "Hamilton." The rest had an average run of less than three years.
For shows like "Kinky Boots," which had an initial investment of $13.5 million, long runs on Broadway are critical to a theater's bottom line.
"Sustaining success over time is the hardest and most important thing to do on a show," said Mike Rafael, sales and ticketing analyst with Nexus Ticketing Solutions. "Keeping a show fresh in the mind of an audience and adjusting the pricing to the changes in the audience are critical to longevity."
Rafael's company works with theaters like the Gershwin Theatre, home to "Wicked," one of the most successful shows in Broadway history. The show has been in production since 2003 and garnered more than $1 billion at the Gershwin alone, not including domestic and international touring productions. According to Rafael, the theater employs dynamic pricing to help keep the show popular.
"Hamilton" producers have managed to increase the show's ticket price well after the Tony voters named it "Best Musical." And there are no signs of a slowdown.
Broadway Turned Upside Down
Broadway has never seen a musical perform as well as "Hamilton." The show premiered in the third week of July 2015, with an average ticket price of $138.94 for that week, according to data provided by the Broadway League. In 2016 it won "Best Musical," along with 10 other Tonys. By the first week of July 2016, tickets were going for an average of $188.36. As of the first week of March 2018, the average ticket was $285.46— a 105 percent increase from the premiere price.
Florence equates the popularity and rise in ticket price of "Hamilton" to trends commonly found in monopolies.
"It's not like they have 'Hamilton Light' and 'Hamilton: The Extended Version' — there's just the one," he said. "What every firm tries to do … is price discriminate. So, they're going to charge different prices to different groups of consumers for essentially the same product."
"Hamilton" producers have managed to increase the show's ticket price well after the Tony voters named it "Best Musical." And there are no signs of a slowdown. If the show maintains its pricing and popularity, "Hamilton" will top $1 billion in revenue in 2023, its eighth year in production.
It took "Wicked" — the fastest show to hit $1 billion in ticket sales — more than 12 years to get there. And the Gershwin can pack in 1,933 "Wicked" fans each performance. The Richard Rogers Theater, home to "Hamilton," fits 614 fewer fans each show.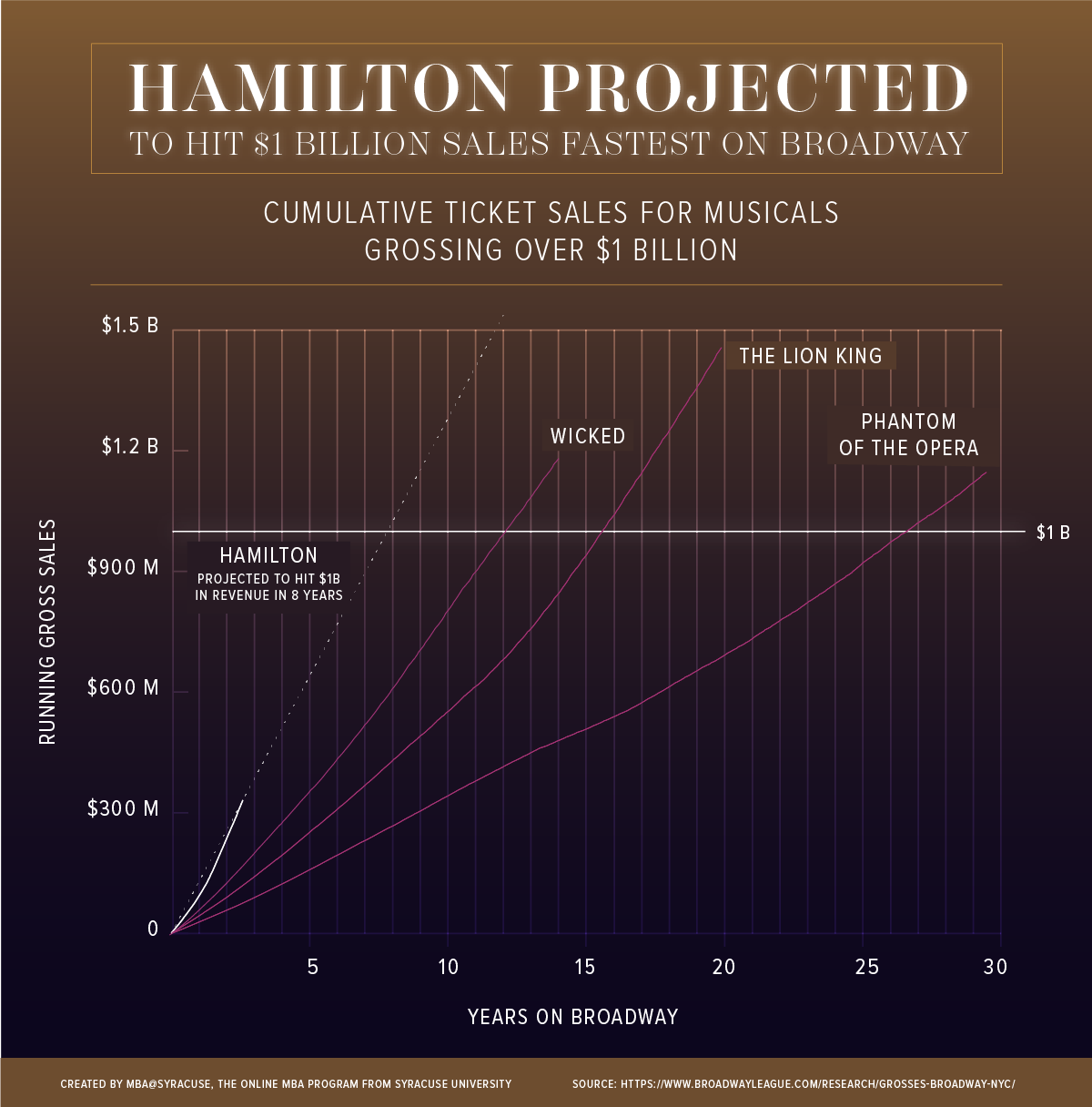 Go to the text-only version of "Hamilton projected to hit $1 billion sales fastest on broadway".

Go to the text-only version of "Tony award winners' ticket prices over time".
Citation for this content: MBA@Syracuse, Syracuse University's online MBA program
Earn Your MBA Online at Syracuse
Get the skills you need to get ahead with an online MBA from Whitman. All applicants are granted an online MBA GMAT waiver.