Career Services
Admissions
Admissions
Write the Next Chapter of Your Career at Syracuse University
As industries adapt to evolving markets, employers are seeking professionals who are always looking for ways to stay at the forefront of new business trends and technologies. As an online graduate student, you will have access to a variety of career services, development programs and career coaching to help you stand out in competitive job markets.
Our career services team is here to help you become more:
Marketable
Enhance your resume, grow your network, prepare for interviews and target realistic career options with help from our career advancement team every step of the way.
Employable
Leverage your degree, existing skills, industry knowledge and new network to gain access to opportunities at fast-moving companies.
Promotable
Apply newfound skills directly to your role to advance to the next step in your career or to larger roles in your organization.
Gain Real-Time Support in Our Virtual Career Center
You'll have access to our Virtual Career Center, a course that features e-learning instructional modules, short video lectures and job search tools for your career planning and benefit. To help you hit the ground running, you can access the course at the start of your enrollment and focus on what's most relevant to you throughout your time in the program. Topics include:
Job Search Strategy and Tools
Professional Branding
LinkedIn Profile Development
Professional Networking
Resume Writing and Curriculum Vitae Reviews
Cover Letter Writing
Interview Preparation
Salary Negotiation Preparation
Engage With Our Career Coaches
In addition to our Virtual Career Center, you can receive personalized support from our Career Coaches that includes resume reviews, workshops and job search strategies.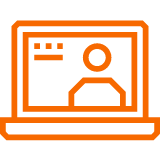 Receive 1:1 Coaching Support
Gain access to professional Career Coaches who can provide assistance with identifying career goals, confirming personal motivations and developing job search preparation strategies such as creating a career development plan. In addition, if you have 10+ years of professional experience, we offer Executive Career Coaches who are uniquely prepared to assist you as you further advance your career.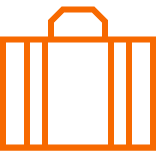 Resume and Material Reviews
Have one of our Career Coaches review materials such as your resume/CV, cover letter, LinkedIn profile and digital portfolio.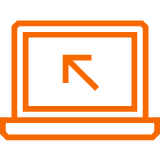 Virtual Career Workshops
You'll have access to a valuable group coaching service for virtual networking, industry information sessions and sharing career-related experiences.
Set a New Bar for Your Career Goals
Take on new roles and build your personal brand with an online master's from Syracuse University.
Prepare to Lead and Pursue In-Demand Jobs
As you earn your master's online from Syracuse University, you'll be prepared to take on new roles and advance your career in fields that are in demand by competing for some of the best jobs in America according to Glassdoor.1
You will also be able to achieve your career goals with increased business knowledge, leadership capabilities and connections to our strong, global Orange alumni network of 260,000+ professionals.
Build Connections
Connect with alumni who have gone on to work at well-known organizations, including Amazon, Apple, Boeing, KPMG, U.S. Department of Energy, ESPN, Google, J.P. Morgan, Lockheed Martin, Northrop Grumman and Warner Bros. Entertainment Inc.
Diversify Your Resume
Whether you're looking to upskill in analytics or gain management experience, you will have the option to take elective coursework from other Syracuse University schools and colleges, allowing you to expand your skill set and adapt to shifts in the market.
Empower Your Career at Syracuse University
As industries adapt, you will too. Gain personalized career support as you earn your master's online at Syracuse University.
1 Glassdoor, 50 Best Jobs in America for 2020. (Retrieved March 2021)arrow_upwardReturn to footnote reference