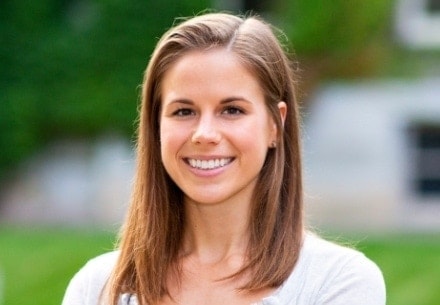 Tess Thoresen
Class of 2019
Fort Worth, TX
Software Engineer
Although her undergraduate degree is in electrical engineering, Tess Thoresen clicked instantly with the world of software and computer science. Now, as a student in an online engineering program, she has found the work to be challenging, important, and rewarding.
A Change in Direction
For the last few years, Tess has been in Texas working, where a rotational program has allowed her the ability to hold multiple roles across different areas of the business. The experience gave her an appreciation for the importance of software, which drove her to pursue a master's degree in computer science.
"I realized that every time I got excited at work it was because of something made possible by the software behind it. I knew I wanted to work on software teams and pursue a graduate degree in that field."
A Program that Checked All the Boxes
Tess researched many different master's programs, ultimately landing on Syracuse University because of its flexibility, quarter system, and the online format.
When she was "school shopping," Tess was traveling frequently and knew that an in-person program would not work. Syracuse University's teaching approach seemed like the closest online alternative to a real classroom experience. Tess says she has heard friends who have attended online programs elsewhere complain about poor video quality and an impersonal experience—Syracuse University allowed her to avoid that.
She liked the accountability that came with live classes, and the quarter system meant her education could go at a faster—yet manageable—pace, as she could take one course at a time but still graduate quickly. The immersion experiences are an added benefit, she says, giving the program even more of a "real" feel.
Challenges Bolstered by Support
Tess has found that the most challenging experiences also have been the most rewarding. Whether it's a difficult class—like Operating Systems—or another tough topic, she's enjoyed seeing her hard work pay off, especially as her coursework directly complements the tasks she faces at work.
"I was nervous to start this program since my undergrad was in electrical engineering. But every time I earn a good grade on something difficult, it is confirmation that I can do this, and I'm learning how to apply it."
One critical factor to her success has been the student support and outreach Tess has found at Syracuse University. She says it's comforting to know she can send an e-mail and have a helpful response within a short amount of time.
Meet our other online engineering students.
Originally published in November 2019.