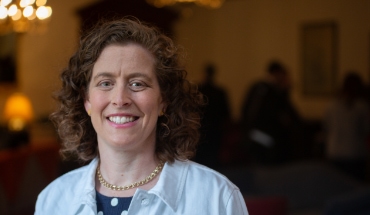 Betsy Kelder
Class of 2018
Chief Administrative Officer, Jewish Family & Children's Service of Greater Boston; President of the Board of Directors, the American Camp Association
Betsy Kelder was looking for a program that could give her the tools to further expand upon her experiences in the private and nonprofit sectors. She saw that the online Executive MPA program could give her that opportunity while she also explored new fields in the public sector.
Looking for a Supportive Community
Betsy noted that before she applied, she was initially concerned with the possibility that the online program would not give her that sense of community that she was looking for. She quickly found out, however, that Syracuse University's Executive MPA and interactive classroom experience gave her that community.
"The culture is supportive and very friendly. The academics are applied and allow you to look at what you're doing at work in the context of what you're learning. The students were sharp, engaged, and really interested in the context and conversations."
New Skills and New Opportunities
Looking back on her courses and the curriculum as a whole, Betsy was particularly impressed with Managerial Leadership and valued the passionate Maxwell faculty.
"Managerial Leadership was very eye-opening and the most applicable. Overall, the faculty were available, engaging, and really interested in working with us and learning with us."
Graduation and Beyond
Through the online Executive MPA program, Betsy was able to benefit from the diverse and passionate community of Orange alumni, and she looks forward to keeping in touch.
"I am so proud of this accomplishment. I have benefited from the new knowledge I gained, the new colleagues I've met, and am realizing just how much I'm capable of. Most beneficial is the network of people who were there to support me and became great friends and colleagues. I know I can rely on them, and I am looking forward to seeing where everyone goes!"