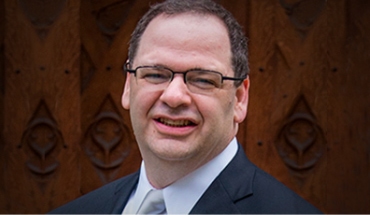 Dennis Vicchiarelli
Chicago Market Lead for Research and Strategy, Jones Lang LaSalle
It's easy to be cynical about public service in today's environment. But Dennis Vicchiarelli, executive vice president of a Chicago economic development agency, believes it's one of the most meaningful careers possible.
"Maybe I'm naïve, but I've always believed that the strongest, healthiest societies have strong, healthy governments. I've always just been fascinated with and enjoyed public service. I really do believe it's probably one of the highest and most meaningful things a person can do for a living. Working in urban economic development for nonprofits and governments—that's pretty much what I've wanted to do since junior high. That's still what drives me today."
Last year, that same dedication to public service led him to enroll in the Maxwell School's online Executive MPA program from Syracuse University.
Finding the Right Program
With more than 30 years of experience and a master's in city and regional planning, Dennis was looking for an executive graduate program that would complement his prior experience and education rather than just overlapping them. More specifically, he wanted a program that offered a structured way of examining the leadership issues he and colleagues face every day at his agency, World Business Chicago.
"I had been looking for [the right program] for a while. I've known about Maxwell forever as a school…that it's always been considered one of the top programs. I just never understood how I could access it because, at this point in my life, I didn't want to disrupt my career and move to Syracuse, New York, for two years. But then when Syracuse University's program came online, I took a look at the courses they were offering and how it was set up. I thought, 'Wow. This is really ideal.'"
Graduate School Then and Now
Now three semesters into the program, Dennis says the online Executive MPA program is in many ways a different, deeper experience than his graduate school experience of 25 years ago.
"I was one of those people that went straight from his undergrad program into graduate school. In some ways, that was easy to do because you're already in that student mode. On the other hand, now I have experiences that I can bring to the program and that make the theory more meaningful to me. Sometimes theory just doesn't resonate if you don't have any actual experience. So that's where grad school now is more enjoyable and rewarding [than my earlier grad school experience]."
Dennis says his classmates' experiences are also helping him deal with the leadership issues that brought him to the online Executive MPA program.
"There's a lot of diverse experience in the program. There are people with medical degrees, people who have military experience. When you're wrestling with some nightmare of an issue and realize it is pretty common everywhere, it really helps you put things into perspective. You find there are a lot of common themes that people in all areas of public administration wrestle with. [Collaborating with classmates], you can approach those issues analytically and come up with some shared best practices to address them."
One day, we expect Dennis to publish what he's learned. A frequent speaker on economic development practices and policy, he hopes the online Executive MPA will help him polish his academic writing skills—enabling him to share his knowledge and experience in textbooks and other publications.