5 Things You Learn When You Become an Entrepreneur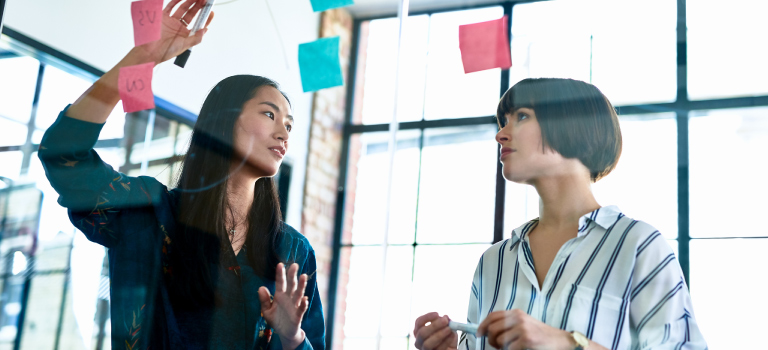 We've all heard the stories: An individual started their business in their garage or on their kitchen table, working late nights and sometimes lassoing family and friends into helping out in the early days of their enterprise. And they're true, said Sue Smith, professor of marketing practice at the Martin J. Whitman School of Management at Syracuse University.
"Most of today's large companies started in someone's garage years ago," Smith said.
Any successful entrepreneur will tell you that hard work, innovation, evolution, relationship-building, lots of hustle, long hours, and risk-taking are the recipe for a thriving business.
Timeless Entrepreneurship Skills
One survey found that roughly two-thirds of Americans aspire to open their own small businesses. Before anyone takes a career plunge into entrepreneurship, however, they would be wise to consider the core characteristics of an entrepreneurial endeavor. The traits that make a good entrepreneur have not changed much over the years. According to Forbes, these qualities include:
Strong problem-solving skills
Ability to handle risk-taking
Creative thinking
Excellent communication skills
High level of independence
Confidence
Understanding how to identify and work through risk is an essential skill for anyone launching their own company, said Smith. This and other key skills can be honed through working for other large, successful companies and through business education programs such as MBA@Syracuse, Syracuse University's online MBA program.
Individuals who wish to start their own businesses should also consider what their principles of entrepreneurship will be. These are the values that will guide an entrepreneur's endeavors and affect success. Inc. described some top principles that successful business owners follow:
Focus on the whole business, not on one or two areas within it.
Value efficiencies and outcomes over time and the appearance of a business.
Solve challenges and seize opportunities with an eye on solutions that build on a business as it grows.
John Petosa, professor of practice at the Whitman School, tells his students to think critically about how decisions are made rather than just accepting them.
Connecting with clients in a genuine way also helps build a strong self-launched business. Chelsi Dennis, a portrait photographer from Oklahoma City, says one of the skills she has relied on most as an entrepreneur for the past five years goes beyond being an expert at her craft; it's knowing how to connect with her clients and make them feel heard.
"You can know everything that a book tells you, but if you can't reach people on a personal level, you're not going to succeed," she said. "That's become more and more evident as people want to have a personalized experience, so we as entrepreneurs have to be able to give that."
Developing a Strategic Management Process
There is a difference between entrepreneurship theory and practice. In theory, you get to be your own boss and make your own schedule. In real-life practice, however, starting your own business and becoming successful means you are ultimately responsible for what happens with the company, and your attention and time are required in many ways.
Below are five essential lessons that many entrepreneurs have learned along the way that can help you decide if starting your own business is right for you.
Strategic management is the on-going process of planning, monitoring, analyzing and assessing of all the necessary activities and functions that an organization needs to meet its goals and objectives. As an entrepreneur, you are often the CEO, COO, CMO, and CTO—basically, top management and owner rolled into one. It is essential that you take time to have a practical strategic management process while you are juggling dozens of priorities and responsibilities. It should be one that fits your business needs and environment.
Creating a vision for the business and setting goals, then communicating the two to your team is important, says entrepreneur Jeff Vaughan, president of Vaughan Communications Group, a public relations firm in northeast Pennsylvania. From there, Vaughan says, you have to work with your team to:
1) Plan.
2) Do.
3) Check.
4) Adjust.
He cautions not to become stuck on one step. "Some people plan, and plan, and plan, but never actually do. Others do but don't check," he said.
Communication Is Key
The U.S. Bureau of Labor Statistics (BLS) indicates that about half of new businesses fail in the first five years. That sobering statistic makes it easy to understand why the "soft skill" of being able to communicate well is considered to be one of the more valuable entrepreneurship skills.
Whether you are in talks with customers or venture capitalists, marketing your business, talking to the press, developing new projects with employees, interacting in some other way with stakeholders in your business, and being able to articulate your ideas and concerns well really matters. If your message or intent is unclear or taken the wrong way in your written or verbal communications, it can stifle great ideas, deter valuable feedback, and hinder your business's overall success—and better communication skills can make you a better leader.
How you communicate is as important as how much. Vaughn said that the most important thing to him about communicating as an entrepreneur is honesty.
Teamwork Is Still Important
Collaboration is a big part of most business entrepreneurship. You may have business partners, lawyers, consultants, and vendors to work with. Customers and clients are an entrepreneur's key teammates.
But the people you will likely collaborate with the most are your employees. Teamwork is important to success in any type of entrepreneurial business. Encouraging team members to ask questions increases team trust, too.
It is impossible to maintain a healthy, productive working environment if you and your team feel disconnected. Driving them too hard without much support, motivation or direction will work against your goals and can hurt your company and brand in many ways. Properly training, developing, empowering, and supporting your team, however, can build loyalty to your company and to you as a leader and results in better performance and productivity, especially during periods of organizational change.
Failure Is Part of the Road to Success
If you are going to accept challenges and see them as opportunities, you should also accept failure as a possibility when you take risks. Chances are, you will experience a career upset at least once. Crippling fear of failure will prevent you from learning and growing from those experiences. It will get in the way of doing what's best for your business. The change you make to prevent the same mistake from happening again might just be the innovation you need to spur success in a way you would never have imagined before.
Learning how to take calculated risks is an inherent part of entrepreneurships, and it's sometimes where great ideas are born.
If It Was Easy, Everyone Would Do It
Deciding how much risk is OK to take, maintaining your financial discipline, juggling a wide range of issues all at once—these are some of the not-so-glamorous things that come with being your own boss, Vaughan says.
Do You Need a Master's to Be a Successful Entrepreneur?
Earning an advanced degree with a focus on entrepreneurship can provide foundational knowledge and skills to help you run your own company. Core courses in marketing and strategic management, global entrepreneurship, data analysis, and decision-making can also provide the tools and resources necessary to nurture your entrepreneurial side; electives classes can build on that foundation.
Entrepreneurship competitions and resources can also enhance your understanding of your own strengths, help you grow professionally, and offer networking and financial opportunities. Two competitions MBA@Syracuse students can participate in include:
Amy McHale, assistant dean for online master's programs, said some students who participate in competitions want to start or expand their own ventures while others aim to be entrepreneurial in a corporate setting.
"We had one team of students in particular who entered their company in the competitions that was born out of their MBA capstone project, which requires students to develop a business plan," she said.
Expanding Horizons and Making Connections
Graduate school can be a good place to hone your networking skills as well. Many people make fruitful connections in an MBA program. Some find their future co-founders while in school pursuing an advanced degree. According to Inc., learning with a group of like-minded entrepreneurial minds can be an invaluable experience where long-term contacts and connections are initially made.
Master's Degree in Entrepreneurship and Other Specialized Programs
An M.S. in Entrepreneurship offers professionals a working knowledge of finance, marketing, and strategy, as well as idea viability. You can select electives in specific areas of personal interest, including venture capital and strategic brand management that may fuel your particular business idea further along its journey.
An entrepreneurial salary can vary widely, according to the Harvard Business Review. While it does not report salaries for entrepreneurs, the BLS does report that business executives made an annual median salary of $104,980 in 2018.
Other Types of Entrepreneurship
For those with an entrepreneurial spirit who are not sure if they are ready to start their own business, there are other types of entrepreneurial experiences that may be a good fit:
Intrapreneurship
Intrapreneurship is based on entrepreneurship principles but practiced within an existing company. It gives employees the ability to experience entrepreneurship without all the risk and oftentimes with more resources.
Corporate Entrepreneurship
Corporate entrepreneurship entails "reinvesting" in employees and encouraging their ideas and innovations in order to improve the company's value and all-around performance.
Social Entrepreneurship
Social entrepreneurship focuses not only on profits alone but also on improving an aspect of society. Business entrepreneurship principles are applied to social, cultural, or environmental issues.
For entrepreneur and Entrepreneurship@Syracuse student Paul Altero ('23), an online degree program focusing on entrepreneurship fits into his lifestyle. Altero is the founder and owner of Bubbakoo's Burritos, which employees 600 people at 35 locations in New Jersey.
"The efficiency of the online program fitting into my hectic schedule was a huge bonus," he said. "The coursework can only enhance my ability as a business owner and CEO."
Citation for this content: MBA@Syracuse, Syracuse University's online M.S. in Entrepreneurship program