A Guide to Accessing Public Records for the First Time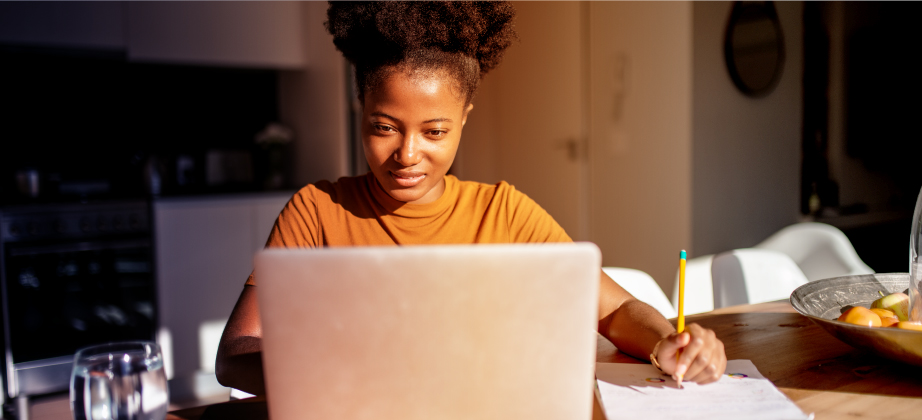 In her media law class, Syracuse professor Barbara Fought asks students to reconsider their understanding of private and public information. Her series of hypotheticals usually earn the same response—most students believe information from eye color to salary and property worth are nobody else's business.
But then, she challenges them: Imagine your favorite high school teacher is being paid $20,000 less than a different teacher despite having the same experience and credentials.
"Would that be fair?" Fought asks. "No. Well, how would we figure that out?"
Open-records laws grant citizens the right to all kinds of information, including the records that could uncover discrepancies in teachers' salaries. But the Freedom of Information Act (FOIA) and its state-level counterparts are only powerful if used correctly. And they require citizens, leaders and journalists to reexamine their own understanding of what is truly personal information.
"You might think it's personal information, how much my house is worth or how much somebody makes," Fought said. "But when it comes to government business, it's important that we be able to watchdog and make sure [the government is] being fair to everybody."
Table of Contents
What Are Freedom of Information Act Requests?
The Freedom of Information Act was enacted in 1967 with the intent to grant all citizens the right to federal records. The law evolved over the years, particularly as the government felt pressure to improve transparency after the Watergate scandal.
Since then, FOIA-strengthening amendments have made the act what it is today. Under the current FOIA, all federal agencies must:
Disclose all requested records unless it falls under an exemption like privacy or national security.
Proactively post online certain categories of information and frequently requested records.
Respond to requests within 20 business days, barring unusual circumstances.
The types of records available through FOIA are diverse. The Department of Homeland Security, for example, can provide citizens with the number of prohibited items surrendered to TSA, border checkpoint files and national flood insurance information.
FOIA only covers the federal government, but every state has their own version, often referred to as "open-records" or "public records" laws. These open-records laws have similar roots, but there are still differences from state to state. For example, agencies in New York are required to respond to FOIA requests within five business days. In Maryland, the time limit is 30 days.
Who Is FOIA For?
FOIA is often associated with journalists; some of the most public examples of FOIA's potential power come from investigative journalism.
Reporters from USA Today's The Wall project requested records from medical examiners, sheriff's offices and justices of the peace to determine whether the federal government was undercounting the number of people who died trying to cross the southern border. The Associated Press used FOIA to learn that those given government assistance after Hurricane Sandy might be liable to return monetary aid.
However, Fought insists the law serves all citizens, not just journalists, equally.
"Public records laws are just an essential ingredient in the recipe for democracy," Fought said. "This is a citizens' law. It's not a journalists' law. It's not an attorneys' law. Citizens have a right to know what their government is doing."
A 2017 analysis of FOIA requests to 85 different federal agencies found that of the more than 200,000 requests:
39%
were made by businesses
20%
were made by individuals
8%
were made by members of the news media
The path to a complete FOIA request is not always easy. Journalist Sandhya Kambhampati wrote about her experience sending more than 1,000 FOIA requests in her first six months at ProPublica. She received files back on floppy disks, was told that processing would take upwards of 500 days for some requests and was accidentally copied on an email response labeling her request as "annoying."
The battle for records can extend beyond long waits and back-and-forth emails. As a producer in Detroit, Fought saw a FOIA request stymied by legal disputes for two years.
"At its best it, [FOIA] works really well and it does in many, many cases," she explained. "But it also doesn't always work."
What Are Common FOIA Request Hurdles?
Department-specific details
While the basis of FOIA and state open records laws are the same, there are still enough differences between federal and state laws to make the process confusing. For example, Arkansas, Delaware, Tennessee and Virginia only specify the right to records for in-state residents, so non-residents frequently have their requests rejected.
Additionally, there is no central FOIA processing office or system. Each office, department and agency has their own contact preferences and staff to handle requests. The FBI divides requests into three processing tracks based on the number of anticipated pages in the record which determines the speed with which you will get a request. Other agencies, like NSA, use a "first-in, first-out" policy.
Lengthy wait times
Despite mandated maximum FOIA response times, it is not uncommon for requestors to wait far longer for a response. A 2017 Columbia Journalism Review (CJR) analysis of 33,000 federal FOIA requests found that the average wait time to receive records was 142 days—more than seven times the legal maximum.
Analysis of Freedom of Information Act Annual Reports over time shows a similar trend. While simple requests are closer to meeting requirements, complex ones are consistently about six times the legal limit.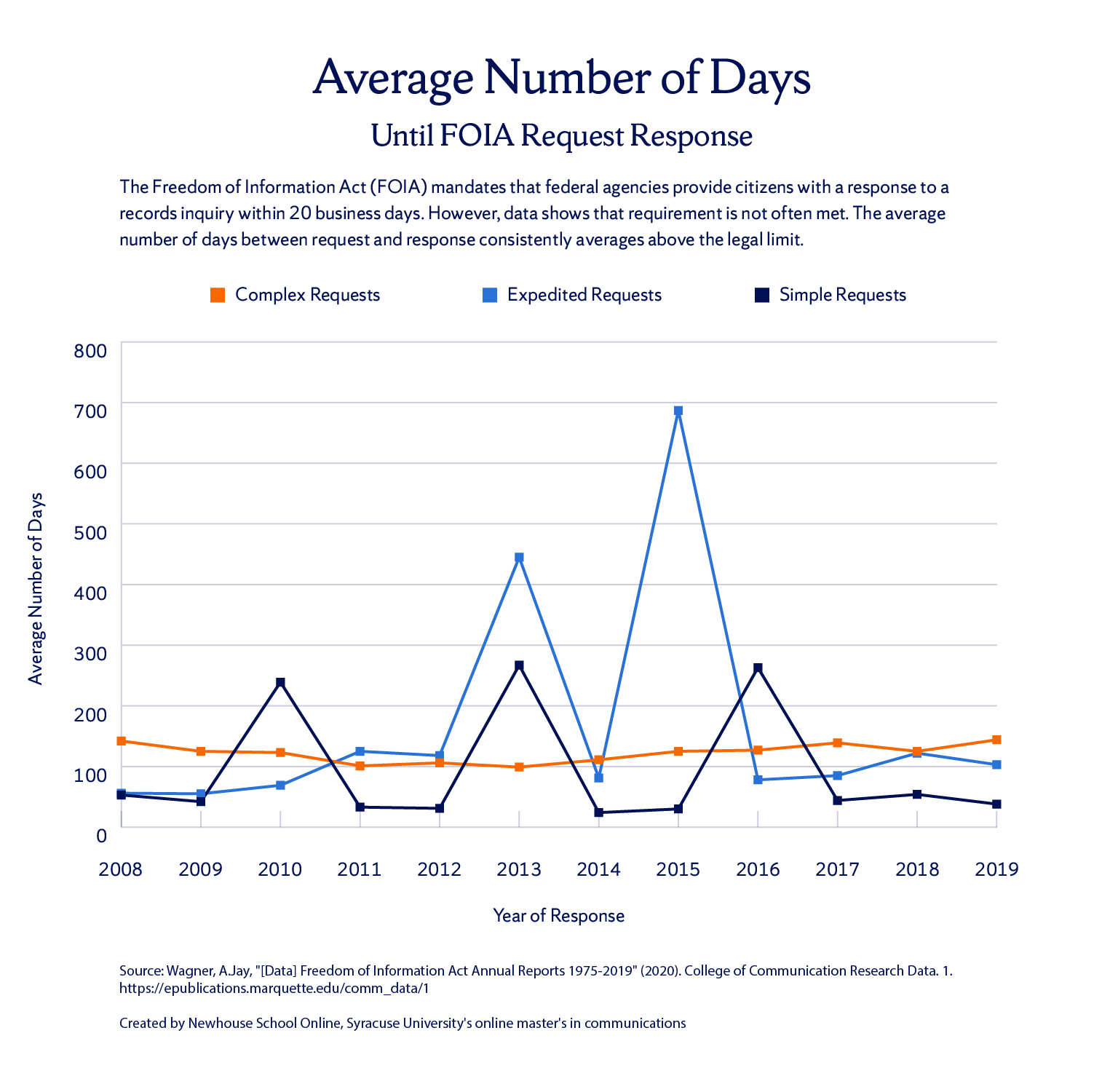 Go to a tabular version of data about the average number of days until a FOIA request response was received.
Potential filing costs
There is not an initial filing fee for FOIA requests, but agencies can charge requesters "for the time it takes to search for records and for duplication of those records," according to the Department of Justice. Departments usually provide the first few hours of work and first 100 pages for free.
The 15 executive departments collected about $1.9 million in FOIA fees in 2019, according to the Freedom of Information Act Annual Reports. The Department of Health and Human Services accounted for almost one-third of all fees despite being responsible for 3.6% of all full or partial grants.
If a request incurs a fee, the department will return an estimate to the requester and give them the opportunity to accept, decline or refile in an effort to lower the cost. Filers can also include a fee limit in their request or apply for a fee waiver.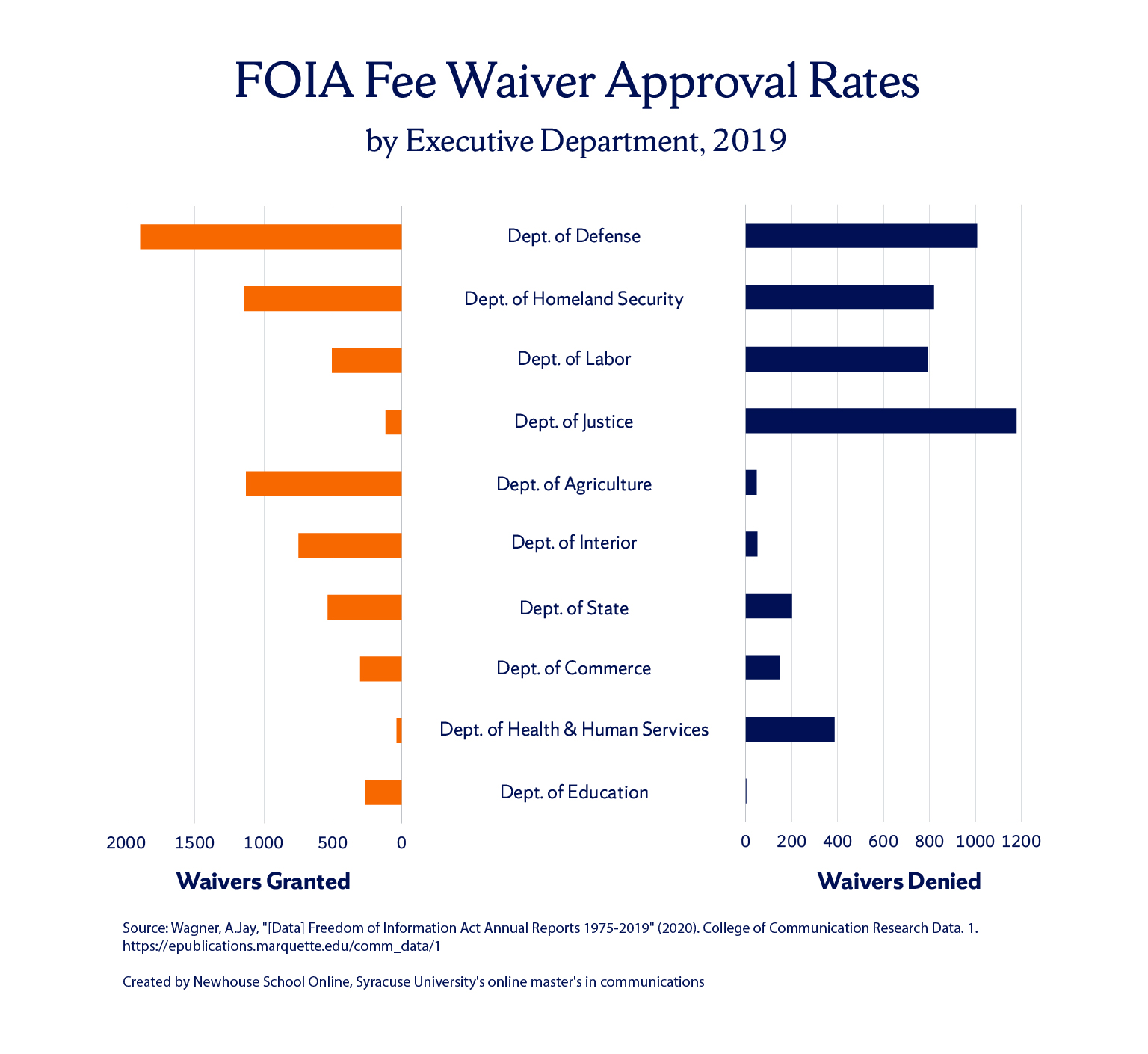 Go to a tabular version of data about the 2019 FOIA fee waiver request approval rates.
Exemptions
Some records are not subject to FOIA. If a federal record falls under one of the nine exemptions, the agency is allowed to withhold it. The federal FOIA exemptions apply to information that:
Is classified for national security.
Explains only internal personnel rules and practices.
Is illegal to disclose by federal law.
Includes confidential or privileged trade secrets.
Is privileged communication, such as attorney-client privilege.
Invades a person's individual privacy.
Interferes with law enforcement or a fair trial.
Concerns the supervision of financial institutions.
Includes geological information about wells.
A full explanation of the exemptions can be found on the Department of Homeland Security's website.
According to analysis of the Freedom of Information Act Annual Reports, the 15 executive departments use FOIA exemptions differently. Among 2019 requests in which an exemption was invoked, the departments used Exemption 6 (the information would be invasive of a person's individual privacy) more than a quarter of the time.
But it varies among government agencies. For example, the Department of Veterans turned to Exemption 6 in almost 70% of cases while the Department of State did so less than 5% of the time. Meanwhile, 90% of the Department of State's exemptions were attributed to Exemption 3 (the information is illegal to disclose by federal law) almost seven times the overall department average.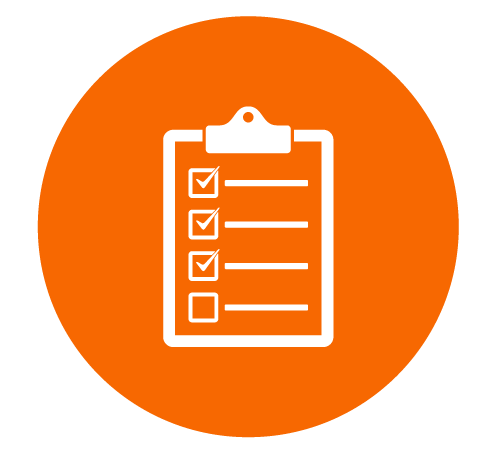 Five Tips For First-Time FOIA Requests
The hurdles and hoops can make federal and state FOIA requests a lengthy, sometimes unrewarding, task. But Fought and other experts also have recommendations, best practices and years of experience to make FOIA requests a more successful endeavor for all.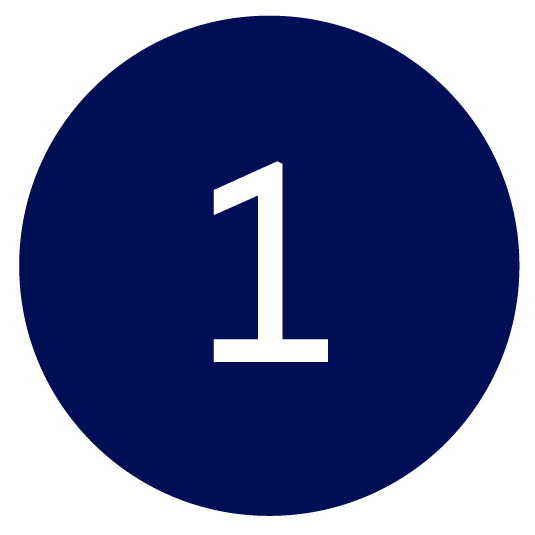 Work through the basics.
Reporters Committee Legal Director Katie Townsend shared her tips for navigating FOIA during a panel discussion at the 2020 Investigative Reporters and Editors conference. Her first piece of advice was fundamental: "One of the best strategies for using FOIA successfully is to know the basics of the law," she said.
Fought shared similar recommendations, and suggested requesters begin by working through three questions:
What information do you want? Create a clear ask. In the case of a teacher's unfair salary, you want to know the salary of every teacher in your high school.
Who has that information? Hone in on a specific location. Teachers are paid by the local school district, not the federal or state department of education.
Do you have a right to the information? Figure out if you are entitled to the records. In some cases, like with teacher salaries, the information may already be publicly available.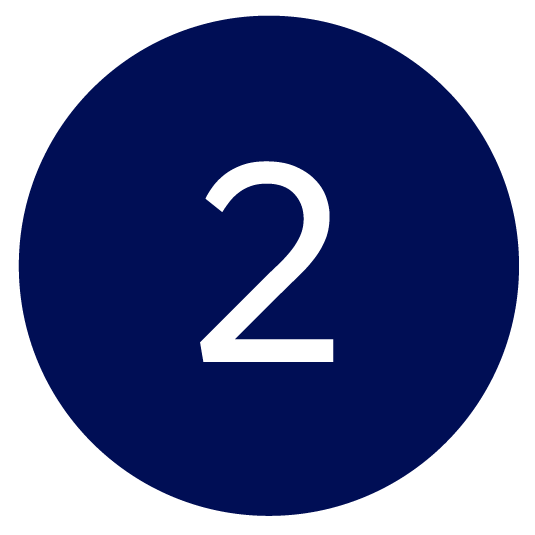 Thoroughly research.
Once you've determined your record target, begin to figure out the details. Do you have evidence that someone else requested these records before? What part of the applicable FOIA law supports your right to the information? Who is the primary point of contact and what does their specific process look like?
Consider including references in your request. The CJR analysis found that including a link to websites that provided additional context and clarity boosted grant rates from 23% to 36%.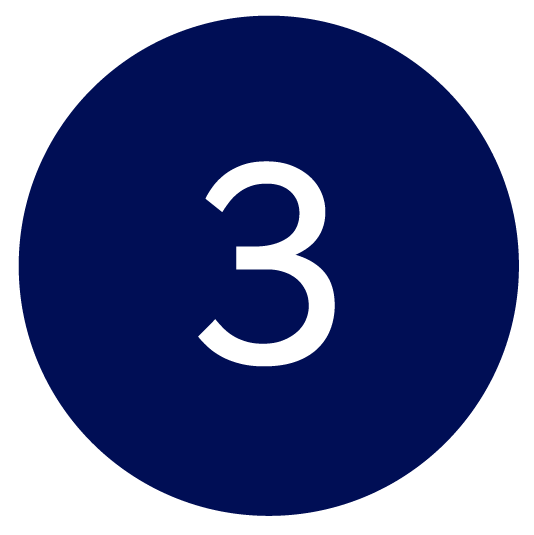 Be specific and descriptive.
With your research done, it's time to write the request. In the case of FOIA requests, short and simple is not always the most effective. CJR's analysis supports this: substantive requests are more likely to be filled than requests shorter than 24 words. Additionally, requests that specifically asked for "data" were given full grants 36% of the time, compared to 23% when without.
The more specific your request, the easier it will be for the government employee to compile the record. It also narrows the scope and lowers the potential costs.
For example, instead of "I want the high school teachers' salaries," a more effective request would be "I want the annual salary of full-time teachers at Washington High School, for the 2020-21 academic year."
Online letter generators from organizations such as iFOIA and the Student Press Law Center can make the process easier, composing the majority of the letter while leaving space for your own edits. See the What Resources Are Available to Help the FOIA Request Process? section below for access to these tools.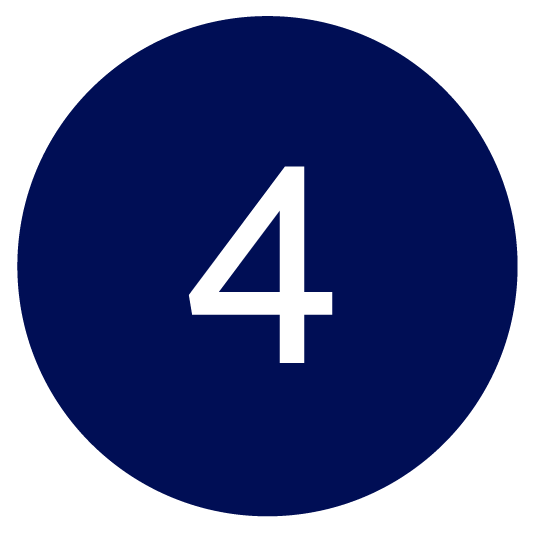 Prepare to follow-up or refile.
Sometimes submitting a request is all you need to do, but other times it's the beginning of a longer conversation. Practice persistence—save the contact information of people you speak to, take notes on their claims and follow up if the records deadline passes with no response.
If your request is denied, try again. Start at Tip 2 above and research more about the invoked exemption or reason for denial, and include arguments to the contrary in your new ask.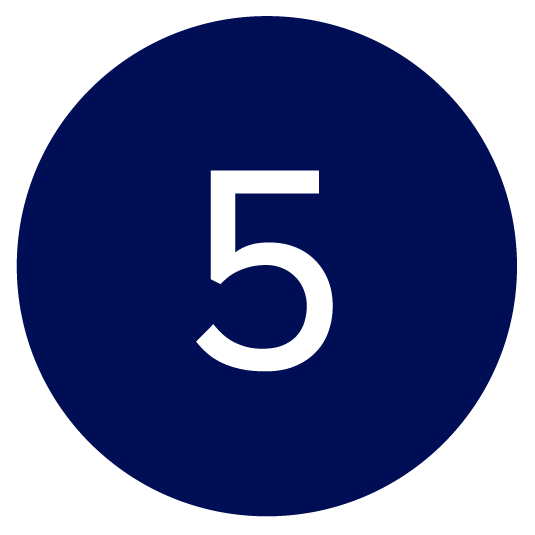 More questions? Contact an expert.
The FOIA officer processing your request should be able to answer department-specific questions. There are other community resources available too, such as local librarians or pro bono legal aides that could be willing to provide assistance.
Another option is to contact a local investigative reporter if you've hit a wall trying to get information that you think is important for the public. They often have years of experience navigating the system and established relationships with sources. At the state level, you can contact coalitions working on access issues for additional help.
Fought also suggests to remain persistent through the process, because transparency is foundational to our society.
"We believe that an informed citizenry leads to a better democracy," she said. "And we believe that the role of citizens is to be a watchdog of government."
What Resources Are Available to Help the FOIA Request Process?
Federal FOIA Resources
State FOIA Resources
Community and Organizational FOIA Resources
The following section contains tabular data from the graphics in the post.
Average Number of Days Until FOIA Request Response arrow_upward
| Year | Simple Requests | Complex Requests | Expedited Requests |
| --- | --- | --- | --- |
| 2008 | 53 | 142 | 56 |
| 2009 | 42 | 125 | 55 |
| 2010 | 239 | 123 | 69 |
| 2011 | 33 | 101 | 125 |
| 2012 | 31 | 106 | 118 |
| 2013 | 267 | 99 | 445 |
| 2014 | 24 | 111 | 81 |
| 2015 | 30 | 125 | 687 |
| 2016 | 263 | 127 | 78 |
| 2017 | 44 | 139 | 85 |
| 2018 | 54 | 125 | 122 |
| 2019 | 38 | 144 | 103 |
Source: Wagner, A.Jay, "[Data] Freedom of Information Act Annual Reports 1975-2019" (2020). College of Communication Research Data. 1.
| Executive department | Number of fee waivers granted | Number of fee waivers denied |
| --- | --- | --- |
| Dept. of Defense | 1,897 | 1,007 |
| Dept. of Homeland Security | 1,140 | 819 |
| Dept. of Labor | 505 | 791 |
| Dept. of Justice | 116 | 1,179 |
| Dept. of Agriculture | 1,129 | 47 |
| Dept. of Interior | 748 | 50 |
| Dept. of State | 537 | 201 |
| Dept. of Commerce | 301 | 148 |
| Dept. of Health & Human Services | 36 | 386 |
| Dept. of Education | 263 | 2 |
Source: Wagner, A.Jay, "[Data] Freedom of Information Act Annual Reports 1975-2019" (2020). College of Communication Research Data. 1.