At Amazon, Supply Chain Innovations Deliver Results
When Jeff Bezos launched Amazon.com in July 1995, few realized how apt the name would become. The company's original tagline was "Earth's Biggest Bookstore." Twenty years later, Amazon has grown to be more like its namesake—a vast ecosystem.
Amazon today sells more than 480 million products, some its own creations and many drop-shipped by others. Amazon's supply chains carve an unmistakable path through the logistics industry landscape.
In its pursuit of faster delivery, lower costs, and greater market share, Amazon continues to reinvest all of its free cash flow into growth initiatives rather than shareholder dividends and to pioneer innovative approaches, such as delivery drones. Where obstacles appear, Amazon flows over or around them, altering the established order and heading, some believe, toward becoming the logistics industry's dominant player.
Supply Chains Defined
Supply chains originated in the military context of moving material to deployed troops. Booz Allen Hamilton, the Pentagon's largest contractor, popularized the business term supply chain management (SCM) in the early 1980s, a decade before Internet browsers with encryption made online payments secure and a company like Amazon possible.
A common definition of SCM has proved elusive because supply chains involve multiple disciplines, players, and contexts. The wording used by Peter Bernegger, who teaches Operations and Supply Chain Management for MBA@Syracuse, hits the mark:
"A supply chain is a network of linked operations processes that work together to supply goods and services. Supply chain management (SCM) is the practice of planning, implementing, and controlling the operations of the supply chain with the purpose of satisfying customer requirements as cost-effectively as possible."
Building customer-centric supply chains, demonstrated by Amazon, begins with the customer and works backward. Putting customers first means understanding their preferences at a granular level and offering a good experience that includes a wide selection, competitive pricing, a convenient purchasing process, and reliability.
Amazon achieves this using information technology. Beyond robust search and display capabilities, Amazon tracks and shows customers their browsing history, what other shoppers bought, similar products, and customer reviews. It relentlessly seeks feedback and facilitates questioning prior purchasers. The company introduced its patented 1-Click ordering process in 1997. In 2013, it patented "anticipatory shipping," a predictive algorithm that starts boxing and moving products before the shopper clicks "buy."
Rapid Delivery Redefined
After an order is processed, Amazon delivery takes one of several paths, depending on the order's dollar amount, size and weight; geography; and customer choices. Delivery times range from mere seconds, in the case of digital media, to five to eight business days for standard shipping of packages.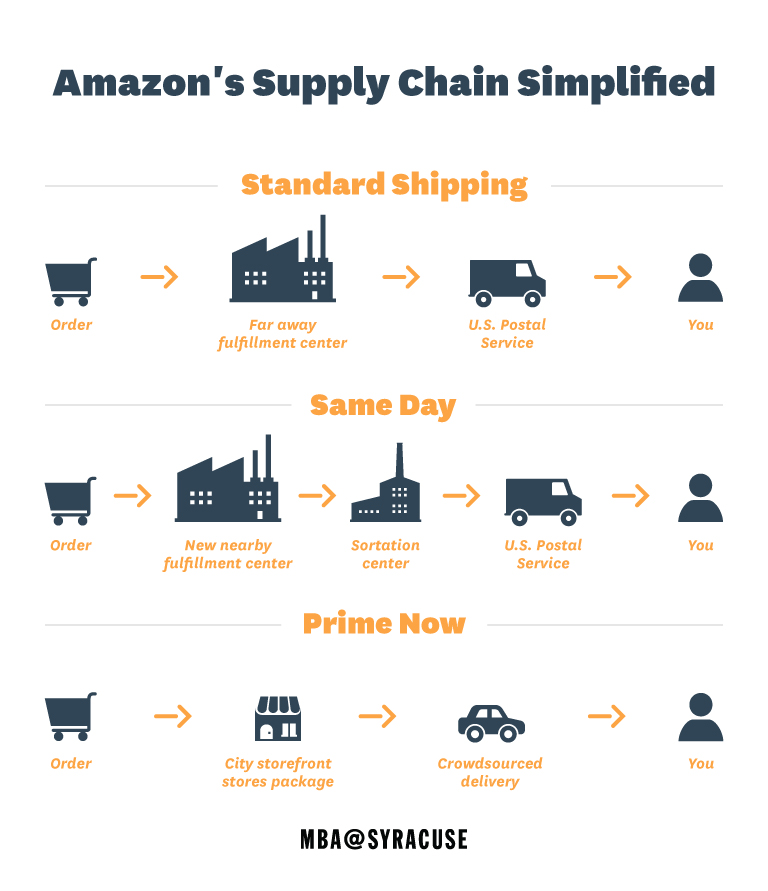 For years, many items qualified for free standard shipping on orders of $35 or more. In mid-2014, Amazon began offering free shipping on thousands more "small and light" products under 8 ounces and less than $10. Digital downloads and streaming content travel the most efficient supply chain. Amazon's apps work on standard platforms, and the company has aggressively developed and marketed its own devices, notably the Kindle e-book reader in 2007, Fire tablets in 2011, and Fire TV in 2014.
Although digital delivery has no shipping fees, its value, demonstrated by Amazon's acquisition of many audio services, still prompts shoppers to make a choice: whether or not to sign up for a Prime membership, a combination of digital perks and rapid free delivery of physical goods designed to weld customers to Amazon's supply chains.
Amazon has also begun conversations about drone delivery, and while the reality seems distant at best, it has certainly stirred excitement among customers. The use of drones in package delivery is emblematic of Amazon's constant investment in innovation. The process, which is working toward a 30-minute delivery window, requires extensive testing and regulations from the Federal Aviation Administration (FAA). This barrier to entry hasn't stopped the company's work—testing of drone delivery began after FAA approvals in April 2015.
Membership Has Its Rewards
Amazon Prime began in 2005 at $79 a year, giving members free two-day shipping on more than 1 million items. Prime increased to $99 in 2014 while expanding benefits. Today, Prime includes free two-day shipping on more than 20 million items and access to unlimited streaming of over 40,000 television shows and movies via Prime Instant Video, more than a million songs via Prime Music, and half a million books via Kindle Owner's Lending Library. Prime Photos offers unlimited cloud storage for photos and 5GB for videos or documents. Prime includes early access to Lightning Deals and various other deals and discounts.
The company doesn't disclose membership figures, but analysts estimate around 50 million worldwide and think members represent 45 percent of its U.S. customers. Amazon added 3 million members in December 2015 alone.
As its fulfillment network grows and customers become habituated to faster delivery, Amazon keeps pushing the envelope. In December 2014, it launched Prime Now, a mobile app enabling free two-hour delivery on "tens of thousands" of items and one-hour delivery for $7.99. Prime Now has expanded to 22 U.S. cities and four overseas. In early 2015, Amazon rolled out Prime same-day delivery on orders of $35 or more for more than 1 million items. The service has expanded to 16 markets. Analysts anticipate these moves will support rapid growth.
An Expanding Footprint
Physical delivery has spawned a worldwide logistics infrastructure. In 1997, Amazon operated a 93,000-square-foot fulfillment center in Seattle and a 202,000-square-foot center in Delaware. UPS and FedEx picked up orders and handled the rest. Amazon's fulfillment centers today exceed 1 million square feet. Amazon is rapidly growing worldwide, while increasing control of its own logistics.
Amazon now manages 115 million square feet of distribution facilities worldwide, including 104 centers in the U.S. and 69 centers abroad. Amazon is pushing fulfillment centers closer to customers, investing in automation and adding specialized facilities that distribute bulk manufacturer shipments to fulfillment centers, sort fulfilled orders for delivery, and handle returns.
Prior to 2013, Amazon located U.S. fulfillment centers to avoid collecting state sales taxes. Changing Internet sales tax laws have caused Amazon to abandon that strategy in favor of being able to offer same-day delivery to most U.S. customers.
In November 2013, Amazon unveiled Saturday and Sunday deliveries via the U.S. Postal Service. This required "sortation centers," roughly a quarter the size of fulfillment centers, to sort packages by zip code. Amazon began rapidly adding sortation centers. In addition to weekend delivery, sortation centers reduce shipping costs and increase speed. They play a key role in next-day and same-day delivery, shifting control of "last-mile" delivery from parcel companies to Amazon.
To accomplish same-day, last-mile strategies Amazon considered acquiring Postmates, an Uber-like, on-demand courier service that operates in over 100 cities. Instead, it created Amazon Flex, which uses "gig economy" workers, who choose their own shifts and use a mobile app to deliver packages.
Amazon has invested heavily in automation to reduce the challenge of adding more than 100,000 seasonal workers each fall. Drones—Prime Air—could replace Flex drivers for lightweight items, pending FAA approval. For customers who don't want plastic tubs dropped at their doorstep, there's Amazon Locker, self-service storage lockers with an ATM-type panel for access codes, typically located in convenience stores.
Overwhelming Competitors
Competitors are taking on Amazon in various ways. Large retailers like Walmart and Target are emulating its online techniques and offering in-store pickup. Alibaba, huge in China, went public in 2015. Google has launched Express, a same-day or overnight delivery service from 30 chain stores, each with its own minimum purchase amount, in parts of various cities. Amazon, however, has a huge head start on these companies.
In sum, each competitor is strong in only a portion of the domains that Amazon has integrated and dominates. As when a river floods, only time may tell who or what forces can counter Amazon's advance.