CEOs With Military Experience
Those who have served in the military understand what it takes to be organized, alert, calm, and decisive under pressure—traits that produce successful and effective leaders. In fact, more than 8 percent (PDF, 705 KB) of chief executives of S&P 500 companies have military experience, with an average tenure of seven-plus years (compared to four and a half years for CEOs with no military experience).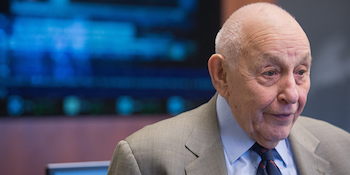 So, why is it that CEOs with military experience seem to stay in the chief executive role for a longer period of time? Efraim Benmelech, author of Kellogg University's School of Management report "Military CEOs" (PDF, 678 KB) and the National Bureau of Economic Research working paper (PDF, 333 KB) on the same topic, says that CEOs with military experience know how to make decisions "in extreme conditions" and "cope in periods of stress." Additionally, people in the military often gain leadership skills—communication and decision-making skills (PDF, 705KB), for example—and have the opportunity to practice those skills in a high-pressure environment. But leaders will not be successful if their people don't trust them, and those with military experience understand the significance of working with integrity. According to ITT CEO Steven Loranger (PDF, 705 KB), the military emphasizes "doing the right thing."
From General Motors' chief executive Daniel Akerson to Johnson & Johnson's Alex Gorsky, CEOs who have served our country can be found in nearly every industry. Below is a list of some of our nation's heroes who have led highly successful companies and made an impact worldwide. Read about each of the 11 leaders, their backgrounds, and their former (or current) missions in the workplace.
After serving in the U.S. Navy during World War II and then earning a bachelor's degree from Syracuse University in 1949 on the G.I. Bill, Martin "Marty" Whitman began his career as an analyst at Shearson Hammill before working for the Rosenwald family, of Sears Roebuck fortune, where he developed a penchant for superior returns and an aversion to investment risk.
He earned a master's degree in economics from The New School for Social Research—now The New School—in New York City.
Whitman ventured out on his own in 1974 and founded MJ Whitman LLC, a full-service broker-dealer. Ten years later, he participated in a takeover of Equity Strategies, an open-end investment company, and became its CEO and president. In 1990, Whitman started Third Avenue Value Fund, which today manages more than $21 billion in assets for private and institutional clients.
Through a number of publications, Whitman has shared his special brand of investing with the greater financial community. He is credited with writing industry classics such as The Aggressive Conservative Investor, which he co-authored with Martin Shubik, and Value Investing: A Balanced Approach. In 2009, Whitman and Dr. Fernando Diz of Syracuse University wrote Distress Investing: Principles and Technique as an outgrowth of annual distress and value investing seminars.
He has taught as an adjunct professor at the Yale University School of Management and at Syracuse University's Whitman School of Management, which today proudly bears his name. Learn more about the MBA for Military program offered by the Whitman School of Management.
Daniel Akerson, Former CEO of General Motors
A seasoned executive with extensive operating and management experience, Daniel "Dan" Akerson is the former chairman and chief executive officer of General Motors. Under his leadership, the company transformed from being majority owned by the U.S. Treasury to being publicly traded and investment grade rated.
A graduate of the U.S. Naval Academy, Akerson earned a bachelor's degree in engineering and then served in the Navy for five years. "Military service taught me a lot that helped my business career," he says, according to Fortune magazine; he learned "to make hard decisions, to lead by example, to act with integrity, and to take good care of your people."
Akerson has also served as chairman, chief executive officer, or president of several major companies, including The Carlyle Group, General Instrument, MCI, Nextel, and XO Communications. Today he is the vice chairman and special advisor to The Carlyle Group's board of directors and is a member of the firm's management committee.
Alex Gorsky, CEO of Johnson & Johnson
Alex Gorsky is chairman of the board and chief executive officer of Johnson & Johnson (J&J), one of the world's largest consumer health, medical devices, and pharmaceuticals company.
Gorsky started his career at J&J as a sales representative with Janssen Pharmaceutica, Inc. Over the next 15 years, he advanced through various positions of increasing responsibility in sales, marketing, and management. He left the company in 2004 and returned in 2008. In 2012, Gorsky became CEO.
Gorsky spent six years in the U.S. Army, finishing his career with the rank of captain. During that time, he earned the Ranger Tab and Airborne Wings while serving in Europe, the United States, and Panama.
In an interview with DiversityInc, Gorksy says the military was great training for his corporate career: "I learned how to live with, work with, and serve with very diverse teams and individuals. I quickly discovered no one had a lock on the right answers."
Gorsky holds a bachelor's degree from the U.S. Military Academy at West Point and a master's degree in business administration from The Wharton School of the University of Pennsylvania.
Lowell McAdam, CEO of Verizon
Lowell C. McAdam is chairman and chief executive officer of Verizon Communications, a company he joined in 2000. A global communications and technology leader, it is the largest wireless communications service provider in the United States.
Having built wireless businesses on three continents since the technology's development in the 1980s, McAdam is a preeminent architect of today's global wireless industry. He has held multiple leadership roles, both with Verizon and Verizon Wireless. Before working at Verizon, McAdam held various roles in different communications companies including PrimeCo Personal Communications, AirTouch Communications, and Pacific Bell. McAdam started his career in the U.S. Navy Civil Engineer Corps.
McAdam attended Cornell on a Naval ROTC Scholarship where he earned a bachelor's degree in engineering. He also holds a master's degree in business administration from the University of San Diego.
Robert McDonald, Former CEO of Procter & Gamble
Robert "Bob" McDonald is the retired chairman of the board, president, and chief executive officer of The Procter & Gamble Company (P&G), a multinational manufacturer of consumer products encompassing personal care, household cleaning, laundry detergents, prescription drugs, and disposable diapers.
McDonald began his career at P&G working in the marketing division in 1980, right after he left the military. He became CEO in 2009. Under his leadership, the company significantly expanded its developing market footprint and added nearly one billion more consumers to the number it serves.
A West Point graduate, McDonald wanted to enroll in the military academy long before he legally could—so much so that he wrote a letter to his local congressman asking for a recommendation when he was 11 years old. It didn't work, but he did enroll when he turned 18 and graduated in the top two percent of his class with a bachelor's degree in engineering.
Though he could have joined the Army Corps of Engineers, McDonald opted for the infantry instead. During his service, he not only completed his qualifications for airborne, ranger, jungle, arctic and desert warfare, jumpmaster, expert infantry, and senior parachutist, he also earned a master's degree in business administration from the University of Utah.
Today, McDonald is the eighth U.S. secretary of Veterans Affairs. Upon being sworn into office, he said, "At Procter & Gamble, we always focus on our customer. At the VA, the veteran is our customer, and we all must focus—all day, every day—on getting them the benefits and care that they've so earned. That's the only reason we're here. I look forward to working with the dedicated men and women of the Veterans Affairs to accomplish this mission."
Fred Smith, CEO of FedEx
Frederick "Fred" Smith is the chairman, president, and chief executive officer of FedEx Corp., the $45 billion global transportation and logistics company responsible for shipping more than 10.2 million packages daily in 220 countries.
Smith developed the idea and business model for FedEx as an undergraduate at Yale University. While enrolled, he enlisted in the U.S. Marine Corps. After serving two tours in Vietnam, he returned to his business idea and founded his company—then called Federal Express—in 1971.
"I do not believe I could have built FedEx without the skills I learned from the Marine Corps," says Smith in an article he wrote for Proceedings magazine. "The basic principles of leading people are the bedrock of the Corps. I can still recite them from memory, and they are firmly embedded in the FedEx culture."
"If you were to drop in on one of our management training seminars, you'd recognize from your military days what's being taught. We tell our executives that the key to their success is to rely on their first-level managers; to set an example themselves; and to praise in public when someone has done a good job. All these are standard operating procedure in the Marines."
Robert S. Morrison, Former CEO of The Quaker Oats Company and Former Vice President of Pepsi Co.
From leading soldiers in the jungles of Vietnam to directing the operations of large corporations, Robert "Bob" Morrison has earned a reputation for successfully guiding organizations through challenging situations.
Having held several key positions for companies that include Kraft Foods and General Foods USA, Morrison is perhaps best known for turning around The Quaker Oats Company in the late 90s. At the time, Quaker Oats was an independent company that had been struggling as a result of incurring more than $1 billion in losses upon acquiring Snapple. Under his leadership as its chairman, chief executive officer, and president, the company became profitable enough that Pepsi Co. bought it for $13.4 billion in 2001. Following the merger, Morrison served as Pepsi's vice chairman for a couple of years and then later served as interim CEO for 3M.
Before embarking on his corporate career, Morrison served in the U.S. Marine Corps during the Vietnam War and eventually reached the rank of captain, receiving the Silver Star and the Purple Heart.
Morrison earned a master's in business administration from the Wharton School of the University of Pennsylvania in 1969. In a newsletter to Wharton alumni from 2002, he credited his Marine days for setting the foundation for his leadership. "There were clear parameters that were instilled in everybody's mind," he says. "But in an actual battle situation, within those parameters, people had incredible freedom to act."
George Schaefer, Former CEO of Fifth Third Bancorp
It's been said that West Point graduate and former CEO of Fifth Third Bancorp George Schaefer ran his bank like an army unit. The cost-conscious executive staunchly believed in making practical choices, keeping costs low, and running things efficiently. Rumor has it that instead of handing out expensive crystal trophies as sales awards, he passed out Johnston & Murphy shoes.
CEO for 16 years and company employee for 35, Schaefer enrolled in Fifth Third Bancorp's management trainee program after completing his commitment to the U.S. Army. He simultaneously enrolled in business school and earned his MBA from Xavier University in 1974. Rising through the ranks as the bank's CEO, he is credited with growing the total assets of the bank from $7 billion to $89 billion. By the time he stepped down, Fifth Third Bancorp ranked in the top 15 largest bank-holding companies in the United States and in the top 10 largest bank-holding companies by market capitalization.
Schaefer graduated from West Point in 1967 and later the U.S. Army's elite Ranger School in Fort Benning. He was deployed to Germany for two years to serve on a nuclear-demolition munitions team. When asked by Institutional Investor what he learned from his military experience, Schaefer said, "If you take good care of your people—whether they're soldiers in Vietnam or bankers selling checking accounts in Chicago—then they'll do a marvelous job for you."
Sumner Redstone, Current Executive Chairman & Former CEO of Viacom
Sumner Redstone is a man known for overcoming impossible odds. At the age of 64 when most would consider retirement, the former anti-trust lawyer went to work building a vast media and entertainment empire that includes Paramount Pictures, MTV, Nickelodeon, Blockbuster, Simon & Schuster, and CBS.
At 91, he serves as chairman of the board of both CBS Corporation and Viacom, roles he assumed after the separation of Viacom into two publicly traded companies, which occurred in January 2006. Prior to that, he served as chairman of the board of Viacom and chief executive officer of Viacom. He was also named chief executive officer of National Amusements, Inc., in 1967 and served as its president from 1967 to 1999.
While a student at Harvard during World War II, Redstone was selected by one of his professors to help decrypt Japan's military and diplomatic codes. In connection with these activities, Mr. Redstone received two commendations from the Military Intelligence Division in recognition of his service, contribution, and devotion to duty. He is also a recipient of the Army Commendation Award.
"There's no doubt that my days as a codebreaker had their effect," he said in "Answering the Call" with Proceedings magazine in 2008. "Reinforcing values that I'd already begun to realize were key to success anywhere you go. I learned that you have to be tenacious—even relentless—and you can't be deterred by obstacles. I've held these beliefs all my life."
A larger-than-life figure, Redstone was voted by 600 corporate executives as the No. 1 most inspiring CEO.
Robert Stevens, Former CEO of Lockheed Martin
Robert J. Stevens is the retired chairman, president, and CEO of Lockheed Martin Corporation. He served as the Corporation's CEO from August 2004 through December 2012, was elected chairman in April 2005, and served as executive chairman from January through December 2013. Previously, he held a variety of increasingly responsible executive positions with the company, including chief operating officer, chief financial officer, and head of strategic planning.
Stevens enlisted in the U.S. Marines when he was 18 years old. During an acceptance speech for the General John LeJeune Recognition for Exemplary Leadership, he said, "I did not learn about leadership in business school. I learned about leadership when I was 18 years old and was first introduced to the United States Marine Corps, where leadership is not taught by a favored professor in a three-credit hour course. It is taught by every officer and every NCO in every minute and every hour of every day, in every action, every word, every deed, and every circumstance."
Stevens is a summa cum laude graduate of Slippery Rock University from which he received the Distinguished Alumni Award. He earned a master's degree in engineering and management from the Polytechnic University of New York and, with a Fairchild Fellowship, earned a master's degree in business from Columbia University.
In January 2012, Stevens was appointed by President Barack Obama to the Advisory Committee for Trade Policy and Negotiations. He currently serves as chairman of the director of National Intelligence Senior Advisory Group.
James Skinner, Former CEO of McDonald's
As the vice chairman and CEO of McDonald's, James "Jim" Skinner was responsible for leading the world's largest fast food service company—a company comprised of more than 36,000 restaurants serving 69 million customers in 118 countries each day.
His career with McDonald's started in 1971. Having served nearly 10 years in the Navy—including two tours in the Vietnam War—Skinner was taking night classes with a fellow Navy colleague who advised him to take a job at McDonald's. Skinner took his buddy's advice and applied for a restaurant manager trainee position in Illinois. The rest is history.
Since then, Skinner has held several management positions, ultimately becoming the company's CEO in 2004. As one of the architects of the Plan to Win, a framework for "being better, not just bigger," Skinner led the company during a consecutive run of nearly nine years of increasing global comparable sales. He has been named "CEO of the Year" by Dow Jones/Marketwatch, "2007 Executive of the Year" by Restaurants & Institutions magazine, and one of "America's Best CEOs" by Institutional Investor magazine. Skinner retired from McDonald's in 2012.
Today, he is executive chairman of Walgreens Boots Alliance, the first global pharmacy-led, health and well-being enterprise in the world.