Which Specialized Master's or Communications Master's Program Is Right for Me?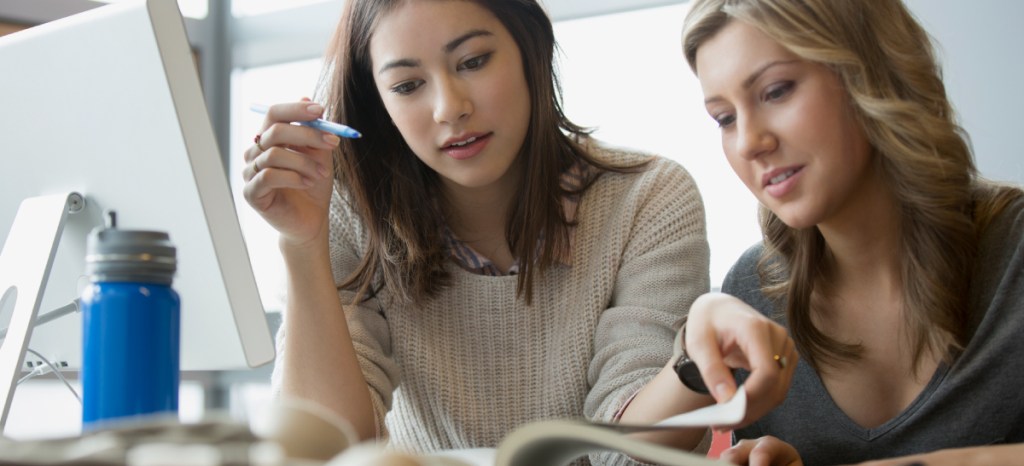 When Gabriela Acosta '17 decided it was time to go back to school to obtain her master's degree, she faced a dilemma many other communications professionals experience: whether to pursue an M.S. in communications with a specialization or a more traditional master's degree.
"I went back and forth between journalism, communications and marketing programs. I even thought about seeking a documentary or production course," recalls Acosta, who is currently developing and planning to host a podcast called The Way We Lead that centers on inclusive leadership.
Acosta decided to look for a master's degree program that would provide a solid foundation, one that could teach proven communications principles and practices, and one that also offered specialized elements within the curriculum that apply specifically to today's communications careers.
How do you determine which communications master's program is right for you? Study the curriculums offered by different programs, and consider what your long-term professional goal is: Do you want to work in a large company or your own boutique PR firm? Are you interested in the entertainment field or advertising, or is a communications-related position in a hospital or a state representative's office more appealing? Selecting an appropriate M.S. in communications or a specialized master's degree program can help you prepare for the area that interests you most.
Beyond traditional functions in the communications field, such as graphic design, press release writing, storyboarding and television production, and technological advances have truly transformed and expanded communications professionals' roles across many industries. Opportunities are available for those who can evolve, shift and change with technological innovations.
What Are the Advantages of an M.S. in Communications?
A master's in communications provides advanced skills and knowledge in how to disseminate information in a compelling way through written or spoken words, printed or broadcast visuals, or via various digital platforms. These skills can be applied in jobs in communications departments within many businesses, nonprofit organizations, government agencies and educational institutions.
According to Bureau of Labor Statistics (BLS) projections, there will be an estimated 6 percent increase in communications jobs between 2016 and 2026. Knowing how to harness specific technologies can be an advantage to those pursuing a career in communications. For example, Fortune reports that information and communication fields will be among the top industries to experience economic growth as a result of the increasing use of A.I.
Learn a Broad Range of Communications Topics to Enhance Your Knowledge
Students in a master's in communications program will gain skills that can be applied broadly to their jobs, such as how to create campaigns and communication techniques and how to handle real-life business scenarios—both positive and negative ones. They may learn about the psychology of conflict, as well as theories of mediation and negotiation.
A specialization built on a solid communications curriculum can help professionals develop highly targeted skills. Communications@Syracuse, Syracuse University's online Master's in Communications program, includes five core courses that equip students with a strong foundation in digital communications. Core courses include multimedia storytelling, social media for public communicators, digital communications systems and media law.
Choosing an Area of Specialization to Build Expertise
An advanced degree with a specialization will provide those who are in the field—and those who want to work in communications—with a deeper knowledge of their chosen field. At Communications@Syracuse, for instance, students have the opportunity to pursue a specializations in three fields to help them better explore their interests:
Public Relations
Journalism Innovation
Advertising
So how do you determine if an M.S. in communications with a specialization is a better choice for you than a traditional M.S. in public relations, advertising, marketing or journalism? Here are some things to consider:
Public Relations: What is the difference between a master's degree in communications and a public relations master's degree?
The professional field of public relations is focused on the strategic crafting of intentional public communication for the purpose of building mutually beneficial relationships between organizations and their communities. Thanks in large part to the Internet, consumers today receive a constant flow of information from social media platforms, search engines, blogs, news outlets, e-mails and web sites. With every platform, organizations communicate their brand, making public relations an important business function.
A traditional master's in public relations degree offers core skills that have long been necessary to effectively execute PR functions, including:
Campaign design and execution
Strategic campaign planning
Research best practices
Brand development and recognition
PR program management
Copywriting and editing
With an M.S. in communications with a public relations specialization, these core competencies are complemented with courses that focus on integrating them into the larger landscape of today's digital media platforms. They include:
Social media messaging
Web site and other online content
Cross-platform project management and strategies
Advanced research methods
Public Relations: Careers and Industry Outlook
There are many rewarding careers that benefit from the knowledge obtained with a master's degree specializing in public relations:
Communications manager
Community manager
Corporate affairs manager
Corporate communications director
Development director
Events manager
Internal communications director
Investor relations manager
Lobbyist
Media relations manager
Nonprofit manager
Press secretary
Public affairs manager
Public relations director
Public relations manager
According to the BLS, jobs in the field of public relations are expected to increase 9 percent from 2016 to 2026, in part due to continued integration of digital media and social media into our daily lives.
Journalism: What is the difference between a master's in communications and a journalism master's degree?
Similar to a traditional journalism master's degree, an M.S. in communications with a journalism specialization focuses on multimedia storytelling, media law and content production. Where it differs from a traditional journalism degree is in its heavy emphasis on using data and new media to create data-driven journalism.
A traditional master's degree in journalism prepares students with:
A strong foundation of journalism principles
Expanded fundamental journalism concepts
Opportunities to specialize in sub-categories, such as sports, video production or public policy journalism
A master's in communications with a journalism specialization prepares students for the modern media landscape and teaches them how to critically evaluate how the news is reported. It also helps them build the skills needed to stay ahead of emerging trends and new technologies. Areas of study may include:
Web and mobile story production
Data-driven journalism
I., 360 video, structural data capture and other emerging technology
SEO, site traffic analytics and other applied media research tools
Journalism: Careers and Industry Outlook
Both seasoned journalists and those who are interested in breaking into the industry can benefit from a master's degree. Jobs include:
Broadcast journalist
Broadcast news analyst
Communications editor
Content editor
Copywriter
Executive editor
Investigative journalist
Multimedia specialist
Photojournalist
Producer
Production manager
Reporter
Senior correspondent
Web content manager
According to the BLS, most reporters, correspondents and broadcast news analysts work full time, and additional hours or changes in schedules in order to follow breaking news or provide needed commentary are common. Jobs in the field are competitive, and opportunities are expected to decline through 2026.
Advertising: What is the difference between a master's degree in communications and an advertising master's degree?
Advertising is a competitive field, which is why many professionals consider an advanced degree to enhance their careers. A master's degree allows students to explore the approaches and practices essential to creating successful advertising campaigns. A traditional advertising master's degree program typically places a heavier emphasis on understanding the role of advertising and branding in society from a historical and theoretical perspective. An M.S. degree in advertising focuses on:
Strategic branding
Marketing strategy
Media planning
Media relations
An M.S. in communications with an advertising specialization also includes study in these areas, and incorporates additional digital components into the curriculum. They include:
Advertising research
Multimedia storytelling
Content marketing
Social media
Competition analysis
Brand identities and rebranding
Creative performance assessment
Emerging digital media and technology
Advertising: Careers and Industry Outlook
There are many career paths and specialties within the field of advertising that benefit from a master's degree:
Account manager
Advertising director
Advertising manager
Agency account executive
Brand manager
Creative director
Digital strategist
E-commerce manager
E-mail marketing manager
Marketing manager
Market researcher
Media director
Media planner or researcher
Product manager
Search engine marketer
Social media specialist
Organizations need communications professionals who can craft and manage a brand that matters to their targeted audiences, which may in part explain why the BLS projects employment for advertising and marketing managers will grow 10 percent from 2016 to 2026.
A Word on Marketing Master's Degrees
While advertising technically is a specific type of marketing, a master's degree in marketing is an option that can provide more wide-ranging skills, such as customer service and relationship management.
Marketing: Careers and Industry Outlook
According to the U.S. News & World Report guide to online master's degrees, an M.S. in marketing can benefit those in advertising, PR, sports marketing, digital media, and market analytics and research.
Some jobs that this type of advanced degree complements:
Market research analyst
Marketing specialist
Marketing and sales manager
Marketing manager
Product manager
SEO specialist
Social media manager
Supply chain analyst
Web content writer
As the field of marketing has become more reliant on the Internet, the demand for marketing professionals with e-commerce and digital training is growing. With a master's degree, professionals may expect to earn $25,000 to $30,000 more than those with only an undergraduate degree, according to U.S. News & World Report. And according to the BLS, marketing manager jobs are projected to grow by 10 percent from 2016 through 2026.
Acosta can attest to the benefits of earning an online M.S. in communications.
"The Communications@Syracuse program was incredibly practical, providing a ton of updated skills," she says.
Communications@Syracuse, Syracuse University's online master's in communications.