Getting Familiar with Accessibility Tools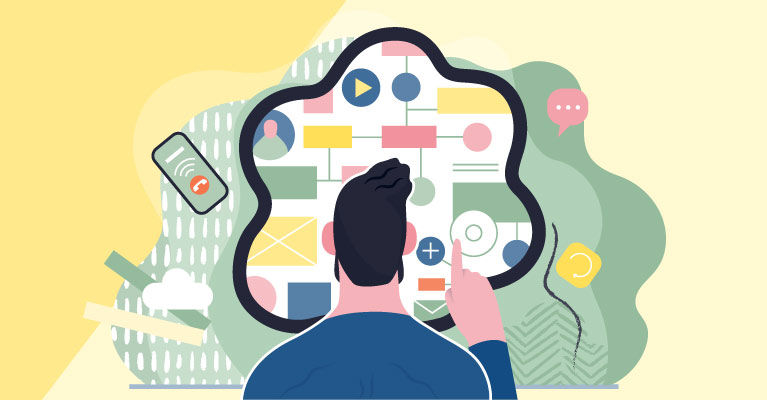 Web content is no longer just one facet of how people access information. It's the primary way most people complete everyday tasks such as paying bills, reading the news, scheduling appointments, socializing with friends, ordering food, and submitting schoolwork.
There's almost no limit to what the average user can accomplish online, but some users experience more barriers to accessing web content. That's often the case for users with disabilities, which could be a person with dyslexia reading an article with a small font or someone with limited physical mobility using a keyboard.
More than one in every four Americans has a disability, and many of them rely on accessibility tools to move seamlessly through web content, including videos, images, infographics, and hyperlinked text. Anyone who publishes content should be familiar with the framework for an accessible site, as well as the digital tools that help people use the web—for consuming media and creating their own.
What Is Accessibility?
In the context of the , accessibility is the practice of universal inclusion through the elimination of barriers that keep people with various disabilities from being able to use the web. Accessibility incorporates the use of software and hardware into the design of webpages, mobile applications, and other web-enabled activities so all users have equal access to information and the functions of technology.
Legal Guidelines
Several legislative acts and administrative bodies have guidelines on implementing and maintaining accessibility:
The Americans with Disabilities Act of 1990 (ADA): prohibits discrimination on the basis of disability. Under Titles II and III of the legislation, people with disabilities are protected from discrimination from state and local government services and sources of public accommodations. Inaccessible web content would mean users with various disabilities are not afforded the same services as other Americans.
The U.S. Department of Health and Human Services:
Web standards: baseline requirements for every attribute of a webpage managed by the HHS and the Office of the Secretary.
Usability guidelines: best practices for web design and structure, including navigation, layout, hyperlinks, text appearance, multimedia, and content organization.
Section 508 of the Rehabilitation Act: primarily for government-managed web properties; requires website content be accessible to people with disabilities. It applies to apps, webpages, all attached files on the intranet, and the internet.
The American Library Association (ALA) implemented its own policy to ensure all properties managed by public libraries—both physical facilities and digital assets—are accessible to people with various types of disabilities. The Library Services for People with Disabilities Policy, enacted in 2001, applies to all services, facilities, library collections, assistive technology, and professional development materials for employees and visitors alike.
Like the ALA, organizations and companies can choose to act on accessibility independently of legislation requiring it.
Where to Get Started
Though the legal sources outlined above are viewed by legislators as voluntary technical standards, several nongovernmental organizations have emerged to spearhead the creation and implementation of accessibility standards.
WebAIM: a nonprofit that provides evaluation, training, and consultation to government agencies, corporations, and other organizations about the accessibility of their websites and other digital assets.
World Wide Web Consortium (W3C) Web Accessibility Initiative (WAI): an organization that pursues widespread web accessibility by partnering with organizations to assess technology, develop guidelines, provide community education, and coordinate research about accessibility for groups with disabilities. W3C has created a framework for web developers seeking standards, called Web Content Accessibility Guidelines.
Association of Research Libraries Web Accessibility Toolkit: resource that promotes accessibility, universal design, and digital inclusion for research libraries, which are uniquely tasked with being stewards of public access to information.
Tools for Accessing the Web
The average web user does much more than just read pages. These tools help people navigate a webpage, understand multimedia content, contribute to forums, publish user-generated content, and interact with others online.
Software
Job Access With Speech (JAWS) screen reader: software program that translates text with a speech synthesizer or Braille display, for people with vision loss or blindness. The JAWS reader also helps users fill out web forms and browse the web with keyboard shortcuts.
ZoomText Xtra screen-magnification software: enlarges text and images for users with low vision or dyslexia. It also enhances screen colors and echoes keyboard strokes out loud.
Mouse Keys: helps users move up, right, left, and down from the same keyboard they use to type. With just a few adjustments, built-in keyboard shortcuts can be enabled on most computers to change the function of keystrokes and take the place of a mouse.
Able Player: A fully accessible cross-browser media player that translates audio and video content into text or synthesized speech for multimedia across many browsers. Interactive scripts are available in a variety of languages, and it is compatible with keyboard and mouse alternatives.
OpenBook: scanning and reading software that scans printed materials and translates them to enlarged text and audio output for users with vision loss.
Hardware
BAT keyboard: a one-handed device for inputting keyboard functions that can accomplish all the same tasks as an ergonomic or traditional keyboard.
Mouse alternatives: for people who need assistance with mouse inputs. Examples include joysticks, touchpads, eye control systems, and head movement sensors.
Where to Find More Information
UsableNet: This organization works with companies to understand and improve their digital accessibility. Read their blog for the latest updates in accessible technology and guidelines.
Microsoft Accessibility: Technology for Everyone: Microsoft explores innovative ways to make the web more accessible and organizes their resources for users who need assistance with hearing, vision, neurodiversity, learning, mobility, and mental health.
United States Department of Justice: The DOJ website covers information about legal guidelines and how to pursue help for web content that doesn't meet accessibility standards.