How to Identify and Address Employee Burnout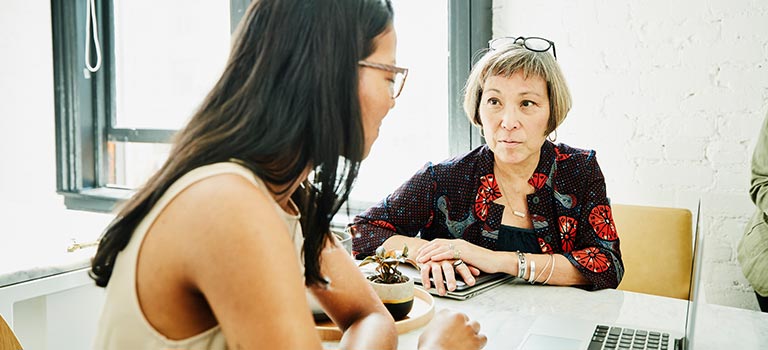 Working from home—what was once an appealing remission from corporate life and strenuous commuting—has morphed into a formidable reality: living at work. The concept of the "workplace," now virtual, is omnipresent. A culture that expects immediate responses, longer hours and greater productivity has exacerbated the already challenging mental health toll posed by widespread economic precarity.
A 2020 survey from Mental Health America found that 75% of respondents experienced burnout and 40% experienced it specifically during the pandemic. What once was perceived as an individual problem is now a structural and managerial issue pervasive through work environments that no industry has escaped, especially for essential and frontline workers.
But even structural challenges require action from individuals, particularly those with power. For many workers, the best person to have in their corner is their manager. Managers are uniquely poised to help employees recover from burnout instead of placing the burden of recovery on those who are already burned.
Explore the resources in this article:
What is Burnout?
The World Health Organization's definition of burnout classifies it as a syndrome that results from "chronic workplace stress that has not been successfully managed," and breaks the concept into three key experiences:
Exhaustion
feelings of tiredness, depleted energy and physical and mental fatigue
Cynicism
negative attitudes toward work and inclination to assume the worst
Shame
feelings of embarrassment about low performance or needing help
The cyclical nature of burnout makes it different from temporary forms of exhaustion. Burnout happens when people get repeatedly stressed for long periods of time without relief, leading to a feeling of being stuck and overwhelmed, unable to perform job duties and feeling shame for needing help.
Donald Cardarelli, professor of management practice at Syracuse University Whitman School of Management, said that burnout can take various forms and intensities.
"It can range from boredom to an inability to perform and meet basic responsibilities," he said. "The causes are numerous but the effect is waning engagement."
A 2018 Gallup survey about burnout and management found the five main causes of burnout had less to do with the high expectations of a work environment and more to do with the way a person is managed at work.
Those causes include:
Unfair treatment at work
Unmanageable workload
Lack of role clarity
Lack of communication and support from manager
Unreasonable time pressure
The same report found that "when employees strongly agree that they are often treated unfairly at work, they are 2.3 times more likely to experience a high level of burnout."
Unfair treatment can take the form of favoritism, bias, discrimination or nepotism, each of which has severe consequences for individuals who are discriminated against by their managers.
The Inequitable Toll of Burnout
Women and people of color bear the burden of burnout more heavily than their white, male counterparts, which is due in part to societal expectations of who is pressured to perform unpaid labor at home and who gets time for rest.
Sociologist Jess Calarco, Ph.D., surveyed 2,000 working parents about their feelings of exhaustion before and during the global pandemic. She found that 66% of all parents reported feelings of tiredness and low energy. Accounting for gender, her results highlighted significant inequality: 91% of all mothers surveyed reported increased exhaustion, while only 35% percent of all fathers reported the same.
91% of mothers reported increased exhaustion compared to 35% of fathers
Additionally, a survey conducted in the fall of 2020 by Time's Up, Color of Change (1.6MB, PDF) found that the barriers to rest, self-care and financial reprieve are greater for Black and Latino employees: 52% of Latina women and 44% of Black women said their care responsibilities limited the amount of paid work they were able to do in 2020.  Only 34% of white women and 26% of white men said the same.
52% of Latina women and 44% of Black women said their care responsibilities limited the amount of paid work they were able to do in 2020, compared to 34% of white women and 26% of white men
Before the pandemic, the boundaries between professional work and personal lives were slightly more clear, but with the onset of full-time remote work, those lines have all but vanished.
"We can work or be summoned to work whenever we unlock our phones. Wherever we go, there work is," said reporter Lily Meyer in an NPR book review of "Can't Even" by Anne Helen Petersen.
Petersen writes in her book that burnout should not be treated like a competition; however, there's still no denying that marginalized and low-income communities are suffering more with fewer resources and opportunities for reprieve.
How to Know if an Employee is Experiencing Burnout
Unaddressed burnout can lead to long-term depression and other harmful outcomes. When people resist taking a break or resting when necessary, symptoms of burnout can manifest physically and mentally, and lead to more intense consequences.
Cardarelli recommended managers use preventive measures to identify when employees are beginning to experience burnout.
"Engaged employees typically ask questions and seek feedback," he said. "Watch for silence as a key sign of potential burnout." He also said employers should look out for a change in performance from people who are normally highly motivated and highly competent.
For example, "a lack of questions regarding assignments, silence in meetings or unnatural agreeability are low energy signals," he said. "Missing deadlines with little explanation or passing on opportunities to learn new skills are red flags."
Managers can provide coaching skills to encourage and support people who have slipped into a state of low motivation to keep them engaged and accommodated at work. The Mayo Clinic highlights troubling burnout signs for employers to watch for.
Signs that an Employee or Colleague is Burned Out
Change in demeanor or attitude compared to their baseline
Low-motivation or energy to do things they were previously motivated to do
Difficulty concentrating, remembering tasks or completing projects
Increased absenteeism or non-responsiveness
Voluntary isolation or feelings of alienation from others
Lack of participation in team projects, meetings or events
High sensitivity to feedback or inappropriate reactions to criticism
Low productivity or difficulty maintaining a normal workload
"Of course, body language is a reliable indicator in non-COVID environments with withdrawn and low energy postures," Cardarelli said. "Even in our Zoom world, we can discern disengaged eye contact and posture."
Many of these changes or signs are not sudden and begin to develop gradually, making it difficult for employees to self-identify even if they're informed of the risks.
"It's important to pick up on these early signals to discuss what may be growing issues for the employee," Cardarelli added.
Perceptive, compassionate and motivated managers can identify these signs early and be proactive about seeking accommodations and support that can help employees manage their mental health.
How to Address Burnout with Employees
Much of the research on burnout focuses on causes and manifestations, but the vague nature of how solutions are identified makes it difficult for managers to follow tangible, resourceful guidelines on prevention and response.
While silence is a symptom of burnout, it's also a barrier for employees' ability to ask for help. Feelings of shame make people hesitant to address their own needs, but a perceptive manager can intervene.
"Sometimes the best way to address the symptoms of burnout is to simply ask your employee, 'Are you alright?'" Cardarelli said. "Opening a dialogue is the key objective here, not proving your case for burnout."
Careful consideration and compassion for an employee's well-being, mental health and personhood are important for maintaining a respectful and candid conversation.
"Tell them about one symptom you are seeing with concern for them, not the work," Cardarelli advised. "Do not dump a list of symptoms you have been gathering, just one that has you most concerned."
He also provided other strategies for managers to build a healthy work environment while addressing burnout:
Strategies for Managers to Address Employee Burnout
Use a preventive approach.
Routinely ask about the areas where burnout is ignited, such as, "How are you dealing with the workload?" or, "Are you receiving the cooperation you need?" or, "Is your current assignment interesting?"
Express care for them as a person.
Show them their well-being and personhood matters to you and is a priority over work. Use affirming language to make it clear they matter and are valued at work.
Communicate with curiosity.
Avoid perpetuating shame. Instead of saying, "I don't know what else I can do to help you," try responding with, "What do you think would make things better?"
Identify personal interests and passions.
Learning holistically about the employee can help you discover what motivates them and provides purpose.
Provide a change of pace.
Offer to switch employees to a new project skill or professional development area as an opportunity to excel.
Consult with Human Resources.
Identify accommodations your organization can offer such as time off, change in workload, support for mental health counseling or other employee assistance programs.
Become familiar with the Americans with Disabilities Act.
The ADA upholds legal requirements for accommodations for workers with qualifying mental health diagnoses.
Encourage employees to seek professional help when appropriate.
For serious cases leading to depression or clinical needs, employees may need assistance or motivation to find a clinician.
"Encouraging practices that promote healthy work-life balance must be consistent with your overall culture," Cardarelli said. "A workaholic culture cannot effectively promote work-life balance."
Part of that culture can be demonstrated by leaders in the work environment; employers who model healthy boundaries will encourage employees to do the same.
"A workaholic culture cannot effectively promote work-life balance."
Some employees may need rest and others may need a change in mindset. The most effective way to know what is helpful is to ask individuals about their needs, and help them find accommodations in the workplace dynamic. Building trust and a sense of belonging can help employees feel able to safely open up or confide in managers about their needs and well-being.
"Employees need to trust that their employer is earnest in the desire for healthier, happier people; that the organization will also be healthier as a result," Cardarelli said. "It's the ultimate green light for employees to pursue a healthier balance as well."
Additional Resources for Addressing Burnout
How to Tell If You Have Burnout, The Atlantic
Employees: How to Cope with Job Stress and Build Resilience During the COVID-19 Pandemic, CDC
Burning at Both Ends: Employee Burnout Warning Signs (and How to Avoid Them), ITA Group
Well-being and Burnout Resources, APA
How to Prevent Employee Burnout, SHRM
Employee burnout for employers: Costs, Causes and Cures, Workable
Burnout response for leaders, Workplace Strategies
How HR can help employees with burnout, HR Executive
Stress and burnout: Tips for employees and employers, Financial Management
9 Ways to Help Remote Workers Avoid Burnout, Inc.
Black Women On Burnout, The Cut
Citation for this content: Syracuse University's MBA program online