Top Conferences for Information Management and Library and Information Science Professionals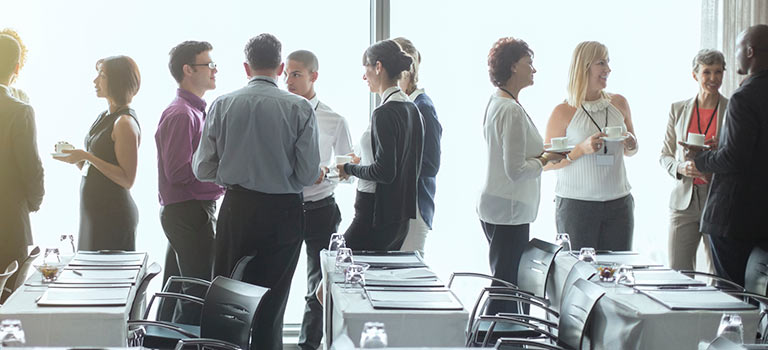 In our fast-paced, technology-driven world, it is vital to stay up to date on advances in the fields of information management and library and information science. One of the best ways to do this is by meeting and learning from peers.
"Professional conferences provide the opportunity for networking and renewal, both of which are vital to the development of individuals and the profession," said Barb Stripling, senior associate dean and associate professor of practice at the School of Information Studies (iSchool).
Below is a list of what we see as the top conferences in 2017 for professionals in these fields.
5 Information Management Conferences
When: March 13-16, 2017
Where: Orlando, Florida
What: The conference offers attendees the opportunity to learn practical and actionable advice for managing their organizations' information.
Who should attend? Records managers, content managers, and IT professionals no matter your industry.
When: April 2-7, 2017
Where: Atlanta, Georgia
What: The conference comprehensively covers the field of educational data management. Agenda topics include data strategy, management, architecture, and development; business intelligence and analytics; and enterprise information management.
Who should attend? Chief data officers (including SVPs, VPS, and directors), data and information architects, directors of analytics and business intelligence, directors of data governance, information quality professionals, data scientists, and big data engineers.
International Conference on Information Management
When: April 21-23, 2017
Where: Chengdu, China
What: The conference highlights the latest research in the fields of information management and information system applications.
Who should attend? International information management academics and industry professionals.
When: October 29 – November 2, 2017
Where: Las Vegas, Nevada
What: The IBM World of Watson conference focuses on what you can do with information and the role IBM is playing in data management.
Who should attend? Professionals in data analytics, data integration and governance, data management, enterprise content management, IT infrastructure, and data security.
International Conference on Information Systems
When: December 10-13, 2017
Where: Seoul, South Korea
What: Academics and practitioners gather at this conference to explore way to promote IT convergence and discover new business value for information and communication technology.
Who should attend? This conference is only open to current members of the Association for Information Systems, an organization that "serves society through the advancement of knowledge and the promotion of excellence in the practice and study of information systems."
"I was first introduced to ICIS in 1992 in Texas. Hard to believe that was 25 years ago. It was mind blowing being exposed to such diverse research in the information systems space. It was also incredible meeting so many of the researchers whose work I read. Those relationships have become some of my most valued friendships and research collaborations. There are many great opportunities for scholars to engage both formally and informally about emerging and ongoing challenges for the information systems discipline. It is impressive not only how this conference engages scholars from around the world, but how it continues to evolve as new information challenges present themselves in organizations and society."
– MICHELLE KAARST-BROWN
Associate Professor at the iSchool
5 Library and Information Science Conferences
Association of College and Research Libraries (ACLR) National Conference
When: March 22-25, 2017
Where: Baltimore, Maryland
What: Academic librarians and industry professionals meet at the conference to discuss the newest trends in the industry. This conference only happens once every two years and this year's keynote speaker is Carla Hayden, the 14th Librarian of Congress. She is the first woman and first African-American to fill the post.
Who should attend? Academic librarians.
"The ACRL conference is the premier conference for academic librarians nationwide. With attendance averaging over 3,300 individuals from all 50 states and 20-plus countries and over 500 sessions, both novice and veteran librarians can make new insights, gain awareness of national trends, and network with current and future colleagues. If you don't come home from ACRL energized and with numerous ideas to enact at your library, you weren't paying attention. Library school students seeking employment in universities, colleges, and community colleges should consider ACRL a 'requirement' of preparing for their future career."
– MEGAN OAKLEAF
Associate Professor and Director of Instructional Quality at the iSchool
When: March 28-30, 2017
Where: Arlington, Virginia
What: The main purpose of this conference is to bring industry professionals together to discuss how to combine technology with library literacy.
Who should attend? Academic, public, corporate, government, special, and school librarians; library directors and executives; information managers; information architects and specialists; researchers; system professionals, content managers, technical managers, and information professionals.
Special Libraries Association Conference
When: June 16-20, 2017
Where: Phoenix, Arizona
What: This conference is an opportunity for special librarians and other information professionals to come together to network, learn best practices, and share ideas. Job titles for special librarians include collections manager, research/intelligence director, information center manages, knowledge manager, web developer, information analyst and consultant, content manager, user experience specialist, and content rights manager.
Who should attend? Special librarians and other information professionals from the academic, corporate, government, and nonprofit sectors.
When: June 22-28, 2017
Where: Chicago, Illinois
What: The ALA conference tracks library trends and helps attendees keep up with this rapidly changing field. This year, a featured speaker at the conference is Reshma Saujani, president and CEO of Girls Who Code.
Who should attend? Librarians, authors, publishers, business professionals, educators, and students.
"An ALA conference invites library professionals and students into the dynamic and exciting world of librarianship. Attendees can engage with others in learning about and discussing the latest ideas in the field. They can see and evaluate outstanding resources, products, and technology tools on display in the exhibits. They can attend open committee meetings to understand how the policies and actions of the association help members bring professional values to life in their libraries."
– BARB STRIPLING
Senior Associate Dean and Associate Professor of Practice at the iSchool
International Conference on Library and Information Science
When: August 23-35, 2017
Where: Sapporo, Japan
What: This conference offers an opportunity for LIS industry professionals to share research achievements, establish research networks, and find global partners for future collaboration.
Who should attend? Scholars, educators, LIS practitioners, and professionals.