What Do Librarians Do?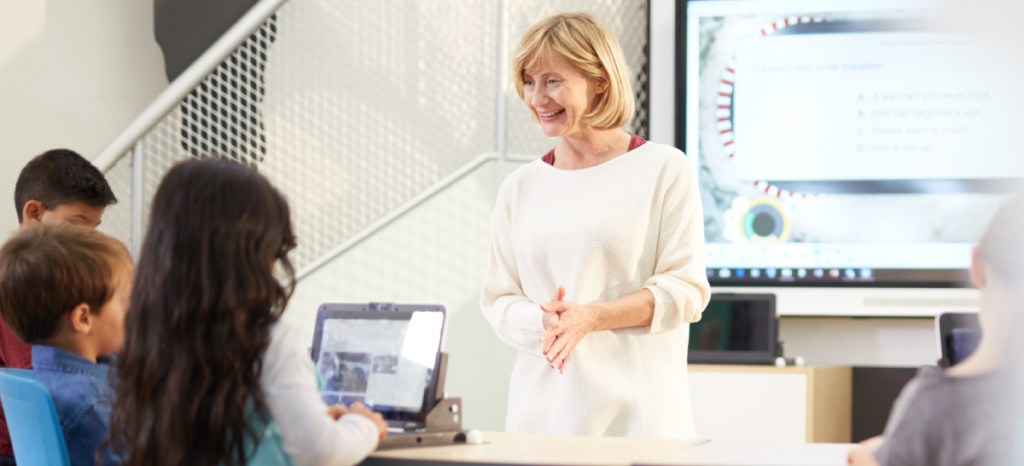 In the 1980s, Monique le Conge Ziesenhenne was on her way to becoming a graphic artist: She earned her degree in graphic design and was working in the field. But it was a part-time job that would change the course of her career.
"I'd like to race sand crabs. Is there any place I can do that?" This was one of many questions Ziesenhenne, who is now president of the Public Library Association, sought to answer as a part-time information provider in the recreation department at her university. "Basically, any question that a student had, I would try to find the answer," she said. Those questions were what she now understands to be the types of questions you get at public libraries.
Contrary to the stereotypes we often hear about, working as a librarian isn't just filing books and maintaining order in the classroom. Instead, librarians are critical resources who, in addition to instilling an appreciation for literature, help communities strengthen their digital literacy skills and circulate credible information into comprehensible chunks for projects, initiatives and papers.
Today's librarians are facilitators who should aim to enrich, collect, curate and store information. Their new mission is to improve their communities by disseminating good information and making it easier for people to gain knowledge, explained R. David Lankes G'99, graduate of Syracuse University's School of Information Studies PhD program, in his book, The Atlas of New Librarianship.
Ziesenhenne, who is also director of the Palo Alto City Library, fell into the librarian profession serendipitously after her experience as an information provider segued into converting her department's manual filing system to a digital system, similar to an online database. It was in this role that her manager suggested she consider applying to a library and information science (LIS) master's degree program.
"Internships, jobs in school and public libraries turned into what's been a successful and happy 30-year career," said Ziesenhenne, who eventually left her design job after being accepted into a library program.
Whether individuals land in the role by chance or through extensive planning, fundamental questions are inevitably raised such as "what type of education does a librarian need?" or "what are a librarian's career options?"
The Basics: Education Requirements
Most librarians have a four-year undergraduate degree, according to the American Library Association (ALA). "But they're not all English majors, and people with undergraduate degrees in any of the arts and sciences can bring their own unique perspective to a career in librarianship," Ziesenhenne said.
Many librarians who are already in the field may pursue an online Master of Science in Library Science degree (MLIS), especially if they're interested in pursuing more managerial or supervisory roles.
Steve Ingeman, technical services supervisor at Mary Riley Styles Library in Falls Church, Virginia, earned an online MLIS while holding down his full-time job. Like Ziesenhenne, Ingeman didn't plan a career as a librarian. Instead, it found him.
"I worked my way through college in libraries. I didn't think, 'What field am I going to go into?' I was channeled into it by circumstance," he said. After graduation from the College of William and Mary, where Ingeman majored in philosophy, he turned what had been a part-time college job at the school's library into a full-time job as the library's stack supervisor.
When Ingeman later pursued his MLIS online, it was important for him to earn the degree from an ALA-accredited school, which many employers prefer. He noted the degree is considered a science because librarians use the Dewey Decimal System, a library classification system first developed in the late 1800s.
Sometimes other types of certifications and degrees are required or can help increase job prospects, depending on a librarian's area of focus. Law librarians, for example, tend to hold degrees in both library science and law. School librarians often earn a teaching certificate, and many states have certification requirements for school and public library professionals.
Librarian Job Descriptions
Kathryn Roots Lewis, president of the American Association of School Librarians, started her career in education as a classroom teacher before becoming a school librarian.
"I spent 13 years in the classroom as a special education teacher—everything from special needs infants to high school students. Then my sister and I decided to go back to school together," said Roots Lewis, who is also the director of media services and instructional technology for Norman, Oklahoma, public schools. It made sense considering she and her sister used to "play librarian" as children—and, Roots Lewis noted, they eventually made it a reality: "We both became librarians."
She may have found herself working in a school setting, but not all librarians will. In fact, librarians and their expertise are needed in a host of workplaces, including hospitals, medical schools, corporations, law offices, scientific societies, museums, government agencies, presidential libraries, and historical archives.
"Here in D.C., for instance, we have the Library of Congress," Ingeman said. The Library of Congress employs more than 3,000 permanent staff members and has many areas, including the Law Library of Congress, a rare book and manuscript collection, presidential papers, documents in foreign languages, music and film archives, and children's books—all requiring specialized library skills.
Some nontraditional jobs may appeal to individuals with library science degrees, too:
Meanwhile, art aficionados can choose to work in a museum. Librarians in this setting specialize in the curation and management of antiquities, exhibition catalogs and art auction records, and rare books and manuscripts. They help a broad range of patrons, including curators, researchers from around the world, primary school educators and students, artists, graduate students and professors, and art collectors.
In an online article, former assistant librarian at the Metropolitan Museum of Art, Lisa Harms, described her job at The Met's research library as enjoyable, different every day, and sometimes hectic.
On any given day, she said, "The library may have a reading room packed with visiting researchers, studying and typing away on their laptops. There may be several curators checking books out at the Circulation Desk. The reference librarian may be helping a graduate student find information online about a Met painting. And there may be a group of people scanning images on our digital scanners. … In addition to all of this, there will be scholars browsing the stacks for the perfect book."
Skills Librarians Need
The skills required by today's library professionals have changed rapidly over the last few decades. Where once knowing how to access paper records and books and maintaining card catalogs were high-priority skills, now digital expertise is valued.
Today's librarians adapt to rapidly changing library and information services and technologies in a multicultural, multiethnic, and multilingual global society. They must create and manage user-centered information services and systems to meet the needs of changing and diverse communities, and they learn to manage information resources through a variety of techniques including identification, selection, acquisition, analysis, and evaluation.
Much of Ingeman's job as a technical services supervisor at a public library involves digital skills. "We're doing a lot of database maintenance," he said. This involves getting the books into the digital catalog and processing Machine-Readable Cataloging (MARC) records—a complex series of tasks that requires strong technical skills.
"The MARC records are extremely condensed, with lots of codes that make no sense to an outside person," Ingeman said. "So, navigating the MARC record is the biggest technical challenge, but there are also any number of databases that we have to adapt to, plus different ways of querying those databases."
Ingeman further explained that MARC records underpin most of the database functionality of the Integrated Library Systems (ILS) cataloging and circulation functions, so having technical and digital literacy skills is important. He added that law and medical librarians need to be proficient in database skills now as well, and they require knowledge of unique search methodologies. For example, law librarians use WestlawNext and ProQuest Congressional to call up sources and documents required by legal experts.
Similarly, an experienced medical librarian uses medical databases—including MEDLINE and FDA drug approval and adverse event databases—to help doctors dig up information on rare diseases, pharmaceuticals, surgical procedures, and hard-to-find research. Medical librarians have increasingly become informatics experts who understand data lifecycles and "create gold standard search filtersused to retrieve high-quality information," as reported in an article in the Journal of the Medical Library Association. Their work affects patient care, too: When a medical librarian is part of a patient's clinical care team, it can have a positive impact on a medical provider's decision-making, according to a study in the journal Academic Medicine.
How much do librarians earn?
Salaries for librarians vary based on the type of library, the size of the collection, the number of patrons, the part of the country in which they're located, and a librarian's years of experience. Academic librarians tend to earn higher salaries, and librarians in urban areas generally make more than those working in rural areas, according to the ALA.
Data from the U.S. Bureau of Labor Statistics (BLS) shows the mean annual salary for librarians was $61,530 in 2018. Employment is projected to grow 9 percent from 2016 to 2026, about as fast as the BLS average for all occupations.
Jobs for elementary and secondary school librarians saw the highest levels of employment with 44,180 jobs in their field in 2018, compared with only 4,410 for junior college librarians.
The ALA lists other skills that are key to succeeding in the profession:
Thinking analytically and able to develop new or revised systems, procedures, and workflow processes.
Exercising initiative and independent judgment.
Preparing comprehensive reports and presenting ideas clearly and concisely in written and verbal form.
Making administrative decisions, interpreting policies, and supervising staff.
Working with computers, the internet, and library software.
Having knowledge of additional languages and experience working with special needs populations is also a plus.
Other Important Qualities Any Good Librarian Should Have
While hard skills are important to be effective, character traits are equally important to become a well-rounded librarian.
"The qualities I look for in new library staff are curiosity, flexibility, and service-oriented. I like to see if they're asking us good questions. Have they done their homework? I first ask them in an interview to tell me what they know about our library," Ziesenhenne said, who noted that the up-and-coming generation of librarians is redefining the profession.
The field needs people who are not just booklovers and technicians, but also have "soft skills." "They need good listening skills to be able to synthesize information and be emotionally intelligent," she said.
The flexibility component is a big one because technology is changing quickly, and librarians need to be willing to adapt and learn new skills, such as helping patrons with 3D printing.
Calling All Poets, Novelists and … Spies?
It's no surprise then that people who are flexible and shift careers into the world of librarianship—such as Ziesenhenne and Roots Lewis—make for successful leaders in the field. In fact, some of history's most famous librarians had other livelihoods, including writers (Beverly Cleary and Lewis Carroll), poets (Jorge Luis Borges), artists (Marcel Duchamp), political figures (Mao Zedong), inventors (Benjamin Franklin), spies (Giacomo Casanova), and even a U.S. first lady (Laura Bush). Their abilities to adapt and manage change effectively are the very qualities that serve them well in their second profession.
Citation for this content: Syracuse University's online Master of Science in Library and Information Science program