Why Get an MBA?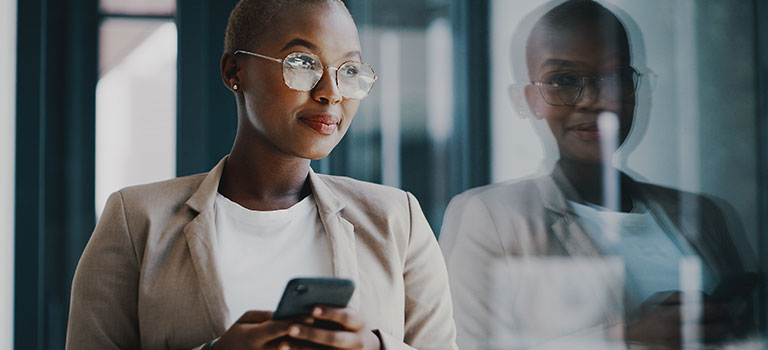 Wondering: Why get an MBA? You've come to the right place. Master of Business Administration degrees (MBAs) are a popular choice for people who wish to sharpen their business skills—and for good reason. After all, strategic, big-picture thinkers aren't born; they're made, as people amass knowledge and experience. Enrollment in an MBA program is an investment in your personal career development that ramps up management, communication and leadership skills in a relatively short period of time.
This guide helps answer burning questions such as:
Why get an MBA degree? For the knowledge and experience, of course.
Why is this a great time to get an MBA? Employers compensate MBA graduates based on industry experience, expertise and skill sets, and often pay above-average salaries.
Should I get an MBA? Your career goals can help determine whether or not you should pursue an MBA.
Whether your plan is to move into a senior management role, make a career change or earn a higher salary, an MBA is a solid steppingstone that enhances your marketability.
Increase Your Knowledge and Experience
An MBA degree or education can prepare you to thrive in a variety of work environments by offering a mix of broad core courses and specialized electives that build the foundation for high-level positions.
What does an MBA teach you academically?
As an MBA student, you can expand your career interests and knowledge by specializing in areas such as accounting, business analytics, entrepreneurship, finance, marketing management or supply chain management. Courses in each of these areas dive deep into core principles and present students with real-life applications and projects.
What skills does an MBA give you?
In addition to coursework, MBA programs are designed to fine-tune soft skills. Strategic thinking, problem solving, strong leadership, entrepreneurship and excellent communication skills set MBA graduates apart from the pack. The program's emphasis on data analysis and long-term planning can help you approach tasks with greater confidence.
What does MBA teach you about business administration?
Ultimately, you will learn how to make data-driven decisions, strategically keep a pulse on business financial health and manage others with purpose and principle.
Open the Door to More Opportunities
Released in 2018, one employment report from the Graduate Management Admission Council (GMAC) (PDF, 1.3 MB) indicated that 89 percent of MBA graduates were employed for a company or were an entrepreneur. Employment remains high. More recently, the GMAC 2021 corporate recruiting survey (PDF, 2.1 MB) projected hiring of MBA graduates to increase by industry, size and type of company. And in a 2020 survey, 68 percent of Syracuse University's online MBA graduates said they received a raise or promotion following graduation—or while still in the program.
Looking for an MBA career change?
The GMAC 2021 corporate recruiting survey (PDF, 2.1 MB) also found that industries hiring MBA graduates range from consulting, energy, finance and health care to technology, manufacturing, nonprofit and consumer services.
What are some careers with an MBA requirement?
The Bureau of Labor Statistics (BLS) estimates that management occupations will grow 8 percent from 2021 to 2031. A wide range of professions may require MBAs. Graduates of MBA programs may work in schools, at large corporations or head up their own business. 
Increase Your Salary
According to a 2021 Wall Street Journal article on MBA starting salaries, after two years out of school most graduates make more money than they had borrowed—and starting base salaries are on the rise in the tight labor market, increasing 3 to 4 percent a year.
What are some high-paying jobs you can get with an MBA?
Here are some high-paying MBA jobs, along with their median annual salaries as of May 2021.
Source: U.S. Bureau of Labor Statistics Occupational Outlook Handbook.
How much does an MBA increase your salary?
The BLS reported that master's degree holders earned about 18 percent more per week on average in 2020 than professionals with a bachelor's degree.
Master's in Business vs. an MBA
Wondering about the difference between a master's in business vs. MBA? Syracuse University's Martin J. Whitman School of Management offers master's degrees in accounting, business analytics, entrepreneurship and supply chain management that are similar to the rigorous online MBA program. However, there are a few key differences.
Master's in accounting vs. MBA: The master's in accounting helps students build specialized technical accounting skills. The MBA lays a broad foundation in business and includes two accounting core courses and the ability to take accounting electives.
Master's in business analytics vs. MBA: The master's in business analytics applies data analysis to marketing, finance, supply chain and accounting subspecialties. The MBA demonstrates how business leaders can apply analytics data to decision making through core courses in data analysis and decision making and the ability to take business analytics electives.
Master's in entrepreneurship vs. MBA: The M.S. in entrepreneurship focuses on the fundamentals of finance, marketing and strategy, with additional coursework in funding acquisition, innovation and product development. On the other hand, the MBA capstone course involves the development of a business plan for a new product or service venture. The course helps you to master the competencies that foster innovation and growth through the application of cross-disciplinary knowledge and skills honed throughout the program.
Master's in supply chain management vs. MBA: The M.S. in supply chain covers fundamental knowledge in marketing, finance and accounting, and includes courses in sourcing, inventory management and Lean Six Sigma. This master's program places an emphasis on risk management and the creation of innovative and digital supply chain strategies. The MBA builds general management knowledge in marketing, finance, leadership and accounting, as well as the ability to take supply chain electives.
Business master's degrees can offer highly-technical core competencies to help take your career to the next level—but if you're a career switcher or someone eyeing a broader skill set that can apply across industries, then an MBA is a great choice to level up your education and experience.
Citation for this content: Syracuse University's MBA program online