Is an Online MBA Worth It?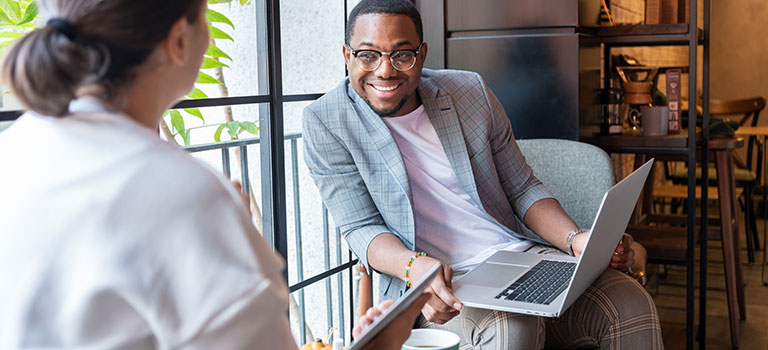 Master of Business Administration degrees (MBAs) have long been one of the most common postsecondary degrees, thanks to the wide range of industries that require employees with honed business skills. They provide professionals with in-depth business knowledge in accounting, finance and supply chain as well as improved communication skills and a sizable boost in career prospects across multiple industries.
Online MBAs put all of these benefits within reach of even more people, regardless of their schedules or locations. These online programs are designed with working professionals in mind and allow students the flexibility to continue working while taking classes.
Most students who choose to complete their MBAs online already have a bachelor's degree and practical experience in areas like business, finance or administration. This allows them to apply what they learn in real time and obtain benefits like salary boosts.
So, are online MBA programs worth it? If you are a self-motivated and disciplined individual seeking to fast-track your career without taking time off from work, then an online MBA just might be a worthy investment in your future.
Factors to Consider
When choosing an in-person vs. an online MBA program consider your education and work experience. If you are looking at an MBA as a pathway to switching careers, an in-person program may be the better choice. If you want to get an MBA to improve job prospects in your current industry, an online MBA could provide you with the skills and knowledge needed to advance.
This distinction comes down to practical experience. Many online MBA programs expect prospective students to have at least some experience in business, analytics or administration. For example, the average student in Syracuse University's online MBA program has 11 years of work experience. Since students already start off with a strong business foundation, they aren't required to complete internships nor are they expected to quit their jobs and physically relocate to a campus.
If you are looking at an MBA as a pathway to switching careers, an in-person program may be the better choice. If you want to get an MBA to improve job prospects in your current industry, an online MBA could provide you with the skills and knowledge needed to advance. 
However, there may be exceptions. Skipping internships and the valuable practical experience they provide is not ideal for students coming from unrelated fields and could even trim their future career prospects.
Regardless of your background, the potential benefits of obtaining an MBA remain the same for everyone—whether they are completing their degree online or in person. As mentioned, those benefits range from a deep understanding of business topics to career development support.
Time
Online MBA programs allow students the flexibility to create class schedules that fit their needs and personal lives. Many institutions will provide a mix of synchronous and asynchronous classes to help students balance the convenience of learning on their own time with the value of real-time interactions with fellow students and professors.
Completing your MBA online can take up to two years, depending on the number of credit hours you are required to complete. The ideal pace for some students is taking two courses per semester. This allows them to balance schoolwork and personal obligations without prolonging their studies for too long.
Choice of Schools
Choosing to complete your MBA online can expose you to a wider range of schools with programs that fit your unique goals. Many business schools have highly experienced faculty members and top-notch student and career development resources. These resources are especially valuable for people who live in areas far from quality schools, people with limited mobility and those who perform best when working from home.
New Opportunities
While a boost in earning power is one of the most attractive benefits, the value of an online MBA goes beyond the opportunity for increased earning potential. Other perks include:
Specialized areas of focus. Most MBA programs allow students to focus their degrees on a specific field—such as finance, management or marketing—to better serve their career goals. Specialization is one possible way to stand out for promotions and new positions. Syracuse University's Online MBA offers six specializations and allows students to choose electives in multiple disciplines to create custom curricula.
Fast-tracked leadership positions. Thanks to their arsenal of fine tuned soft skills, MBA graduates are highly desirable candidates for leadership positions. According to the GMAC 2021 corporate recruiting survey (PDF, 2.1 MB), recruiters reported that they valued strategic, leadership and relational skills the most in business graduates. Plus, many MBA programs emphasize selecting candidates who have a good track record of leadership or who demonstrate potential to develop into leaders throughout the program.
Expanded professional network. Online MBA programs place a major emphasis on mutual support. And since they can be accessible to more people, programs often have diverse student bodies with learners hailing from a wide variety of industries and socioeconomic backgrounds. Through small live classes held on Zoom, group work and in some cases in-person residencies, students build long-lasting, organic relationships that can further their personal and professional growth, preparing them for the demands of a globalized world.
Higher Salaries
The MBA's return on investment is one of the reasons why it remains such a popular degree. In 2021, median salaries for workers with MBA degrees started at $115,000—a 75 percent increase over the average pay for those with only a bachelor's degree, according to the 2020 Corporate Recruiters Survey conducted by the Graduate Management Admission Council. The MBA salary increase can be much larger in some industries. For example, the same survey notes that consultants with an MBA make nearly twice as much money as peers who only hold a bachelor's degree—proving that the salary increase with an MBA can be substantial.
While recruiters may not make a distinction between online MBA programs and in-person instruction, your school's ranking and the quality of the curriculum could be deciding factors in your eligibility and salary prospects. A good way to assess the value of an online MBA is by analyzing how relevant the curriculum is to your career goals and which career placement resources are available to help you get ahead.
In 2020, 68 percent of Syracuse University Online MBA graduates experienced a raise or promotion1 either while still in the program or after graduation. Additionally, graduates had an average starting salary of $90,725 and saw an average increase of 25 percent or $22,470. With a world-class curriculum, 1:1 career coaching and top spots in some of the most respected MBA ranking indexes, Syracuse University offers MBA students the opportunity to develop standout resumes backed by a trusted name.
1 Syracuse University, Online Master's in Business Administration (Retrieved June 2022).
This data is gathered from a survey sent to graduates from the online graduate business programs from the Martin J. Whitman School of Management in 2020. The data was pulled and calculated in May 2021. The survey had a 35.6% response rate.
Citation for this content: Syracuse University's MBA program online