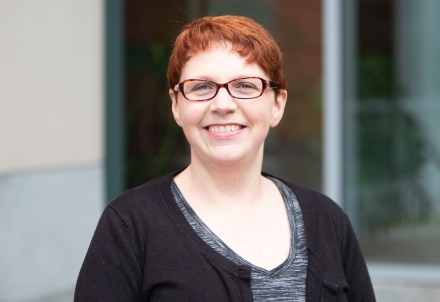 Amber Potts
MSLIS Program, Class of 2019
Assistant Director, Henderson County Public Library
Tell us a little bit about yourself and your professional background.
"I have worked in public libraries for 19 years. I worked in a variety of positions and managed two departments. When I started my program, I was the Manager of a bookmobile and outreach department, but halfway through I got a job as an Assistant Director for a library system."
What inspired you to pursue your Master of Science in Library and Information Science online from Syracuse University?
"I had wanted to get a MSLIS since completing my undergraduate degree. However, family obligations kept me from going right away. A few years ago, I realized that it was time for me to start working on my MSLIS, both to further my career and to accomplish a personal goal."
What are your career goals?
"I am currently the Assistant Director for a library. I am using this time to learn about being the Director of a library system so that I can determine if I am suited for that type of leadership. I discovered during my coursework that I really enjoy library instruction, so if I decide that administration is not the track for me, I may pursue that path."
What has been your favorite class and why?
"I think my absolute favorite was Instruction Methods in Libraries. I did not consider myself a teacher before I took that class, but it helped me recognize the teacher within. I also really enjoyed the Research Methods class."
How has enrolling in an online program impacted your professional and personal life?
"My colleagues have been supportive throughout my program. The tradeoff was that my family watched me work harder on something than I ever have in my life and they are extremely proud of me. I set a good example for my kids and my self-proclaimed cheerleading section is looking forward to see what adventures await our family now that my degree is finished."
Meet other students in our online programs