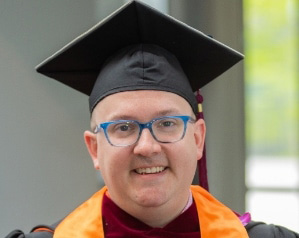 Benjamin Williams
Public Relations
Sr. Director of Operations/Communications for FERC Commissioner Rich Glick
While working in Washington, D.C., Benjamin Williams was looking for a graduate program that could help him stand out among his peers in the communications field. After researching a variety of online programs, he decided to pursue an online M.S. in Communications from Syracuse University due to the stellar reputation of the Newhouse School.
Hearing From Friends About Newhouse
While searching for a program, Benjamin discovered the Newhouse school largely because of the great word-of-mouth from fellow professionals in the Washington, D.C., area.
"I work in Washington, D.C., and know a lot of people in the public relations field, and at the tip of everyone's tongue was Newhouse and Syracuse [University]. At the time, I knew that if I wanted to do this, I wanted to get into a program with a great reputation and curriculum."
An Online Program for Working Professionals
Benjamin knew that he wanted to enroll in a program that had a diverse range of other working professionals to learn alongside. Each class gave him that opportunity to drive a conversation further with his fellow students.
"I wanted to continue working and was looking for something innovative and something that would fit my schedule. The online format made everything possible. I appreciated learning alongside other working adults and how the class standards were set really high. I feel like I got a better education and got to know professors and classes really well."
Applying New Concepts Directly to His Role
Benjamin particularly enjoyed the Media Law course, where he was able to connect the public relations aspect of his work with the governmental and law-focused nature of working in Washington, D.C.
"My favorite class in the program was Media Law. I use that material daily and keep it tabbed on my computer in the office. I now know the laws that go into being a creative public relations professional and am able to improve upon the decisions that I make on the job."
Back to student and alumni profiles.