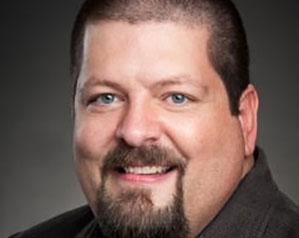 Brent Royer
Undecided
Video Strategy and Production Consultant, Screen Deep Creative
Why did you apply to the online M.S. in Communications program?
As a Newhouse alumnus ('96) I was already familiar with the quality of the communications education the school provides. A family move from Memphis to Portland has me in between full-time careers, and I thought this would be the perfect time to broaden my skills and education with a program deeply rooted in innovation and communications principles for the digital world. After learning about the the online M.S. in Communications program, I knew it would be the perfect fit.
What excites you most about starting your master's degree?
I'm most excited about connecting with the many great students who have joined the program from across the country and around the world and learning from their own professional experiences. It's also great to be working with some of the professors who were teaching when I was an undergrad and are now part of the online M.S. in Communications program.
What is your intended specialization and why?
While I've yet to lock this in, I'm currently leaning toward Public Relations. There are really great qualities to each specialization and it's very difficult to decide. Also, I already hold a broadcast journalism degree, so I'm hoping to diversify my skillset.
What are your career aspirations upon graduation?
I currently support nonprofit organizations in their development of video marketing and production strategies through my independent consultancy and hope to continue to grow this business. However, since starting the program, I've developed an interest in teaching and hope to pursue opportunities in education.
Back to student and alumni profiles.