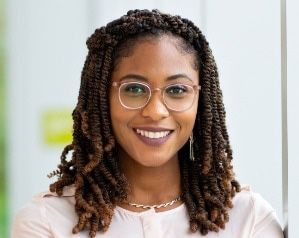 Cierra Bailey
Journalism Innovation
Freelance Reporter and Promotions Coordinator at Alpha Media, Far East Bay
While working as a journalist, Cierra Bailey wanted to pursue a master's degree in communications to learn new and creative ways to approach journalism in the digital era. After researching her options, she found that the Journalism Innovation specialization through the online M.S. in Communications aligned with what she was looking for.
Searching for a Reputable Online Program
Although Cierra was initially hesitant about earning her graduate degree online, friends and colleagues assured her that the online M.S. in Communications was a program she could count on.
"I was nervous about the stigma around online education being considered less reputable than traditional on-campus learning (which is completely bogus, by the way). But after looking deeper into the online M.S. in Communications curriculum and having an opportunity to speak with some friends and colleagues who offered firsthand accounts of their positive experiences in online programs, I became more confident in my decision."
Gaining New Insight Into Modern Journalism
As she was exploring the program, Cierra became particularly interested in the Journalism Innovation specialization. She saw this as her opportunity to learn more about the data side of modern storytelling.
"The immersion component of the online M.S. in Communications program really stood out to me, along with the course descriptions for data-driven journalism, emerging media platforms and multimedia storytelling. I was excited about taking courses that would help me master numbers and technology, the two areas I felt needed the most development coming into the program."
Creating Long-Lasting Connections
During her time in the program, Cierra has both enhanced her own storytelling abilities as well as formed professional connections with her fellow students that will only grow as she becomes an Orange alumnus.
"I've been encouraged to tap into creative skills that I didn't even realize I had. I've also made several professional connections and met so many inspirational and talented people in this program, many of whom have become my friends."
Back to student and alumni profiles.