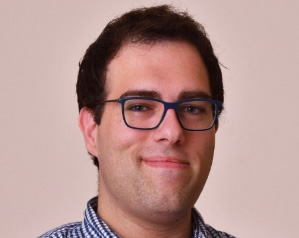 Emre Kelly
Journalism Innovation
Space Reporter at USA Today Network
While enjoying a career as a writer, Emre Kelly decided that he wanted to expand his educational background and pursue a Master of Science in Communications at Syracuse University's Newhouse School. Although being a journalist can mean hectic hours, he found that the online program provided him with the flexibility he needed to earn his degree while continuing to cover the news.
Choosing an Online Program
Emre knew that he wouldn't be able to pursue a traditional communications degree with the kind of work that is required of journalists. Syracuse University's online format gave him the confidence to earn his degree without putting his full-time job on hold.
"Most important to me was being able to stay committed to my full-time job, which can push a hectic schedule—and the mostly online nature of the program was a perfect fit."
An Innovative Online Curriculum
After researching a variety of online communications programs, Emre discovered that the online M.S. in Communications could provide him with the innovative and forward-thinking program that he was looking for.
"It's very efficient and, in 2019, makes a lot of sense to me personally as someone who works full time. The synchronous classes are really the core of the experience to me, and it's nice to be able to go back and watch recordings where I need to. That's really helped with avoiding typing out endless notes and instead actually paying attention to class."
Expanding His Orange Network
For journalists, connections and sources can mean the difference between a story making the front page or going unnoticed. For Emre, the Orange alumni community along with the lessons he's gained in the program have left a lasting impression on him and his career.
"Aside from meeting well-connected professionals in communications, the degree in many ways has opened my eyes to a lot of the inner workings of my industry. I think these things, especially the more technical aspects, are going to be valuable if I ever ascend to a managerial position someday."
Back to student and alumni profiles.