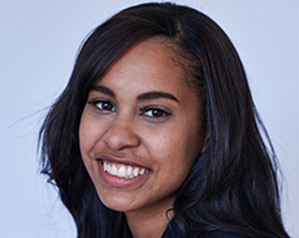 Katiuska Fernandez
Public Relations
Hulu
Tell me about yourself. What attracted you to the online M.S. in Communications? What do you do today?
Newhouse's reputation as a leading school of communications attracted me to the program. I knew a lot of alumni who spoke very highly about the school and whom I've seen flourish in the industry. Honestly, if I hadn't been accepted to Syracuse University, I probably wouldn't have gotten my master's because I wanted to go to the best communications program.
Today, I work at Hulu. My role is to oversee most of the sports creative that's on the platform. I work closely with our brand partners and different leagues and organizations to make sure that Hulu branding is on par and that we're able to tap into the best talent. I also make sure we're hitting our LSG (live subscriber goal) and try to position Hulu as a destination for live sports viewing.
What was your experience with the online program?
It's funny because while I was applying, I was dating someone who was doing an online master's that wasn't interactive at all. But the Syracuse University representatives were able to combat that fear for me right away and explain what the online M.S. in Communications was going to be like.
"I joined class from more airports than I can count. I distinctly remember last year, I was flying to Boston to interview Robert Kraft, and it was the same day as my master's final. I landed at the exact moment it was my turn to present to the class. It was so nerve-wracking—but to know that I could seize this once-in-a-lifetime interview and earn my degree was amazing. I never had to choose between the two. I was still sitting in my seat on the plane when I presented."
How did the online M.S. in Communications help you advance your career?
I was able to double my salary within a couple of months of completing the program. It provided me with greater context for my industry and the ability to truly grow as a leader. I specialized in public relations, so I think the most influential class for me was Public Relations Management. The course taught me how I want to lead and the kind of team member I want to be.
"Because I was hired right as the program began, my managers knew I was very dedicated to learning more about advertising and advancing my career. I feel that my managers want me to continue to advance in the company because they know I strive to continue learning and improving. If/when I decide to move to another company, having a master's degree from Newhouse will give me a huge advantage."
Do you feel that you got the support you needed throughout the program?
I received individualized support from onboarding through graduation, and I am still friends with some of my professors to this day. Plus, even though I went to a small college, I feel closer to some of my fellow grad students than some of the people I went to undergrad, lived in dorms and interacted with on a day-to-day basis. My grad school peers and I were—and are—invested in each other. We have a Snapchat channel, and we'd have open sessions on the platform where we'd log on to just hang out or have a book club.
Were you nervous about fitting an online degree into your life?
I was nervous about going to school online but knew that it was the right decision for me. Going back to a college campus wasn't possible since I was already working 40-plus hours a week at the NFL while traveling. This program is incredible because it allows students like me to be able to get a degree and apply those skills at work all at once.
Why did you choose the public relations specialization?
I decided to become a public relations student because I wanted to learn how to craft successful stories. At the time, I was writing and producing stories for the NFL but knew that I wanted to get to the core of effective storytelling.
Do you feel like a member of the Syracuse University community?
I bleed Orange! There was never a moment when I didn't feel like I was a part of the community. I absolutely loved my graduate experience. I feel a great deal of pride whenever I talk about Syracuse.
What advice would you give to incoming students?
Build friendships within your cohort and maximize the time you have with every professor. It goes by so quickly and there is truly so much to learn. I loved the program so much, I would absolutely love to go back and teach one day. I know for some people the cost of the degree may be an issue, but I adamantly believe that it ultimately pays for itself.
Back to student and alumni profiles.