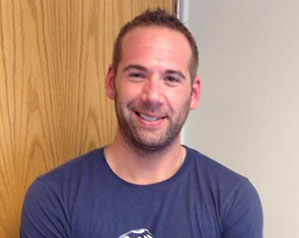 Raymond Weaver
Public Relations
Queens County Supreme Court
Tell us about your background.
I am the public affairs coordinator at Cornell University's Cooperative Extension office in Ithaca, New York, and the director of PEAKS, an online crowdfunding platform that assists local nonprofit organizations with raising funds to support their socially responsible causes. Cooperative Extension is the nonprofit affiliate of Cornell University and has a mission to take campus-based research and knowledge and make it available, and applicable, to communities throughout New York State.
Why did you apply to the online M.S. in Communications program?
In today's professional world, you can only increase your knowledge and skillset so far by attending trainings and workshops. Obtaining a master's from the Newhouse School will allow me to advance professionally in the communications field, stay abreast of the latest trends and connect with some of the innovators and leaders that are shaping the industry. I found the Newhouse program to be the most intriguing and advanced program being offered, and the ability to take classes online made it all the more attractive to me.
What excites you most about starting your master's degree?
I am looking forward to expanding my professional tool kit, and I am excited to implement the things that I will be learning in my daily job. The courses offered are directly related to my current role, and the opportunity to use my education in my daily life will be invaluable.
What is your intended specialization and why?
I chose to specialize in public relations because it's a large part of what I do in my current role. Further, I'd like to move and work in a larger city, and this program will give me the necessary skills to find a position in a competitive market.
What are your career aspirations upon graduation?
I would like to move to a larger city and continue working in an educational setting or in a hospital setting as a public relations professional or in major gifts/fundraising.
Back to student and alumni profiles.