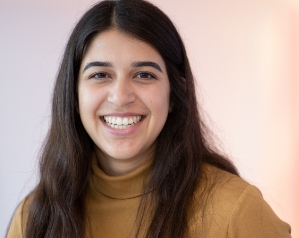 Sarah Mendoza
Advertising
On-Air Promotions Intern at FOX Deportes
Beginning her career working in sports entertainment and marketing, Sarah Mendoza is earning an M.S. in Communications online from Syracuse University to achieve her personal and professional goals. Currently the only member of her family to have pursued a graduate degree, Sarah sees the online M.S. in Communications program as more than just a degree—she sees it as a record of her hard work and determination.
Applying New Skills in Real Time
As she continues working as an intern with Fox Deportes, Sarah has already found ways to take the skills she's learning in class and directly apply them to her role.
"Currently, as an intern, this degree has already helped me accomplish the first step toward my goal, as I used a research paper I wrote in ADV 609 during my interview that ended up in me being hired. Moving forward, the real-world expertise in the core classes that I can only find at Syracuse [University] will continue to give me the advantage in my professional goals."
The Value of an Online Education
Sarah was looking to earn an M.S. in Communications without having to move away from family or her chosen career in Los Angeles.
"I have always wanted to be a part of the Newhouse Network because of the prestige and leading innovation in the communications industry. This program allowed that while allowing me to be in my hometown of Los Angeles, California, to focus on my career path, work experience and family."
Learning From Expert Newhouse Faculty
As Sarah continues to succeed in the program, she attributes that success to the diverse range of experiences and expertise of our Newhouse faculty.
"One specific thing that I value most about the curriculum and faculty is that this program combines real-world professional experience and personal experience from professors that were in the industry. How they incorporate past projects or experiences from their careers into our classes gives me a better idea for my future professional life. With this, I am able to see strengths and weaknesses first hand as a student and then use it as a foundation as I enter my career."
Back to student and alumni profiles.